Dogecoin (DOGE) is on the radar of many crypto investors lately, a feat it has used to its advantage. Per on-chain metrics showcased by crypto analytics platform IntoTheBlock (ITB), the total whale accumulation of Dogecoin jumped significantly in the week-to-date (WTD) period.
Per the ITB data, the large DOGE transactions jumped from a low of 770 transactions as of July 16 to the current high of 1,300 today. The large transactions per the analytics platform are defined as those with more than a $100,000 valuation.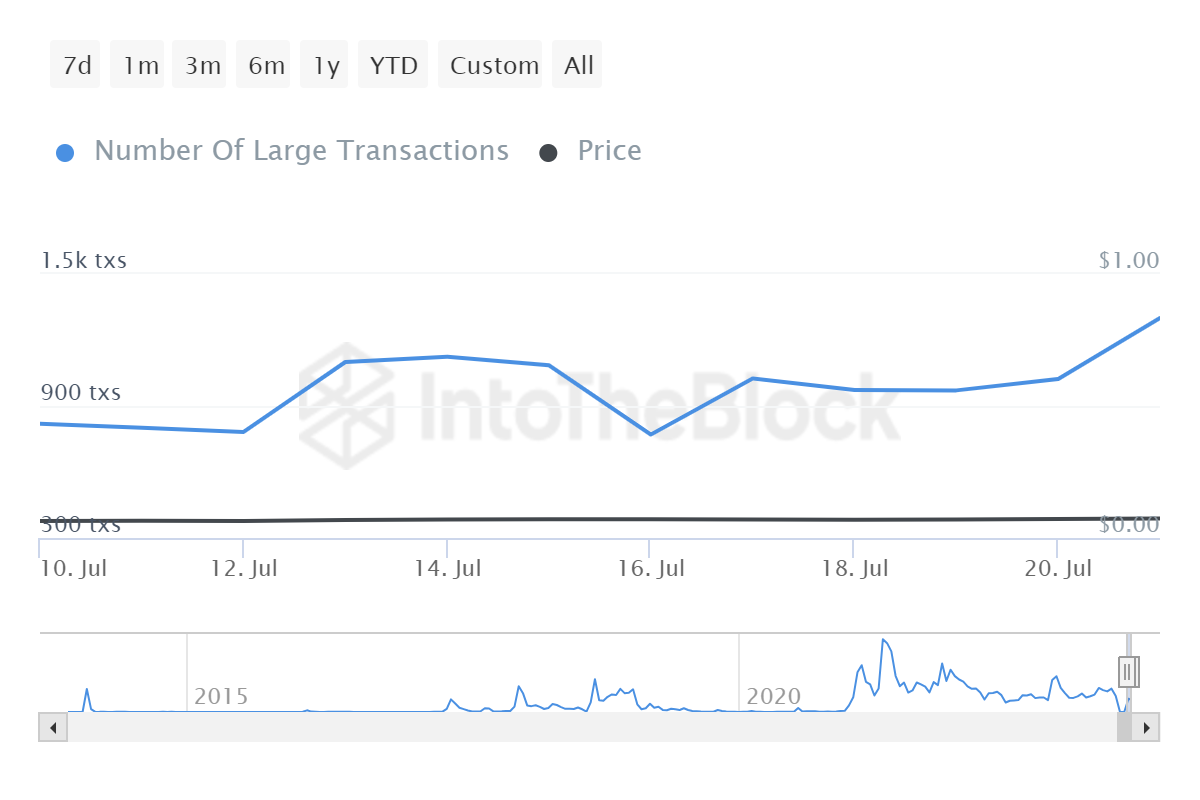 Dogecoin has a dedicated community that still believes in the possibility that it can hit a high of $1 per token. This sentiment has spurred many of these big believers to go on a buying spree with the impact showcased in the altcoin's resilience amid the encompassing instability recorded over the past few weeks as the broader market dwindled.
At the time of writing, Dogecoin is priced at $0.07259 after inking 1.36% growth overnight in one of the least volatile weekends thus far this year. The large transaction metric is further complemented by the massive surge in trading volume, which has jumped by more than 43% at the time of writing.
Dogecoin keeps tagging along positively
Dogecoin has proven to be a relatively positive outlier among its meme coin peers. As the first and biggest player in the meme coin ecosystem, Dogecoin has maintained a more impressive growth curve than its peers, despite the lesser likelihood that its market capitalization can respond to any form of price gain that is not natural or driven by genuine demand from interested buyers.
Dogecoin's retention in Tesla's source code has remained a major booster in the past week, particularly because Bitcoin (BTC), the apparent industry leader, was ousted. Alongside Elon Musk, more proponents of the meme coin have been doing a lot to showcase its potential across the board.