In today's digital currency ecosystem, there is widely varied price performance when Bitcoin (BTC) and the rest of the altcoins in the industry are compared side by side. Dogecoin (DOGE) is one of the top altcoins that has seen notable buyer apathy on its price action. The premier meme coin is changing hands at a price of $0.07004 after retracing by as much as 5.86% in the past 24 hours.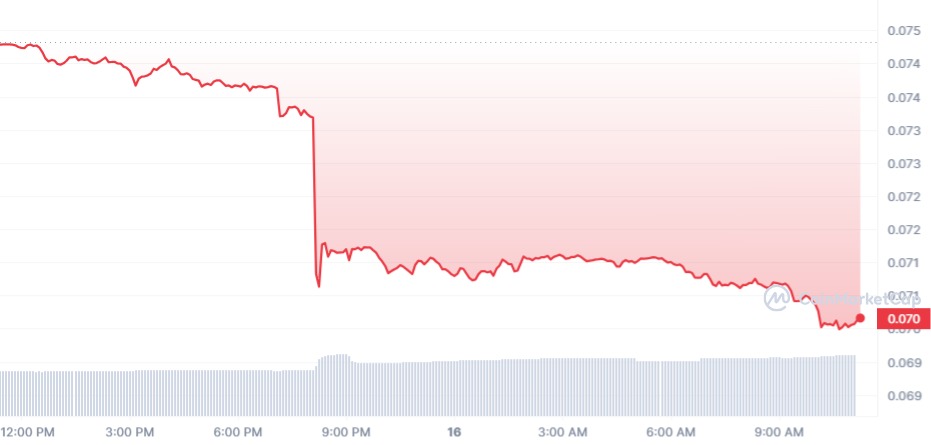 The Dogecoin metrics show a predominantly uninterested market as meme coin investors are notably very invested in the happenings around DOGE rival Shiba Inu. For instance, while tokens within the Shiba Inu ecosystem like Bone ShibaSwap (BONE) are currently on a bullish rampage, Dogecoin's trading volume is not supporting any impending bullish momentum at the moment.
Besides the competition from Shiba Inu, Dogecoin's observed apathy takes its footing from quite a number of factors, including the lack of any apparent goal or vision from the core team behind the protocol. This has fueled a lack of optimism to keep stacking up on the protocol.
With its more than 7% slump over the past seven days, Dogecoin has solidified its stance as one of the top losing meme coins around today.
Banking on Elon Musk's Influence
One crucial move from Dogecoin to regain its momentum is its absolute reliance on X owner Elon Musk. Known as one of the top advocates and proponents of digital currency, Elon Musk's tweets are known to drive a massive rally in the price of the asset across the board.
Despite the stagnancy, any tweet from Musk in the future, which comes randomly but with a remarkable impact, can help break the dormancy that Dogecoin has recorded in the past few days. Despite the bearish gloom engulfing it at this time, Dogecoin still remains one of the most celebrated altcoins in the top 10 by market capitalization.