Despite the depressing end of last year, a large part of the cryptocurrency market is moving in the green zone. A positive beginning of the trading year could be a great foundation for a prolongation of the rally that we expected the whole year.
Ethereum in uptrend
Despite the prolonged downtrend in 2022, Ethereum is beginning the year with a local uptrend, and the exponential moving average forms a certain pattern that will most likely become volatility fuel for the second-biggest cryptocurrency on the market.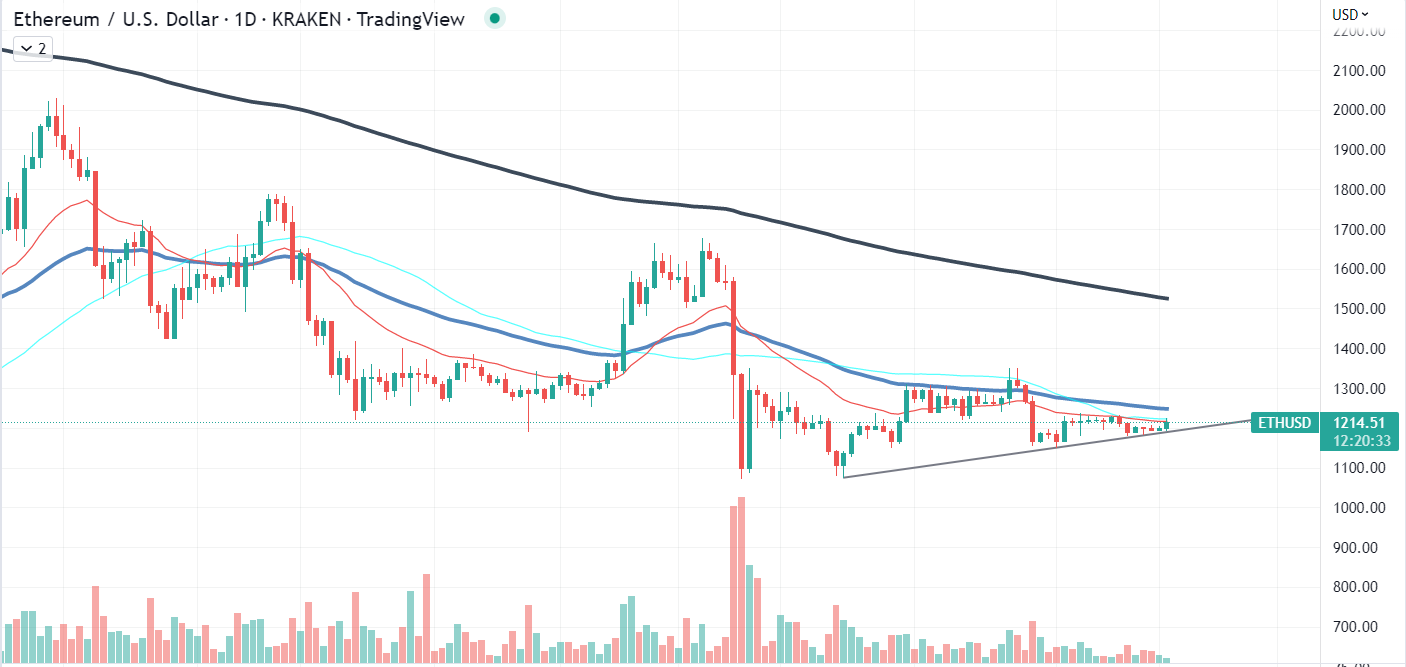 At press time, Ethereum is trading at the 21-day moving average with numerous attempts to break it since Dec. 20. However, the descending tendency in the trading volume on the asset led to a deceleration of the rally and the return to the local trend line support.
Unfortunately, the descending tendency on the volume indicator might hint at an upcoming trend reversal and lead to a further drop. The only scenario in which we would see a return of buying power on the market is a breakout from the 50-day moving average.
Solana's surprising breakout
In the last few weeks, Solana has been experiencing one of the biggest outflows from the asset, which was caused by the holiday season and the lack of trading activities.
Unfortunately, Solana is still bringing enormous risks to institutional investors, which is why we are not yet seeing a recovery of the trading volume and inflows. At the same time, the heavily oversold state of the asset led to the price spike we saw today. The local breakout might become the basis for SOL's recovery in the upcoming months, especially if investors are able to bring some of their funds back to the market.
At press time, Solana remains one of the most actively used networks on the market, with the highest number of processed transactions in comparison to other chains. Nevertheless, the price performance of the asset is still suppressed, with SOL being down by more than 93% from the ATH.
Dogecoin's development fund
The lack of use cases has been a major problem for the prominent meme coin throughout the years. Luckily, the Dogecoin Foundation has recently announced the creation of a new developer fund by allocating 5 million DOGE to attract more developers and attention to the core of the network.
With the growing number of developers in the Dogecoin ecosystem, we might finally see the asset recover with the help of the occurrence of use cases that would bring more fees and usage to the network, potentially boosting the price of the underlying DOGE cryptocurrency.
According to market performance, we are already witnessing the aforementioned effect, with DOGE's price showing a 5% return since the beginning of the year.