Launched in June 2011, BTCC is well-known as the longest-running centralized derivatives exchange in the cryptocurrency industry. BTCC guarantees top liquidity for its users, ensuring all orders can be executed at top price levels on its web and app platforms.
Why does liquidity matter for crypto traders?
Not unlike "classic" fiat-centric financial markets — foreign exchange (FX), commodities and stocks trading — liquidity is a crucial metric for the cryptocurrencies market. In general, liquidity is the measure of how easily a crypto trader can convert one asset into another. When asset A can be easily exchanged for cash or asset B, traders call it "highly liquid." Otherwise, it becomes illiquid: its "unrealized" or "paper" market price may be very attractive, but in fact, it is non-exchangeable.
When a platform has deep liquidity, all assets on it can be swapped for each other in an instant and predictable manner. Crypto exchanges with top liquidity allow its users to: a) exchange large amounts of crypto in a single transaction, and b) to do so without a significant impact on the asset's price.
As such, only exchanges with solid liquidity support are suitable for traders with various deposits and different trading strategies. Top liquidity results in smaller spreads between "optimal" bid and ask prices.
Introducing BTCC, a top-tier crypto derivatives exchange
BTCC, a user-friendly cryptocurrency derivatives exchange, pushes the barriers of liquidity supply for this segment. As such, BTCC users can trade at precisely the preferred price with no possibility of price fluctuations even when a large-scale order is placed.
As displayed above, at BTCC, users can check how many Bitcoins (BTC) can be exchanged instantly at specific price levels. With this orderbook, even traders with basic experience can check how deep BTCC's liquidity is. For instance, an order as large as 264 BTC can be executed at the most attractive price on the platform. On November 9, 2022, the exchange executed 300 BTC orders at the best prices in less than a second.
To enable its users to experience its superb liquidity, BTCC Exchange provides users with a demo trading account that is injected with 100,000 USDT. It's important to note that the demo trading mode and the "live" one share the same orderbook. As such, no matter if you are new to cryptocurrency trading and a pro in this area, you can experiment BTCC liquidity using its non-expiring demo trading function. Try it out for free.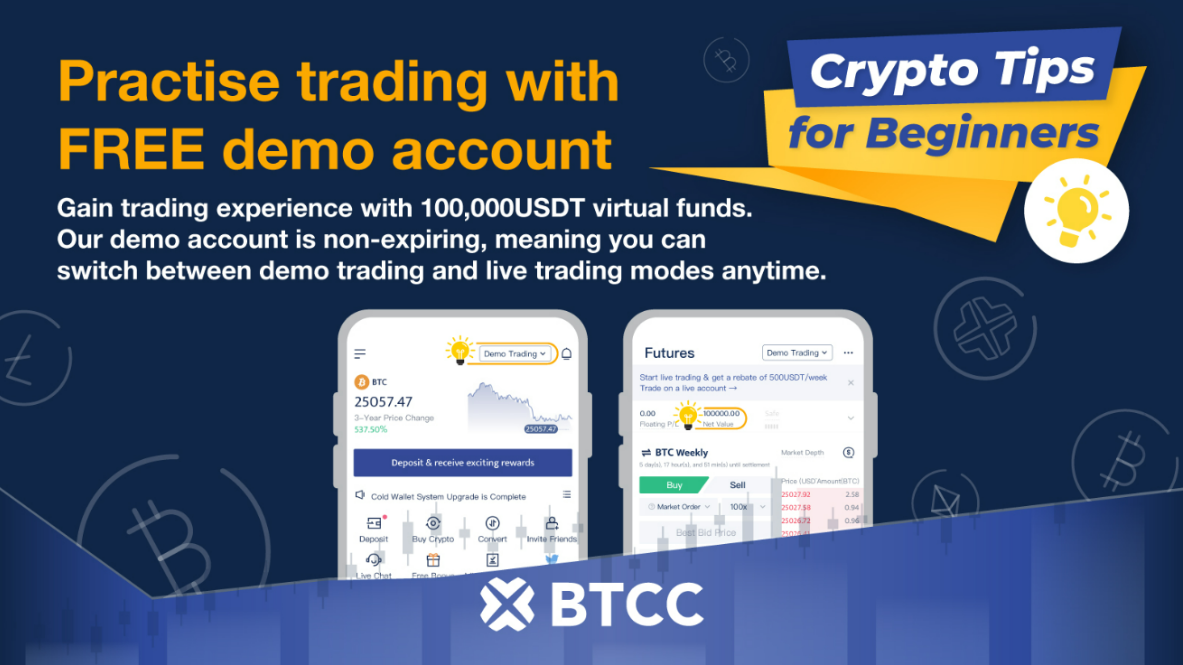 BTCC supports futures trading of 60+ cryptos including Bitcoin (BTC) and all major altcoins, such as Ethereum (ETH), Solana (SOL), Cardano (ADA), Litecoin (LTC), Dogecoin (DOGE). XRP, and many more.
To tailor to the needs of different users, BTCC offers both USDT-margined futures and coin-margined futures. All traders can join the BTCC VIP programme with which users can enjoy discounts on conversions and withdrawals and many other exclusive perks. Become a BTCC VIP user today.
BTCC supports instant cryptocurrency deposits and allows its clients to buy crypto with credit cards (Mastercard and Visa) and debit cards. Also, the "Convert" function is designed to allow newcomers to exchange their crypto in a seamless way at a fixed price.
Building a transparent exchange with unmatched liquidity
BTCC's strategy for creating the ecosystem with the largest possible liquidity for seamless, instant and profitable trading can be tracked through top-tier third-party crypto information platforms. For instance, BTCC is ranked in the top five by CoinMarketCap on the list of derivatives exchanges with the largest trading volumes.
Per CoinMarketCap's data, the platform is processing $5.4 billion in trading volume daily (January 2023 statistics). In addition, BTCC is ranked eighth when it comes to net open interest across all available trading pairs with Bitcoin (BTC) and altcoins.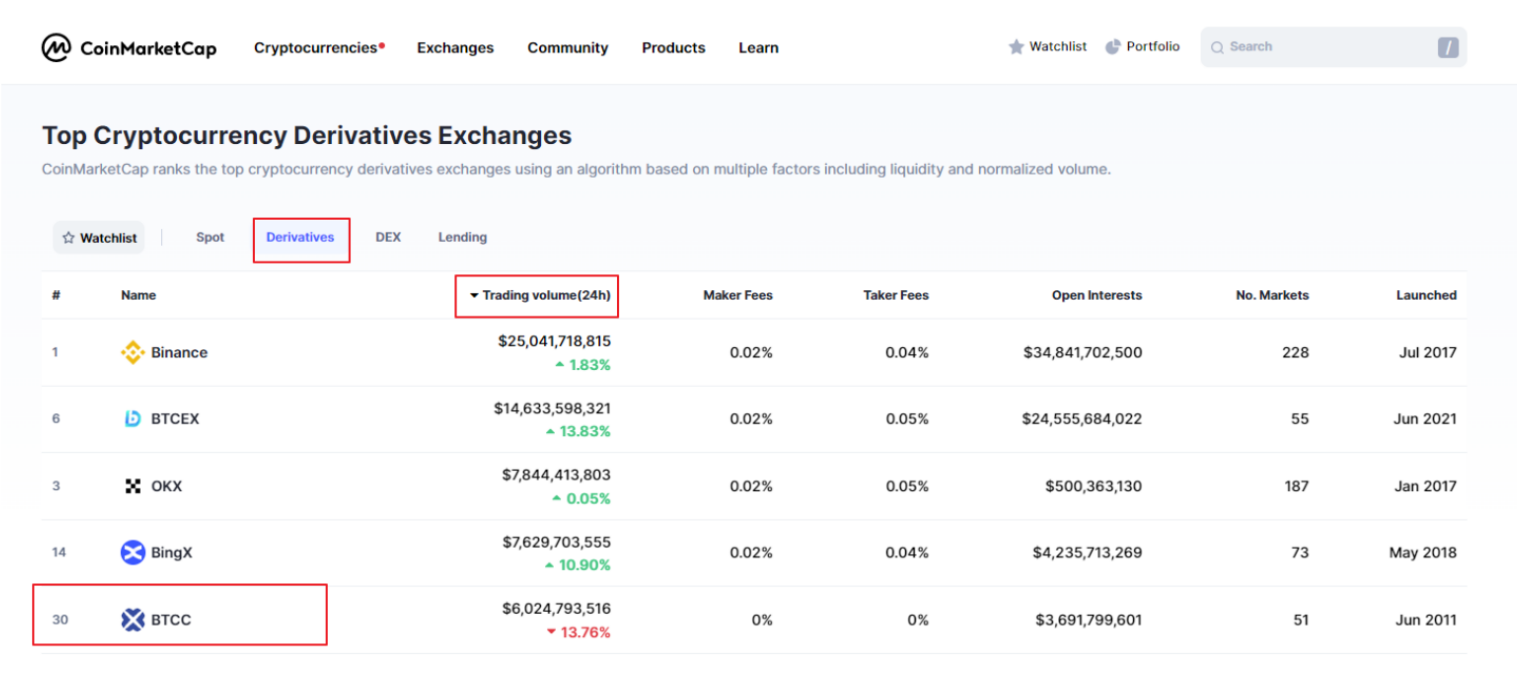 CoinGecko, the largest independent cryptocurrency tracker, ranks BTCC in the top three by trading volume and open interest. As such, the volume of its liquidity supply and trading activity is verified independently by the two largest public trackers in the cryptocurrencies segment.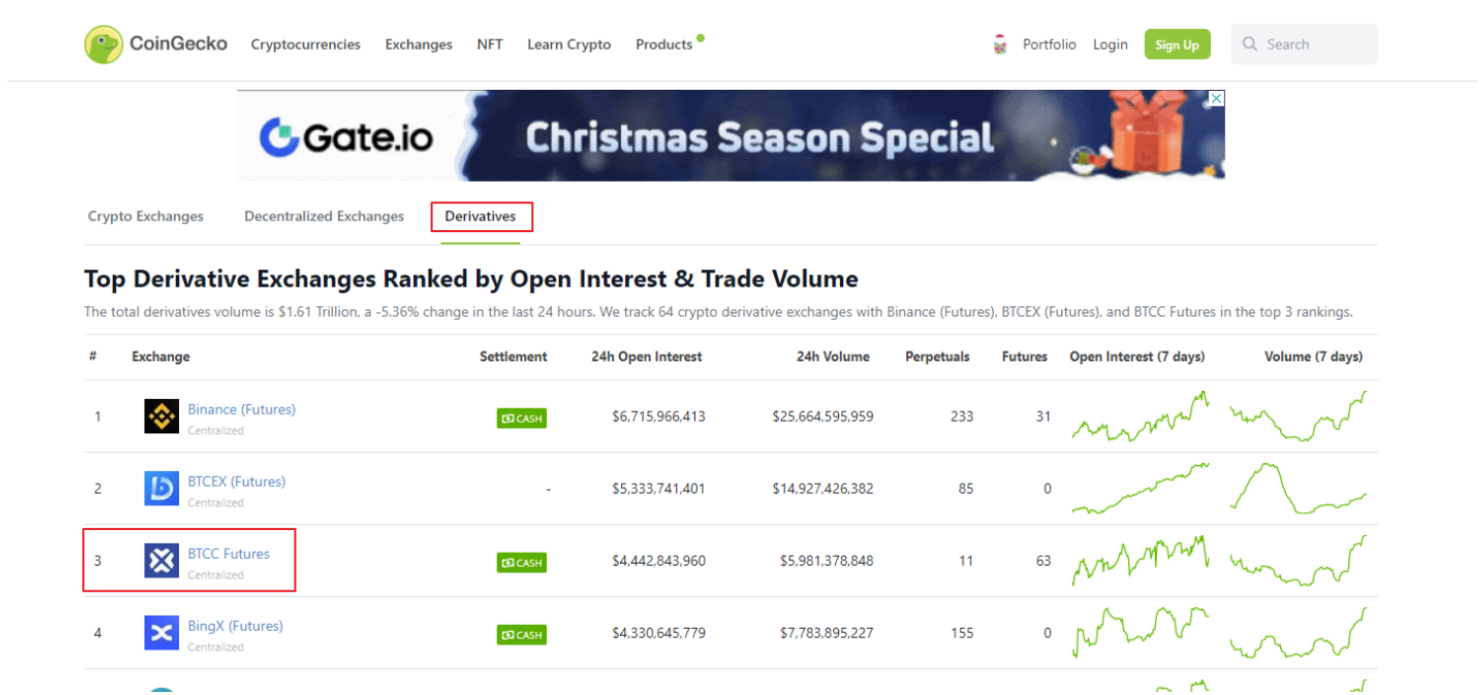 In order to make cryptocurrency futures trading secure and safe for all users, the BTCC team launched the BTCC Risk Reserve Fund. The platform has invested $1 million in USDT in this fund. BTCC established the project to protect traders' assets and provide a fair trading environment. Its funds are used to cover the losses of bankrupt traders and those affected by service outages. As of early January 2023, BTCC has given out $21,000 in USDT to its users.
To wrap up, BTCC supercharges its trading environment with one of the largest liquidity ecosystems in the crypto industry. On its platform, it has a healthy and powerful liquidity structure to make trading instant and resource efficient for traders regardless of the sizes of their positions. Users can sign up on BTCC now for free.