Over the last couple of years, several cryptocurrency derivatives exchanges have entered the market, including Bybit, Coinflex, and Overbit. However, the two that have been on the market the longest are BitMEX, established in 2014, and its rival Deribit, which arrived a few years later in 2016.
These two platforms are operating in an increasingly competitive and fast-growing market. However, although they're operating in the same space, there are some differences between the two. Here, we pit Deribit vs. BitMEX to see how they measure up against one another.
Overview - BitMEX
BitMEX, or the Bitcoin Mercantile Exchange, was established by CEO Arthur Hayes and his co-founders back in 2014. The leadership team brings expertise from the trading floors, trading systems development, and in programming. The company is registered in the Seychelles.
BitMEX is the biggest derivatives trading platform by volume.
Overview - Deribit
Deribit was established in 2016 by Dutch brothers John and Marius Jansen. Both have a background in trading. John is a former options trader at the Amsterdam Exchange while Marius was a full-time crypto trader until he joined Deribit full-time. The brothers work with CTO Sebastian Smyczýnski, who has a background in mathematics and programming.
Deribit is registered in the Netherlands. The company has been expanding its footprint over the course of this year, introducing ETH-backed products along with a block trading solution for institutions.
Trading Vehicles
Both Deribit and BitMEX are pure-play crypto-derivatives platforms. There are many similarities between the types of products that they offer.
You can trade futures contracts with a fixed expiration date of either two or six months. Alternatively, both also offer perpetual swaps, which are a variant of futures contract without a fixed expiry date, where payouts are calculated continually based on the contract price versus the spot price.
Deribit also offers the opportunity to trade options. In fact, Deribit is the only platform on the market right now offering options trading to retail investors, although Bakkt has recently introduced options for institutional investors.
Deribit's options are European-style cash-settled options, with six different expiry dates ranging from one week to nine months in the future.
September 24, 2019
Cryptocurrency Pairs
Both Deribit and BitMEX offer BTCUSD and ETHUSD pairs for their futures and perpetuals contracts. In both cases, the permitted leverage is 100x for the BTCUSD pair and 50x for the ETHUSD pair.
BitMEX also offers the choice of six other futures contracts backed by altcoins against the price of BTC. The altcoins on offer are Cardano (ADA), Bitcoin Cash (BCH), EOS, Litecoin (LTC), Tron (TRX), and XRP. All of these futures contracts are offered with one fixed expiration date and can be leveraged up to 20x.
Like the futures and perpetuals, Deribit's options contracts are backed by BTC or ETH.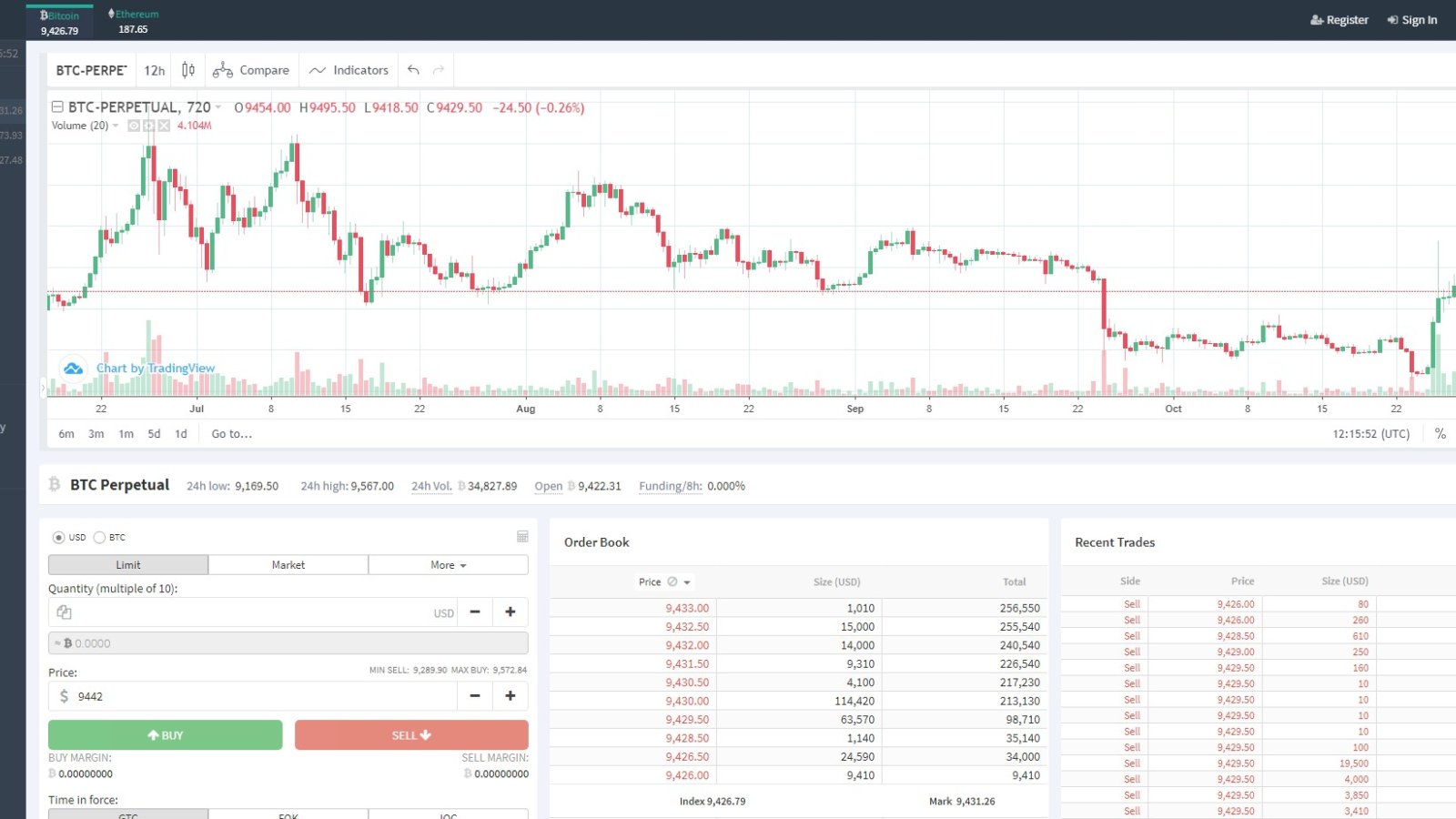 Fees
Deribit has a slight edge over BitMEX on taker fees for futures contracts. On Deribit, futures maker orders get a rebate of 0.02%, and taker orders are charged 0.05%.
On perpetuals, Deribit rebates 0.025% on maker orders and charges 0.075% for taker orders. The same fee rates apply on BitMEX for both futures and perpetuals.
Although we can't compare options fees because BitMEX doesn't offer them, it's worth noting that Deribit also charges 0.04% of the underlying for an options contract, or 0.0004 BTC/ETH. The fee won't exceed 12.5% of the full option price.
Payout Calculation
Deribit's payout mechanism for perpetuals also has the edge over BitMEX. Perpetuals have no expiry date, meaning that payouts must be calculated continuously.
Deribit performs a continuous calculation for the value of the perpetual against the spot price, meaning that your account balance is always in a state of flux depending if the contract price is above or below the spot price, and whether your position is long or short. The actual payout is made every 24 hours, but the calculation itself is ongoing. This means you can always see the real-time status of your account, even if the market is in the midst of a sharp change.
On the other hand, BitMEX only performs this calculation and payout every eight hours at 12:00, 20:00, and 04:00 UTC each day. In practice, this means that a trader can dive in right before the moment of calculation, exit right after, and would still be eligible for a payout. It makes the adjustment mechanism far jumpier than Deribit's continuous calculation method.
Platform Stability and User Interface
BitMEX has come under criticism because its platform frequently suffers from outages due to overload. Earlier this year, the company even ruled out launching any new products until it had fixed the issue. However, no further information on this front has been forthcoming.
System downtime leaves frequent traders vulnerable, as they cannot liquidate their positions and may end up losing funds if the markets move while they can't access their accounts. These losses can be significant, particularly if positions are highly leveraged.
Conversely, Deribit has developed a proprietary system that can handle extremely high volumes. User feedback generally shows that it is faster at executing orders than BitMEX with less downtime.
Deribit also offers a mobile app, which BitMEX currently doesn't.
The desktop user interfaces are similar. BitMEX perhaps has the edge in that the charts, order book, and recent trades list are viewable side-by-side without scrolling. However, Deribit more than compensates in overall platform stability and for having a mobile app.
If you want to try out either platform without making real trades, then both offer a testnet version.
Liquidity
BitMEX has a higher trading volume, so it offers tighter spreads and a reduced risk of price slippage compared to Deribit. However, Deribit still trades upwards of $0.5 billion each day, so it is still a highly liquid exchange.
Indices
Surprisingly for an exchange with its volume, BitMEX only uses three spot exchanges to obtain its price data. They are Bitstamp, Kraken, and Coinbase Pro.
The Deribit price index uses three more exchanges on top of the three used by BitMEX – Itbit, Bitfinex, and Gemini.
Reputational Concerns
Unfortunately, BitMEX has been involved in various issues that have tarnished its reputation.
In July this year, the US Commodities and Futures Trading Commission announced a probe into BitMEX. The Commission alleges that the company was allowing US traders onto its platform. The investigation is currently ongoing.
In May, the Bitstamp exchange saw a sudden sell pressure. Because it was only one of two exchanges forming the BitMEX price index at the time, savvy traders spotted the opportunity to take short positions, forcing $250 million worth of long trades into auto-liquidation.
The company has also been accused of shady practices with regards to its trading desk. For a long time, it was kept a secret, and when BitMEX finally confirmed its existence, they stated it was only there as a market maker. However, some traders believe the company is using the desk to turn a profit at the expense of its customers.
Other Information
Both Deribit and BitMEX offer a broad range of educational materials for traders, and each has its own blog - BitMEX Research and Deribit Insights.
Deribit and BitMEX both have a strong record for customer support, and FAQ sections on their website to help troubleshoot basic issues.
Neither Deribit nor BitMEX has ever been hacked to date, with both platforms using cold storage wallets to secure customer funds. Both exchanges operate an insurance fund to cover customers in the event of an auto-deleveraging occurring beyond their control. As things stand, the Deribit fund is at $1.5 million while the BitMEX fund is around $300 million.
Neither exchange is regulated and currently, no KYC check is required for either Deribit or BitMEX. However, this could soon change, as Deribit has indicated it may need to implement KYC for compliance with EU regulations.
Conclusion
Clearly, Deribit offers some attractive features to traders in the following areas:
Options trading
User experience, including mobile trading, and overall platform stability
Solid reputation
Smoother price adjustment on perpetuals trading
Meanwhile, BitMEX continues to lead the way on volume, and it has more trading pairs than Deribit. However, if BitMEX wants to remain ahead on volume, it may have to start considering ways it can raise its game in the face of increasingly intense competition from Deribit.