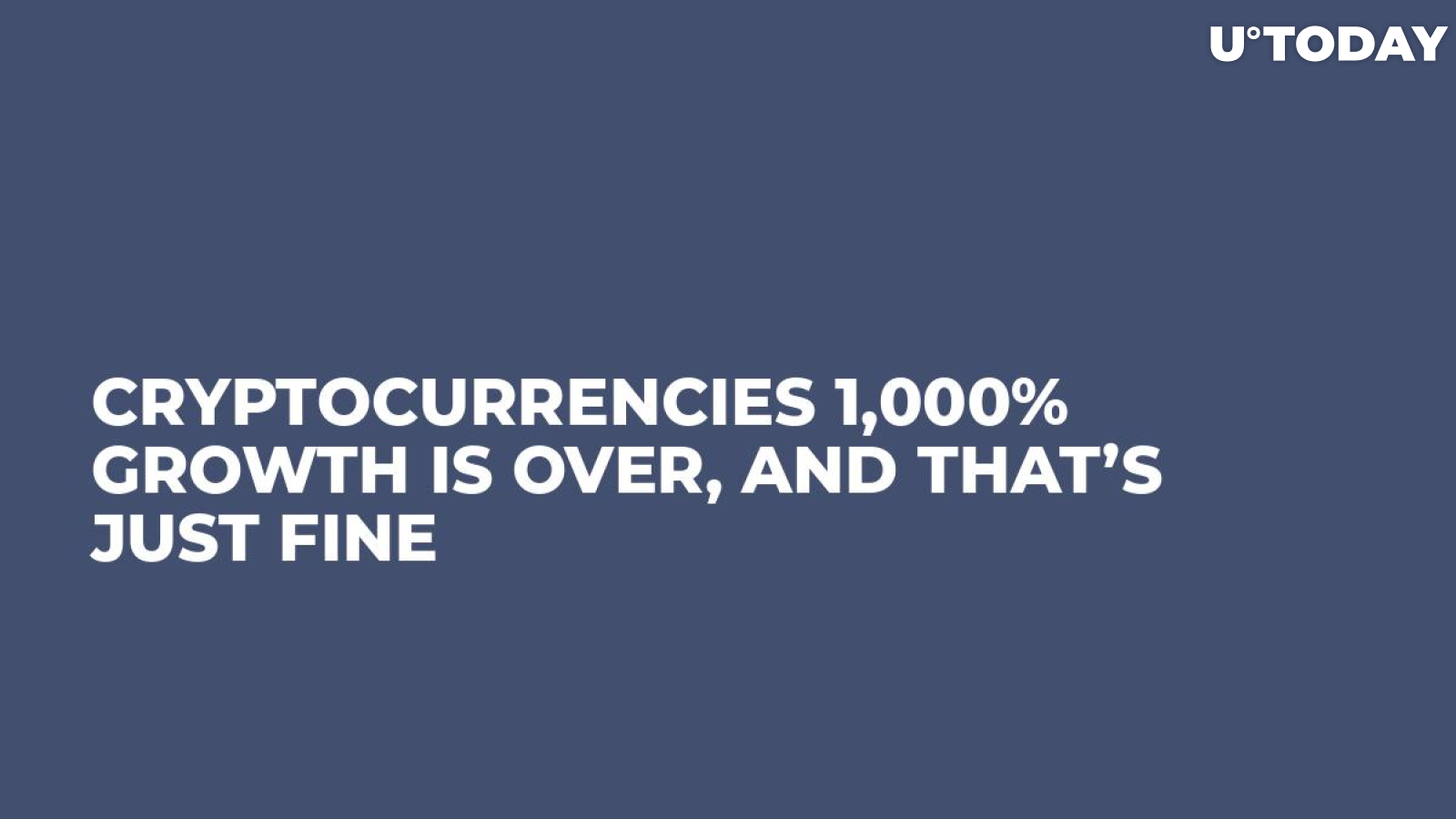 Cover image via U.Today
While it may have become obvious to a lot of investors, there are still those who bought at the pinnacle waiting for the price of cryptocurrencies to skyrocket again. However, one of the most influential men in the space has come out and stated the obvious.
Ethereum's co-founder Vitalik Buterin has said that people should not expect the massive gains in cryptocurrency that were seen not that long ago. The thinking behind his statement is that they have reached a level of adoption where there is no more surprises.
However, adoption is also being slowed because the hype and excitement behind cryptocurrencies have been found out- and mostly by regulators who are now slowing the growth by approaching the space with care before other investors join in.
But this cautious approach, which is leading to a bearish market and some unpleasant sentiment, is probably not such a bad thing. The talk of the bubble bursting has passed, as it probably has, just like the Dot Com bubble, and now there is a vacuum where those serious about the space can come in.
Vitalik says it's over
Cryptocurrencies are interesting in their broadness. They encompass a new technology, finance, economics, and a range of other aspects with the disruptive and all-encompassing power of Blockchain. However, there is no doubting they have been dragged into the limelight thanks to their investability.
Cryptocurrency, led by Bitcoin, was thrust into the public eye as the price started snowballing, and growing upon itself with an increase in interest showing a growth in price, and so on, and so on.
It grew by thousands of percent as people heard more about it and joined the space, including companies and businesses. Blockchain became the buzzword, everyone wanted to be a part of it, and it started mirroring the Dot Com bubble.
Now, Buterin has come out and said that buzz and hype is in the past.
"The Blockchain space is getting to the point where there's a ceiling in sight. If you talk to the average educated person at this point, they probably have heard of Blockchain at least once. There isn't an opportunity for yet another 1,000-times growth in anything in the space anymore," Buterin said.
A ceiling of investment
The thing is, Buterin is referring to one aspect of cryptocurrency which raced ahead, it's investability. People flooded into the space to simply own it and watch it grow. With that now over, those who are only interested in a quick buck are pulling out.
There are still masses of other spaces within the Blockchain space which need work and expansion. Its adoption as a technology, in terms of Blockchain, keeps growing, it is being regulated slowly and carefully, and as such, it is being laid out on the other end for big businesses to pick up.
If the investment side of the space has reached its pinnacle, it means that another aspect can start to grow. Perhaps it will be the distributed ledger, the use as a cross-border currency, supply chain management, or a host of other things.
Just because it's ceiling has been hit as an asset does not mean it is dead, far from it, it will only grow stronger with stronger players in the ecosystem.