The digital currency ecosystem is experiencing an emphatic bearish slump, with some of the most popular cryptocurrencies experiencing a major slip as they pare off their accrued gains for the week. However, Compound (COMP), the renowned decentralized finance (DeFi) lending platform, is seeing bullish momentum today after surging by 9.8% to $76.34.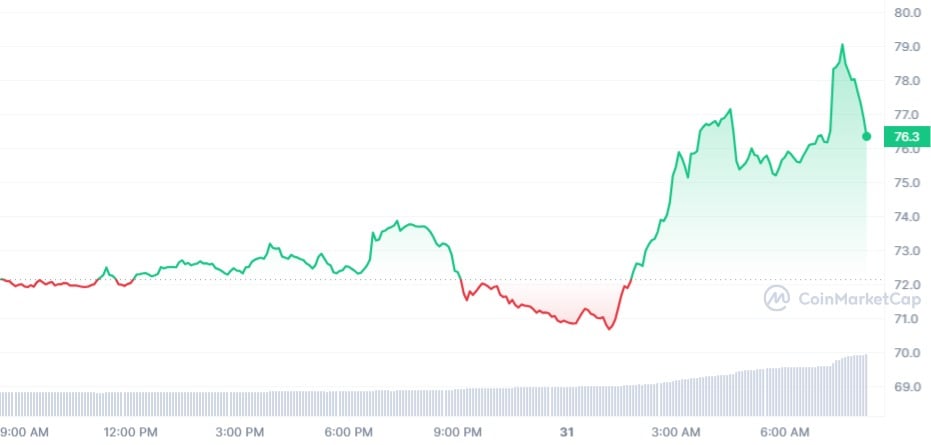 The growth of Compound has stirred interest in the DeFi world, considering the fact that Curve Finance has just been exploited. The Curve DAO (CRV) token is down by as much as 11.54% at the time of writing to $0.6493 as Vyper 0.2.15 has been compromised due to a defective reentrance lock.
Suffice it to say that Compound is now benefiting from Curve's woes as, naturally, it was supposed to be in freefall owing to the close niche both protocols operate in. The shift in interest in COMP by investors is a complement to what the protocol truly stands for. The growth of the DeFi token is notably secured by a robust trading volume.
In the past 24 hours, COMP has recorded a total trading volume of $143.82 million, a figure that is up by 152%.
Compound ecosystem growth triggers
Just like most protocols in the Web3.0 ecosystem, Compound has been seeing a lot of positive growth strides in its developer ecosystem, with new products and services launched in the past few weeks.
One of the most recent of these innovations is the debut of the CometWrapper, which has just been deployed for both Mainnet USDC and Mainnet WETH. CometWrapper is a wrapper for Compound V3 tokens to make them static and "non-rebasing," and it was built for all devs and Compound V3 integrators.
The essence of this wrapper is to enable a better functioning protocol, and it lends credence to projections of a price breakout for COMP in the near term.