Cardano's SECP, or Valentine upgrade, is expected to ship today. On Feb. 10, an update proposal was submitted by Cardano builder IOG in collaboration with the Cardano Foundation and Emurgo to upgrade the Cardano mainnet to protocol v8 on Tuesday, Feb. 14, 2023, at 9:44:51 p.m. UTC.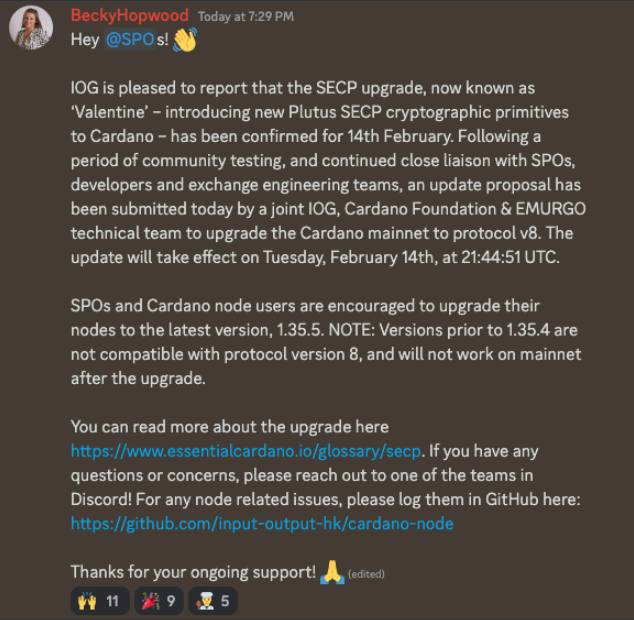 This is estimated to be at the start of epoch 394, around absolute slot height 84844800 and estimated block height 8403208.
New cryptographic primitives will be added to Cardano as a result of the Standard for Efficient Cryptography (SECP) upgrade, thus promoting increased compatibility and safe cross-chain dApp development with Plutus.
The capabilities of the new built-in functions in Plutus that handle the ECDSA and Schnorr signatures will be enabled in the upgrade to make it easier for developers to create cross-chain apps.
IOG claims that the new upgrade is less complicated than Vasil and has less of an impact on the existing dApps.
In other news, a Twitter space will be hosted on Feb. 14 to discuss everything related to IOG's light wallet, Lace, by Cardano founder Charles Hoskinson, Alex IOHK and others.
Binance to temporarily suspend deposits
Top crypto exchange Binance has announced that it will support the Cardano network upgrade and hard fork. According to the exchange, ADA deposits and withdrawals will be suspended beginning around 8:44 p.m. (UTC) on Feb. 14.
There will not be any additional tokens produced as a result of the hard fork and network upgrade. When Binance determines that the updated network is stable, it will resume ADA deposits and withdrawals. However, users may not be notified in a subsequent announcement.