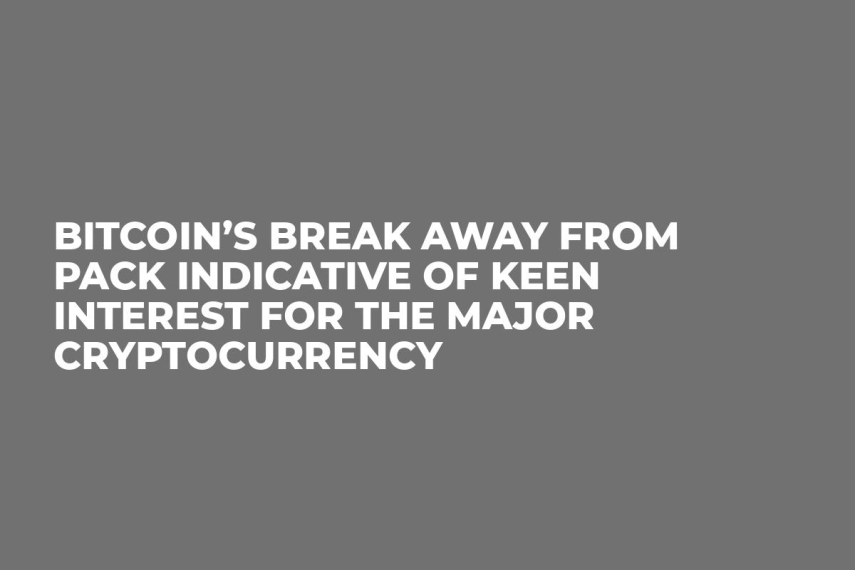 Cover image via U.Today
So often in the cryptocurrency market, Bitcoin is the head of the snake which makes the rest of the coins move in either direction. Should Bitcoin be up, the graphs of the next top 10 or so coins often look almost identical.
However, the latest graph from Bitcoin over the past week has seen the chasing pack veer off in different directions indicating that there must be keen interest in Bitcoin after a recent rally saw positivity and bullish trends return to the biggest cryptocurrency.
While Bitcoin keeps gaining momentum, the markets are generally green with Bitcoin Gold and Augur being the big winners. However, there is a bit of red as Ardor drops significantly over the last 24 hours.
Bitcoin forges ahead
A look at Bitcoin's graph over the last seven days encapsulates it big spike that took it up about $1,000 is quicktime. However, since then, it has been steadily progressing with good growth and a recent spike picking it up another four percent.
What is different though is that the next four biggest coins, Ethereum, Bitcoin Cash, Ripple and EOS all have differing graphs, although those four all look very similar. Those coins have, in the last seven days, mirrored Bitcoin's rise, but they also all suffered a notable drop whereas Bitcoin keeps growing.
It would be reasonable to assume that the reason Bitcoin is breaking away from other coins is that the market is hungry specifically for the biggest cryptocurrency. There has been a wave of good news for the cryptocurrency market.
Bullish trends
Still, even with Bitcoin leading a new path upward, it is generally bringing positivity to the rest of the cryptocurrency market as most coins are in the green, and some are even picking up major gains.
The biggest winner is Bitcoin Diamond which has seen two major spikes in the last seven days, it is up 29 percent as it looks to break away a long-standing price floor of just over $2, it now sits at $4.50.
Augur is also doing well after making the news a few times in recent weeks, with Ethereum founder Vitalik Buterin support. The prediction market platform is up 26 percent, sitting at $37.