There is a very strong correlation between the price of Bitcoin and how often it is being searched. The graph of its change in price from about June to December of 2017 almost mirrors that of its Google search.
This makes a lot of sense as the cryptocurrency market is still very new and mostly unknown, but more than that, it is a speculator's market. People often hear about Bitcoin and its price gains, research more, buy into it, which drives up the price and the interest again — known as a Satoshi cycle.
Now, however, with the price of Bitcoin dropping to lows, and ceasing its volatile nature — up until very recently, that is — there has been less interest and thus less google searches, which again correlates with the price of the cryptocurrency.
However, looking at the Google trends of certain Bitcoin related search phrases, there seems to be an uptick in interest again, but what can be read into this is very much up for debate.
"Bitcoin"
eToro Senior market analyst, Mati Greenspan, tweeted about the uptick in interest for the term Bitcoin.
....and we're back!

Google searches for #Bitcoin are trending up again. pic.twitter.com/aNPY2nnIFp

— Mati Greenspan (@MatiGreenspan) November 29, 2018
He is highly optimistic in the tweet that this is positive news, but his range of search is from March to present — which is a key factor. Looking at a graph for the same phrase over the past 12 months, it shows barely any change in interest.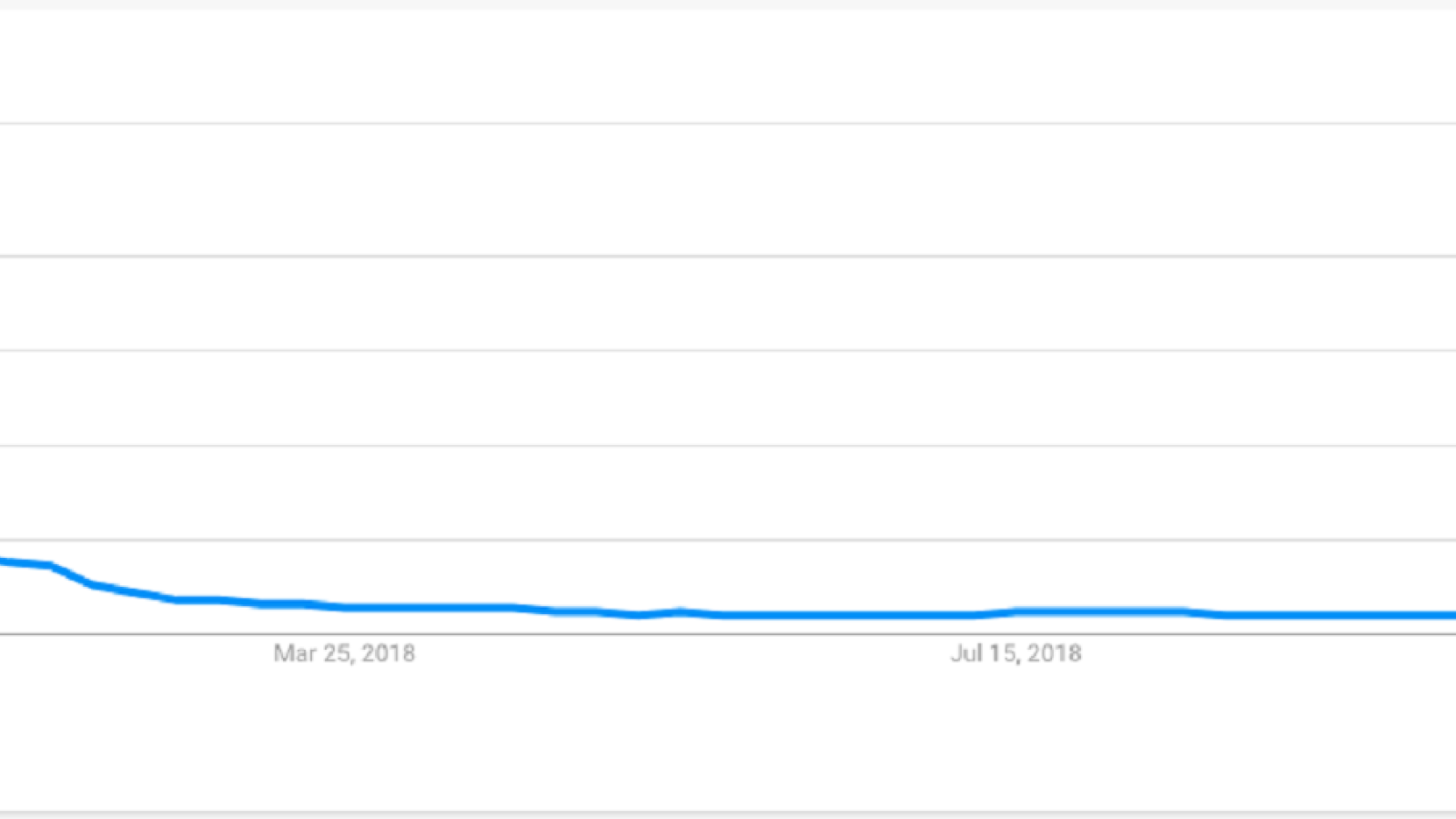 This is because the uptick in interest which is being viewed from March is devoid of the peak interest which was seen over December.
More so, the term 'Bitcoin' is a bit ambiguous in simply determining what the searches are about. Like any good mainstream media source, there is huge reporting on the recent downfall of cryptocurrencies, and this could be fueling the Google searches.
"Buy Bitcoin"
Alistair Milne, CIO of the Digital Currency Fund, tries to decipher this trend a little more by looking at the phrase 'buy bitcoin', and he notes that there is no noticeable uptick on this phrase. But again, he has opted for a graph that looks at the last 12 months.
Why I'm not very excited about the increase in Google searches for 'Bitcoin' ... 'Buy bitcoin' has barely moved (so far) pic.twitter.com/Sjt5UHuh39

— Alistair Milne (@alistairmilne) November 29, 2018
When one takes the same range as Greenspan and his 'Bitcoin' search, and applies it to 'buy Bitcoin' there is a small, but noticeable, uptick, in the search results.
True to form
Currently, Bitcoin has managed to bounce back up from a floor in the mid $3,500 mark, and as such, the Google results are showing this increase in price which — considering how nonvolatile BTC has been these past few months — is a big jump.
It is hard to say that Bitcoin is now back on track and hauling in millions of potential investors who are starting to search for it again, but there is indeed a uptick in search for the popular cryptocurrency again.