The Twitter account Whale Alert has posted 22 consecutive transactions from one unknown wallet to another that together are worth nearly $9 bln – each contained around 55,000 BTC. The community is lost in guesses trying to figure out what is going on here.
? ? ? ? ? ? ? ? ? ? 55,337 #BTC (410,303,711 USD) transferred from unknown wallet to unknown wallet

Tx: https://t.co/6zhF7AO7Lc

— Whale Alert (@whale_alert) December 6, 2019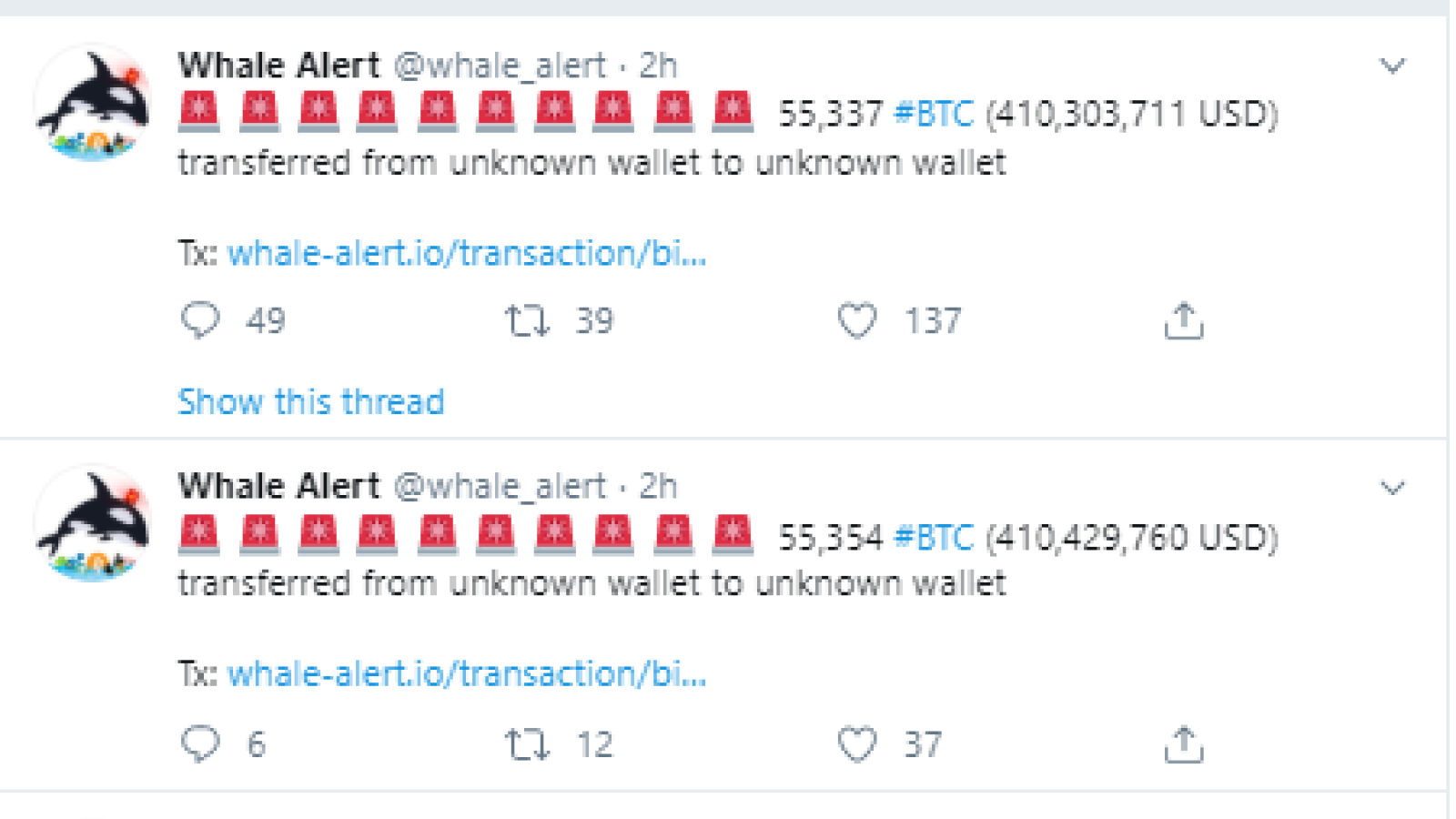 Almost $9 bln in Bitcoin gets transferred easily
Whale Alert has spotted that around 1,210,000 BTC (around $9 bln) has been transferred between two unknown wallets over the last two hours.
The first reaction of the community was there is something wrong with the Whale Alert account.
@whale_alert 22 transferred of #bitcoin (every time transfeered about 55,000 BTC)right now,is your system broken or really somebody do big thing???

— Coinicle - 數位資產交易所 (@BtfeOulYN1HkPKz) December 6, 2019
The majority of comments are jokes, sarcastic comments or talks about another Bitcoin dump coming soon.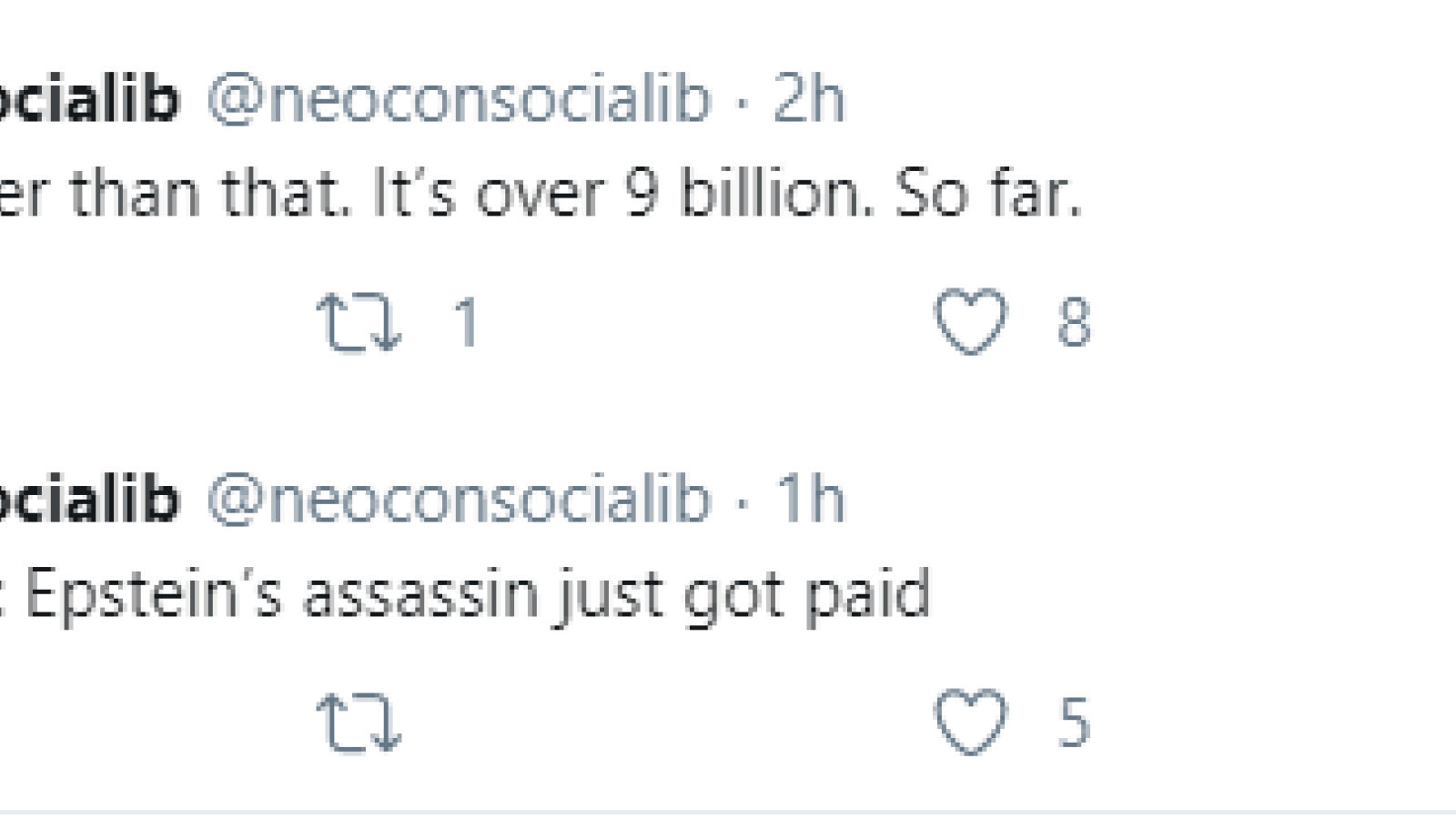 The so-called whales are market players who own a tremendous amount of assets. They are believed to have an ability to manipulate prices by dumping those assets to the market to buy back more of them as soon as the price plummets.
When Whale Alert posted data of large transactions in the past, many users in the comment thread assumed that this is what was happening.
Finally, Whale Alert gave an explanation about these massive transactions.
These transactions are very likely change transactions. We will reduce the amount of these being shown. https://t.co/pTLFDrBWx7

— Whale Alert (@whale_alert) December 6, 2019
Earlier biggest transaction in BTC, users say XRP would have failed here
As reported by U.Today a little earlier, on Thursday, December 5, a similar amount (almost $9 bln) in Bitcoin was transferred within just one hour. That was called the largest BTC transaction in history.
However, the process also proved to be crypto exchanges sending funds to each other for security reasons.
A crypto analyst @themooncarl, when commenting on some of those BTC movements (slightly over $1 bln), said that the fee which had to be paid for that totaled just $6,40. No banks would be able to compete with that.
Big #Bitcoin transactions in the past few days with EXTREMELY low fees:

46,000 BTC ($337 million), fee: $0.40.
43,500 BTC ($313 million), fee: $1,00.
57,000 BTC ($415 million), fee: $5,00.

If you add these together, then $1,07 billion was moved for a fee of $6,40! ?

— The Moon (@themooncarl) December 5, 2019
In the comment thread, a Bitcoin fan pointed out that XRP would be unable to transfer so much money for lack of liquidity and due to being centralized.
XRP has no liquidity to transfer that ammount, its also centralized which means those transactions can be frozen or stopped. You cant do that with Bitcoin since its censorship resistance and has the highest security. Theres BITCOIN and theres Shitcoins XRP its a shitcoin ?

— Viejonazo [Bitcoin BTC⚡?] (@Viejonazo89) December 6, 2019