As reported by popular cryptocurrency tracking service Whale Alert, slightly more than 15 hours ago, two massive chunks of Bitcoin got transferred from the leading U.S. crypto exchange Coinbase to anonymous wallets.
This happened when Bitcoin took a dip below the $27,000 level for a short while.
Anon whales buy BTC on the dip
Whale Alert reported that these were two consecutive transfers, carrying 11,533 BTC and 11,347 BTC. These are the equivalents of $316,300,407 and $311,198,260.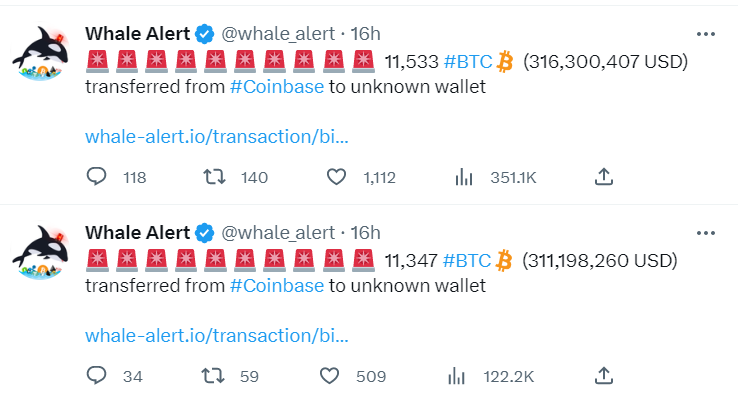 Still, despite the price decline, Whale Alert registered incoming crypto transactions on Coinbase, too. Two anonymous wallets sent equal amounts of Bitcoin (1,627 BTC each) to this top exchange before the aforementioned transactions, possibly before the price went down.
It was not only Bitcoin that was sold on Coinbase. Two anonymous wallets transferred 19,635 ETH each to the above-mentioned crypto platform.
Reason for Bitcoin's 2% plummet
Bitcoin reacted with a 1.9% fall on May 15 following the news of the prominent BlockFi crypto lending platform planning to liquidate its business. The company has been attempting to sell its crypto platform and nearly 700,000 customer accounts since January, citing regulatory challenges as the main reason for this decision. However, these attempts have been of no success. BlockFi filed for bankruptcy back in November of last year.
BlockFi is yet another crypto platform that has gone down since the beginning of last year. The year 2022 saw the collapse of Terraform Labs, its Luna token and UST stablecoin; it was followed by the collapse of Three Arrows Capital in the summer. In November, Alameda Research and FTX exchange, which owned it, went down. The list continues with Genesis and Digital Currency Group.
Bitcoin fell from the $27,545 level to the $26,890 zone, losing 1.98%. By now, the flagship cryptocurrency has recovered its losses partly and is changing hands at $27,191 on the Bitstamp exchange.