XRP might be heading towards a conclusion as the token's trading volume shows signs of decreasing. Currently trading near its local top, the continuous drop in trading volume could potentially lead to a price reversal for XRP.
XRP's trading volume has been a critical aspect to watch in the midst of its impressive price rally, following a historic court victory against the US Securities and Exchange Commission (SEC). With a significant uptick in the trade volume contributing to the token's price surge, the recent decrease may signal a shift in market sentiment.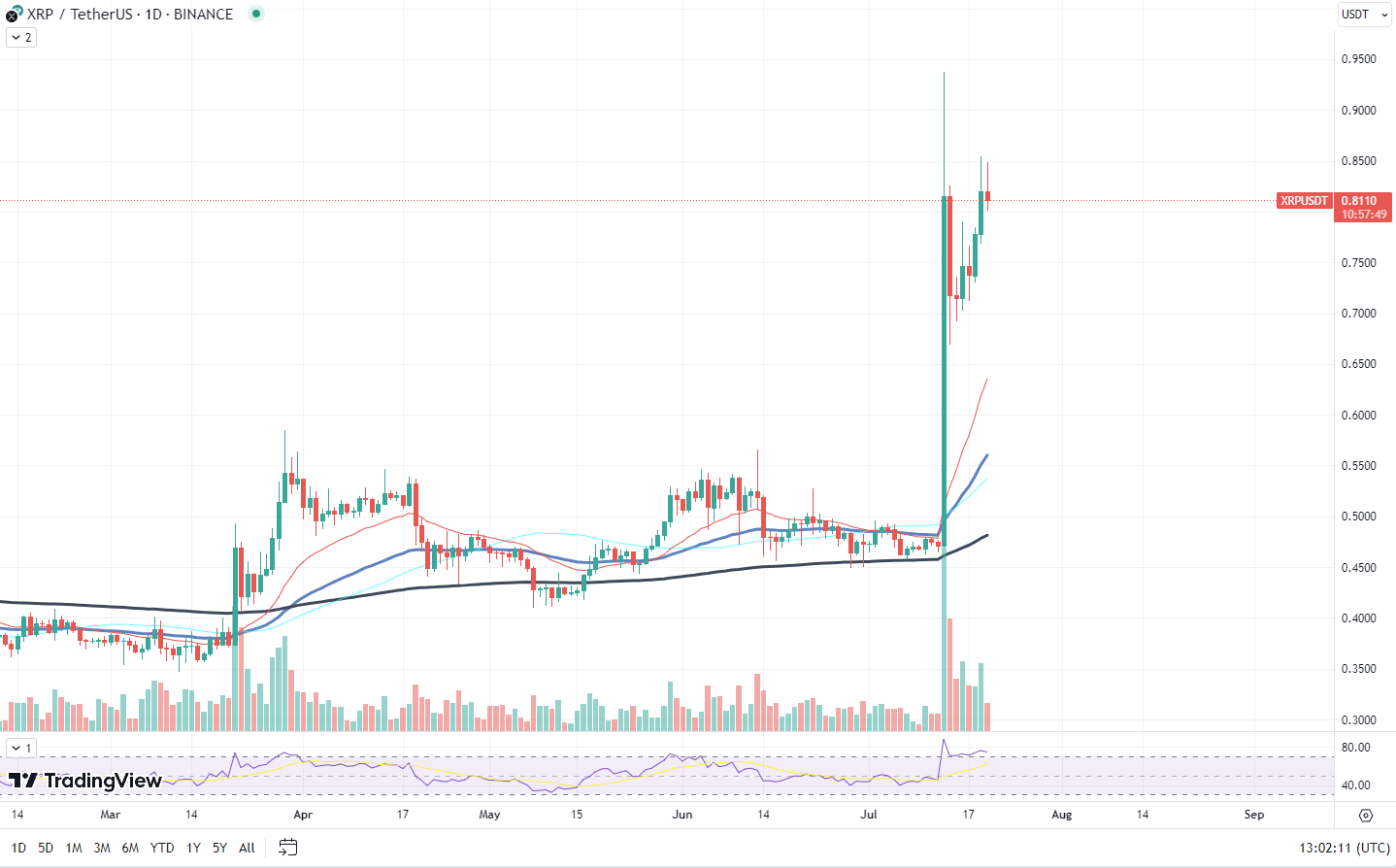 The decrease in volume indicates that the number of transactions involving XRP is dwindling. In the context of a price rally, this often indicates that traders may be starting to take profits or curb their purchasing activities, potentially anticipating a market shift. This, combined with the fact that XRP is trading near its local top, suggests that we could be nearing a tipping point in the token's recent price journey.
If this reduction in volume continues, it could result in a price reversal. The high volume during a rally often demonstrates strong investor interest and belief in the asset's potential. However, as volume decreases, it may imply that interest is waning and a sell-off could be imminent.
Cardano gets a second breath?
The native token of the Cardano blockchain, ADA, shows signs of regaining its footing after a substantial dip. After losing approximately 70% of its value during the recent rally, ADA has bounced back with an 8% gain in the last two days, hinting at a potential trend reversal.
Cardano's ADA has been on a wild ride recently, soaring during the initial rally, only to face a drastic drop, erasing most of its gains. However, the past 48 hours have seen a noticeable resurgence in ADA's price, hinting that the token might be catching its second wind.
This price appreciation is further supported by an uptick in ADA's trading volume. An increase in trading volume typically signifies growing interest and activity in the market. For ADA, this surge in trading volume could imply renewed confidence among traders and investors, which might provide the necessary momentum for ADA to push towards its local high again.
As ADA attempts to rally again, investors and traders are closely monitoring these trends. The recent uptick could be an encouraging sign for those who believe in Cardano's long-term potential, but it's equally important to approach these market movements with caution.
Shiba Inu hits resistance again
In recent trading sessions, Shiba Inu (SHIB), a popular meme-based cryptocurrency, has reached a crucial resistance level, testing its 50-day exponential moving average (EMA) at $0.00000785. This significant milestone in SHIB's price action could potentially indicate an impending shift in the token's market dynamics.
The current trading volume of Shiba Inu is not particularly remarkable and is expected to remain relatively stable throughout the day. With such volume levels, it is improbable for SHIB to execute a substantial breakthrough. That being said, the scenario could change if the selling pressure subsides.
Should selling pressure remain low, SHIB may find the strength to cross above its 50-day EMA. However, even if such an uptick materializes, it's plausible that SHIB might face a subsequent reversal. It is a common pattern in volatile markets, where assets often test significant levels before retracting as traders capitalize on short-term price fluctuations.