After demonstrating a 73.1% momentum gain over a week ago, the XRP price closed that day's candle near the $0.82 per token zone and moved further into distribution for some and accumulation for others. What makes this particular price point interesting is its historical significance — the same value at which the XRP price halted its momentum back in the fall of 2018.
The year 2018 was a challenging period for the crypto market, characterized by a bearish cycle. Bitcoin, the leading cryptocurrency, reached its all-time high of $20,000 at the beginning of the year, only to plummet to the $6,500 zone by September.
Similarly, XRP suffered a massive decline of over 90% from its peak during that same period. Then, in September 2018, a pump worth 180% happened, and here is the price of XRP showing triple-digit growth and BTC getting some of that positivity, showing 8%.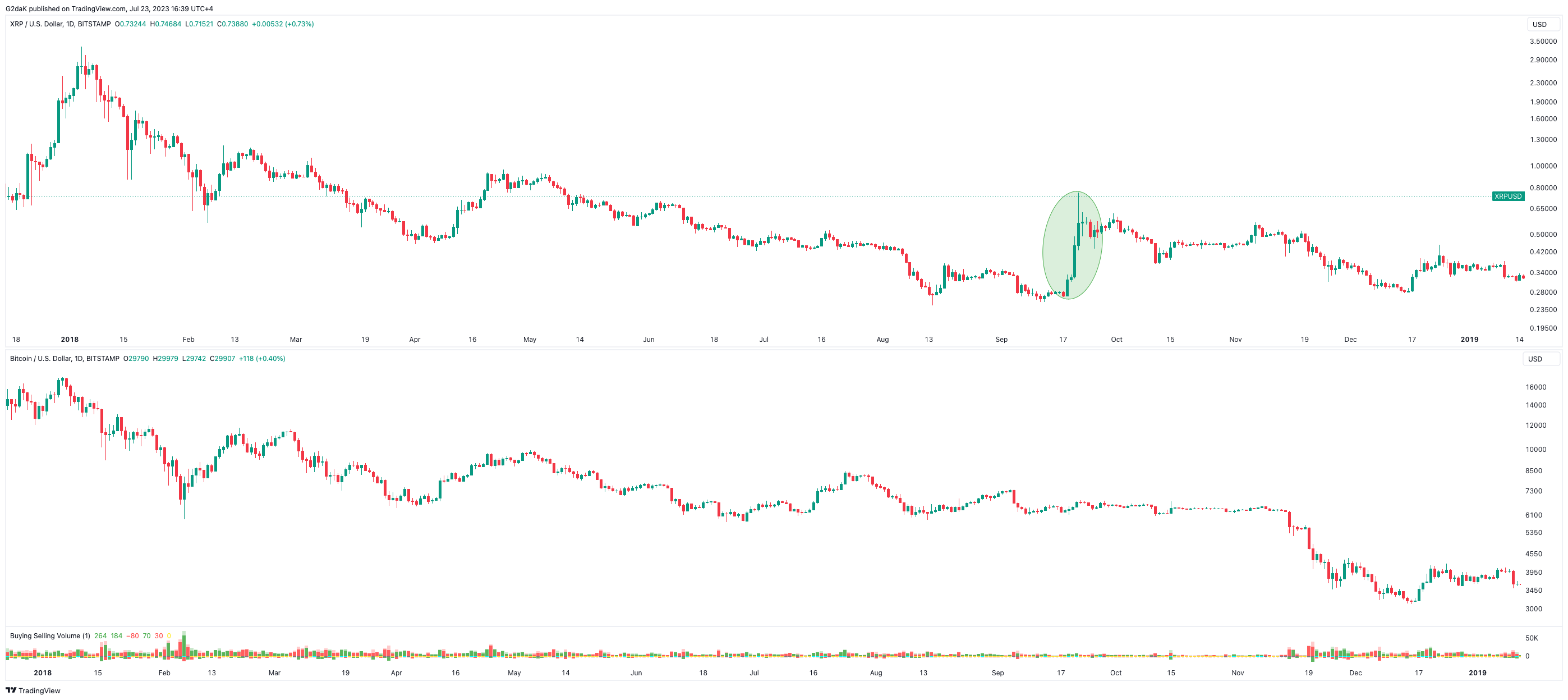 It is hard not to notice a number of similarities between then, in the fall of 2018, and now, nearly five years later. With that in mind, we can turn to the history of the XRP price and consider what we can expect next in 2023.
Historical parallels
Back then, after that thundering surge, the price of XRP went into a correction, giving back 23% over the next four days. Then, from the end of September until the first day of October, another wave of growth occurred. It was less hectic, but as a result, the price of XRP grew by more than 40% and reached the closing prices of the daily candles of that pump. But that was all, and despite this recovery, the positive momentum ended, and XRP ultimately entered a downward trend.
It is essential to note that history does not guarantee an identical outcome, and the current market environment may differ significantly from the past. The 2023 crypto landscape is marked by unique factors that may impact XRP's trajectory. However, while past performance may not dictate the future with certainty, it can undoubtedly offer valuable insights in uncertain market conditions.