XRP jumped over 5% to trade at $0.387 at the time of writing. In the last 24 hours, XRP was among the top 10 purchased tokens among the 100 biggest BSC whales, per WhaleStats data.
XRP started to climb after reaching a low of $0.362 on Feb. 13 as investors bought the dip.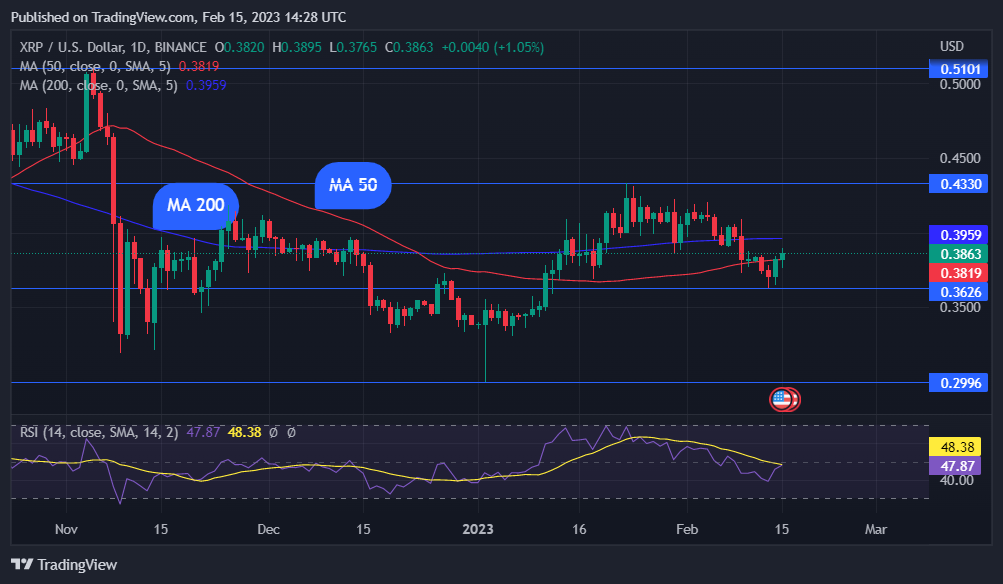 XRP closed Feb. 14 in the green and made a move to rise above the $0.382 barrier.
The move continued, reaching intraday highs of $0.3895 on Feb. 15. A positive indication is seen in the RSI, which is slightly tilting upward and making a move toward the neutral level of 50.
This might suggest that the price could engage in range trading for a while before making a major move. On the upside, a sustained move above current levels might propel the price to target the $0.396 level next. A continued rally might push the XRP price as high as $0.428.
On the other hand, any decline might push the XRP price to retest the $0.362 level.
Hope arises on current XRP sales
XRP enthusiast Bill Morgan shared a screenshot of part of Ripple's Q4, 2022, report that pointed out that Ripple sold XRP only in connection with ODL transactions.
Ripple claims it is true. I was extracting from its market reports. It would explain why the SEC never sought an injunction on current sales. Not now being offered to anyone who could be regarded as an investor since before the lawsuit started. https://t.co/WqUpUmmSdf

— bill morgan (@Belisarius2020) February 15, 2023
Morgan says this has been happening since June 2019 and might explain why the SEC never sought an injunction on current sales.
He added, "There is no common enterprise between the ODL customer who buys the XRP to transfer it and the recipient who converts it into some fiat at the other end."
Morgan earlier posed a question to CryptoLaw founder John Deaton on the claims of injunction or disgorgement if current sales are only for ODL purposes and not as an investment with an expectation of profit.
Deaton responded that if it were true, there would be no injunction or disgorgement, only a fine.
Morgan stated in another tweet that the SEC's only hope is "a fine for pre-2019 sales," in line with Deaton's opinion that the only victory for the SEC would be if Ripple offered XRP as an unregistered security between 2013 and 2017.