XRP, which had made notable strides following its legal victory over the U.S. Securities and Exchange Commission (SEC), is now seeing a significant loss in momentum. The decision that XRP is not a security resulted in a surge in its price, largely driven by retail investors who were enthused by the positive court ruling. However, this uptrend now seems to be stalling, as XRP has already lost half of its post-SEC lawsuit gains.
One of the crucial factors attributed to this downward shift is the current lack of institutional-grade inflows into the cryptocurrency market. The engagement of institutional investors has always been a key driver for significant and sustained uptrends in the crypto market. Their participation not only brings substantial funds but also imparts a level of credibility and stability to the cryptocurrencies involved.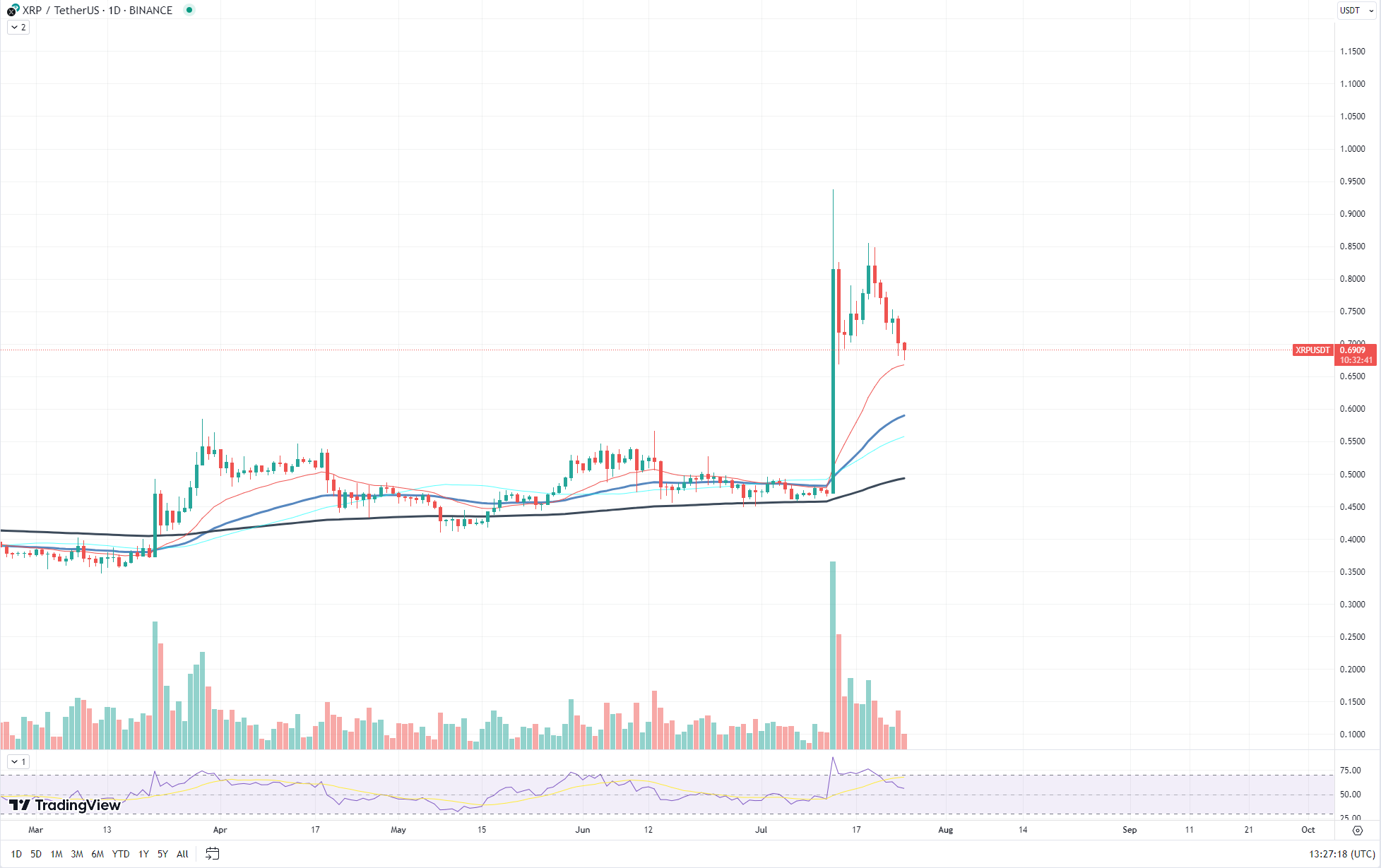 Unfortunately for XRP, despite its recent regulatory win, the inflow from these large-scale investors is still relatively lackluster. The initial push that XRP received from retail investors after its court victory, though significant, appears insufficient to maintain a long-term uptrend. This is a classic case demonstrating that while retail investors can spark a price rally, it often requires the involvement of institutional investors to keep the momentum going.
Moving forward, the question for XRP hinges on whether it can attract these larger investors. The token's legal victory over the SEC removed a significant barrier, providing a green light for those who were previously wary of regulatory concerns. However, overcoming this obstacle does not automatically translate into institutional support.
Ethereum pushed down
Ethereum, the second largest cryptocurrency by market capitalization, has been under continuous downward pressure lately, especially since breaking below the critical $1,900 price threshold. This decline has sparked concerns among investors and traders alike, eager to identify the potential source of this bearish trend.
One plausible explanation for Ethereum's downward trajectory could be the intensified selling pressure that has emerged in the aftermath of its support breach. Support and resistance levels play a pivotal role in cryptocurrency trading, influencing the buying and selling behavior of traders. In Ethereum's case, the breach of the $1,900 support level could have triggered an increased sell-off, further pushing the price down.
The second key factor that could be contributing to Ethereum's price decline is the lack of inflows into the token. Data indicates that the volume of funds flowing into Ethereum has been significantly low recently. In the world of cryptocurrencies, inflows are a strong indicator of investor interest and confidence in a particular token. Low inflows suggest a lower demand for Ethereum, which could be driving its price downward.
As of today, the cryptocurrency market is in a correction phase, marked by a generalized downturn in the prices of most digital assets. In such a scenario, it is unlikely that Ethereum or any other cryptocurrency would exhibit an upward trend until there is a change in the broader market sentiment.
Worldcoin: Rally or sprint?
Worldcoin's initial surge mirrors the patterns seen in assets like Arbitrum, Aptos and ARKM. Each of these cryptocurrencies experienced a robust start, garnering considerable attention and investor interest. However, the momentum for these assets often faded rather quickly, leading to stagnation or even a swift decline in value.
This pattern is a familiar one in the volatile world of cryptocurrency trading, particularly for assets that become the focus of trading communities. The initial hype and FOMO (Fear of Missing Out) drive up prices significantly. Still, as the buzz wears off, many investors take profits, leading to a rapid price drop. It is a trend reminiscent of pump-and-dump schemes and can make it challenging for such assets to sustain their initial growth over the longer term.
The challenge for Worldcoin will be to sustain its momentum in the face of these market dynamics. It will require more than just hype; it will require delivering on its promise to provide a unique digital ID for everyone on the planet, a mission that has garnered both praise and skepticism.