Popular crypto tracking platform Whale Alert, which traces large crypto transactions and scam transfers, has announced that over the past 15 hours, an astounding amount of popular meme coin Shiba Inu has been moved.
The senders and receivers are marked by the tracker as unknown wallets. It may show that the community is still very interested in meme coins, and their season continues now even after PEPE collapsed more than 50% from its ATH on May 5.
20 trillion Shiba Inu on the move
The above-mentioned wallet tracker spotted four consecutive transactions bearing five trillion SHIB each. This is the equivalent of $43,615,000. Therefore, all-in-all, approximately $174.4 million worth of meme coins have been moved with these transfers.
The crypto community responded with a wave of comments to all of these transfers, wondering what may be happening and who is transferring these staggering lumps of Shiba Inu.
The size of the transfers may indicate, however, that these are internal transactions of a major crypto exchange. Earlier this year and at the end of 2022, Binance admitted to making big SHIB transactions among its own crypto wallets.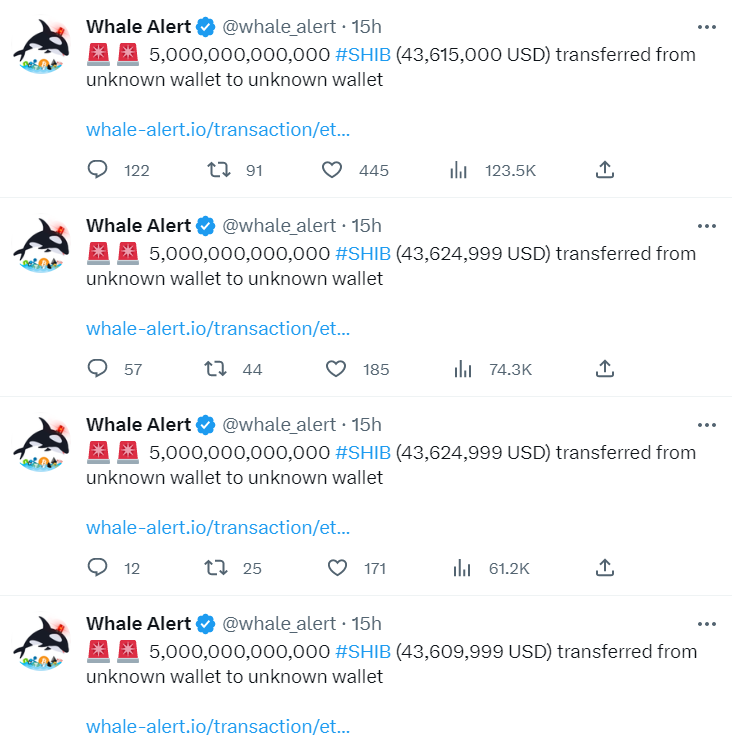 Three billion SHIB burned in one go
According to data shared by Shibburn tracker of burn transactions, on May 16, an anonymous wallet managed to remove a whopping 3,016,073,367 SHIB from the circulating supply.
This pushed the burn rate of the prominent meme coin a surprising 26,000%. Over the past 24 hours, though, this record has gone down as the burn rate dropped below zero — down 99.93% as only as few as 1,980,000 Shiba Inu tokens have been burned.
At the time of this writing, SHIB is changing hands at $0.0000869 on the Binance exchange. As reported by U.Today earlier, Shiba Inu has printed a Death Cross pattern, which is likely to be a negative indicator for the SHIB price in the near future.