There are dozens of Bitcoin or Ethereum forecasts on the Internet; people try to predict what the price will be within a few years. However, there are many other promising coins, and Tron is a vivid example of such. In our analysis, we will get acquainted with its price prediction and also touch technical and fundamental sides.
Before switching to TRX forecast, let's get to a short project review to understand its investment attractiveness.
TRON: What is That All About?
At the end of August 2017, TRX coins were issued for ICO. The token was so in demand that due to the increased demand, part of the servers of one of the top cryptocurrency exchanges Binance failed.
Since then, any discussion of a startup has led to violent disputes from its opponents and supporters. Some skeptics say they platform uses a stolen code; others claim that there is no real product.
TRON Features
Consensus. Currently, the founders of the Tron network have developed separate consensus mechanisms that help to resolve identification issues when conducting online transactions.

Operations from one user to another ("from hand to hand"). Only direct transactions operate in the Tron network. There are no centralized intermediaries, which increase financial costs.

Availability of the smart-contract protocol. Destruction of all information barriers that are concentrated in many entertainment applications.

Blockchain. At the moment, the main advantage of Tron is not the blockchain itself, but its flexibility. Currently, the network supports a lot of different types of blockchain: EOS, Bitcoin, Qtum, Ethereum, and so on; Tron can interact with all of them. In turn, this increases the liquidity of the network, as well as its utility.

The presence of game currency. The fact is that any gaming company that operates within the framework of the cryptocurrency Tron is able to issue its currency. Network members are free to trade among themselves using internal protocols.
TRX Key Differences From Competitors
Tron is radically different from the existing analogs. The most relevant differences are as follows:
Complete freedom of information. Any data has the right to free distribution.

Huge selection of content.

All users can safely transfer electronic data in the ICO format and use digital asset processing services.

Quality infrastructure. Optimized asset allocation contributes to the formation of a huge list of decentralized sites. It refers to entertainment content, applications, information, and conversion services.

Most users of such platforms have problems with short monetization cycles. Many software creators cannot store and maintain the credit data of all customers. Tron is devoid of these shortcomings.
Results of 2018
In the middle of May 2019 Tron is ranked in the 11th position in top 100 cryptocurrencies in terms of their market capitalization on CoinMarketCap. Tron has a current value of $0,029250, a market capitalization of $1.950.417.822, a volume for the past twenty hours of $712.459.625, circulating supply of 66.682.072.191 TRX and total supply of 99.281.283.754 TRX.
On Jan. 1, 2018, the price of Tron was $0.044682, a peak was formed early in January 2018 at the price of $0.224499 and ever since a decline followed for the remaining of 2018. The current price of $0,029250 represents a decline of 34% compared to the price on Jan. 1, 2018. What experts think and believe about Tron in 2019?
Tron price prediction 2019
Four Tron coin prediction opinions are presented below as a first approach about what could Tron value be in 2019:
WalletInvestor.com is very pessimistic about the future business prospects of Tron predicting a 1-year forecast value of $0.000330 or a decline of almost 98%. According to this prediction if price is to move to this very low level then the recent rally would be an opportunity to sell the cryptocurrency. Nevertheless, this article is strictly informational and does not provide any trading recommendation.
Smartereum is on the other side with a very different and much wider prediction. They report that analysts are very optimistic about Tron in 2019. Their Tron predictions by the end of 2019 is a price of $12, which is based on fundamental factors, partnerships and advantages, important catalysts for the future price of the cryptocurrency.
CoinSwitch is also very optimistic about the price of Tron in 2019. They have a range of $0.05 - $0.06 for the first two quarters of 2019. By the end of 2019 the price could reach $0.11, which is positive as compared to the last year. In 2019, Tron will have positive effects from two important factors, security and privacy.
TradingBeasts.com has the following trx predictions for 2019. In December 2019 an expected minimum price of $0.05, a maximum price of $0.07 and an average price of $0.05.
Tron price forecast 2019
Theoofy.com presents a few alternative scenarios about TRX price prediction in 2019 based on the positive and negative factors such as high trading volume and large circulating supply. There is a wide price range of $0.3-$0.7 for 2019 which is very optimistic as compared to the current price of $0,029250.
An important note is that the assumption of the constant circulating supply. If the supply changes, this will result in the change in market cap and token price. While this is an important note, we would mention the fact that fundamental factors such as business prospects and applications and a wider adoption of the Blockchain technology worldwide would be very important factors to consider. Regulation is also a key driver for the future price of cryptocurrencies.
Tron price prediction 2020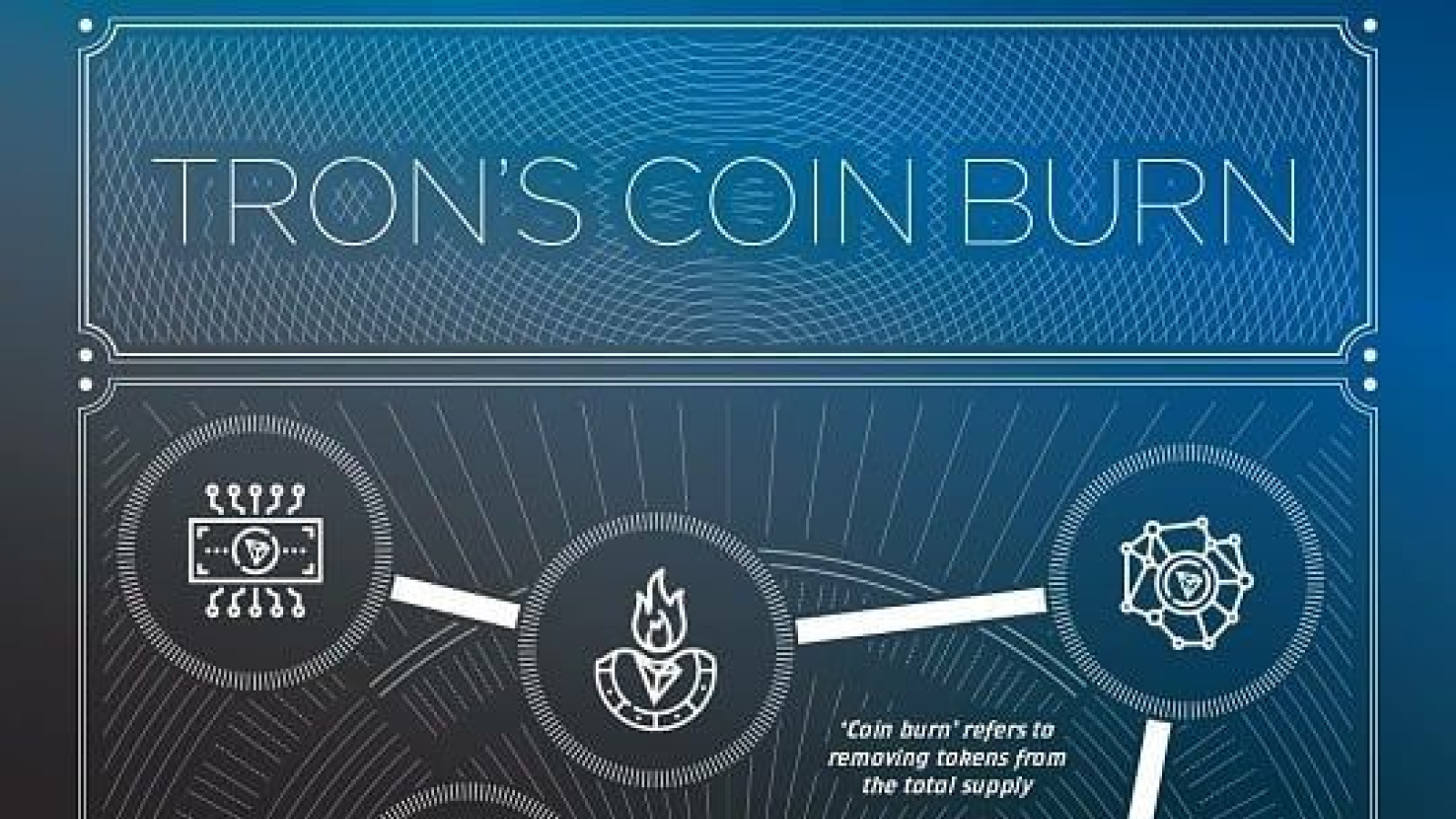 For 2020 TradingBeasts.com forecasts that during January 2020 a minimum price of $0.05, a maximum price of $0.08 and an average price of $0.06 may be expected. By the end of 2020 in December a large price appreciation is expected with minimum, maximum and average prices of $0.21, $0.30 and $0.24 respectively.
CoinSwitch forecasts that in 2020 Tron for the first time could reach the price of $0.4 and that it will be a year high increased volatility compared to 2019. By the end of 2020 a decline of the price is expected from the price level of $0.30 to $0.24 in December 2020. Smartereum has mentioned by 2020, the coin is expected to trade at $52.91.
Another popular resource Wall Street, which is based on a study of the cyclical nature of the price movement of an asset, gives the following Tron forecasts:
By the end of 2019, the rate will be $0.25.
By the end of 2020 - $0.90.
At the end of 2021, $3.24 is predicted.
By December 2022 - $11.57.
Until the end of 2023 - $41.
Tron price prediction 2025
Can we make an accurate forecast five or six years from now about the value of Tron in 2025? Logic says that the further we move into the future the less reliable Tron predictions are. But for informational purposes here are some forecasts and TRX price predictions ranges for 2025. DigitalCoin forecasts that the price of Tron in 2025 will reach a maximum value of $0.10024417 in May. By the end of 2025 in December the price could decline to $0.06084865. Another forecast made by thenexttechs.com is that price could go up to $10-$15. With all these trx price prediction ranges we will conclude with our technical analysis for Tron and a conservative approach with a bullish and a bearish scenario for 2019.
Fundamental Growth Factors
Creating a decentralized trading platform
Two updates, Great Voyage (release in 2020) and Apollo (mid-2021), are about to allow content creators to develop their brands, to have the opportunity to hold Initial Coin Offerings (so-called ICO) and even to issue own digital assets. The essence of this step is to increase the economic viability of the system.
Creating a platform for online games
Tron is also working on two more directions: the Star Trek line (mid-2023) and Eternity (end of 2025), where customers will get an opportunity to make their decentralized gaming ecosystems. The point of this stage is the creation of online platforms, enabling users to manage the game process as much as possible, invest in projects, and participate in discussions about the future gaming market.
Roadmap
The developers initially measured their work for 10 years ahead in stages:
2019 and 2020 years. A decentralized environment is created to host content.
2020 and 2021 years. All technical issues concerning dividends should be resolved
(accrual + payment).
2021 and 2023 - New tokens and their further implementation with the help of ICO. It also considers the exchange for other types of cryptocurrency.
2023 and 2025 years. Founders are about to develop new projects while using the program code Tron.
2025 and 2027 years. The crowdfunding system will be created using a blockchain. Many tools are implemented here.
Tron technical analysis for 2019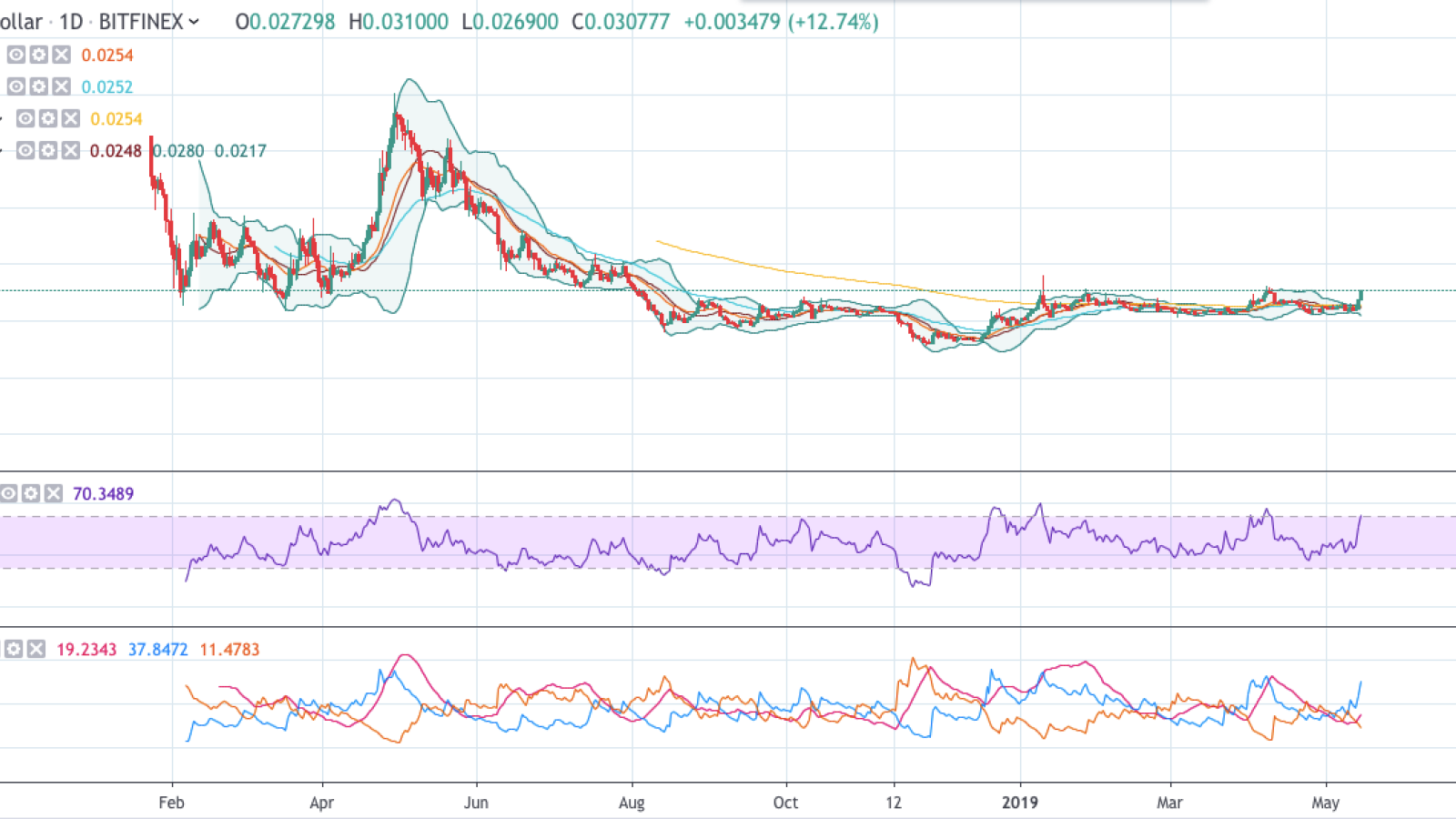 The optimistic scenario is that the bottom of $0.011 will mark a trend change with a recent uptrend formed and price could move up to the range of $0.035 - $0.051, a range with significant consolidation during 2018. This scenario already happened, as the price closed above the declining 200-period exponential moving average. What is more, the quotes are trading above the 20-period and 50-period daily exponential moving averages. If global regulation issues provide a safer and more reliable environment for the cryptocurrency market in 2019 these price levels may be consolidated as they are probable and can be considered realistic based on the recent high volatility of the cryptocurrency in 2018.
We do not believe that the high price of $0.10 will be reached in 2019 or in the following years as it would only be feasible due to a higher demand for Tron and speculative momentum. Another crucial reason that could support a price appreciation for Tron in 2019 would be increased interest in ICOs and investments in the Blockchain industry. More capital raised, invested and used for business applications and solutions could send the price of Tron higher than our range of $0.035 - $0.051. Odds are according to our opinion that this most probably will not happen in 2019.
The pessimistic scenario is that price could fall below the recent $0.011 bottom. How low could price go is a tough answer, and a price of $0.0 is certainly a potential price. Without fundamental catalysts a more realistic price in the event price is to decline further would be the range of $0.05 - $0.08.
For now, a consolidation zone of $0.020- $0.030 is evident and at some point, in 2019 a breakout should occur. This wide range could send the price much lower in the event our pessimistic scenario is the one to be materialized. As a conclusion for our technical analysis for Tron in 2019, we estimate that the high volatility experienced in the cryptocurrency market in 2018 should continue in 2019. This high volatility makes the Tron predictions highly unpredictable.
All the opinions mentioned above about Tron price predictions should be taken only as informative. Only time will tell what the real price of Tron will be in 2019. 2018 proved a tough year for cryptocurrency. This does not mean that trends could change in 2019 without some pivotal developments.
Is It Worth Buying Now?
The future of Tron looks ambiguous: on the one hand, the cryptocurrency can soar to the skies and bring unprecedented profits; on the other hand, it can sink into oblivion. Success entirely depends on the extent to which startup developers can realize their tasks. At first glance, the future of Tron looks promising, and only force majeure can prevent the project from glory.
However, in reality, the situation looks different so far: since May 2018, the coin has been moving away from its highs recorded at the beginning of the year. Remarkably, no measures below helped Tron to succeed:
Mainnet launch.
Burning a billion of TRX.
BitTorrent purchase.
Of course, the decline can be attributed to the general state of the cryptocurrency market.
If you want to invest in Tron today, you should rely, first of all, on the honesty and integrity of the team. One should be prepared for long-term investments, and not hope to get a big profit after six months or a year. However, before investing, take a look at this Chico video:
The Bottom Line
The Tron platform is heavily capitalized and supported by large Chinese companies. The technical features of the platform and the mechanism of interaction of its users are pretty well thought out. It focuses on a promising entertainment segment, which always has a large number of potential users. Due to the combination of all these factors, it is possible to predict the further successful development of the Tron project and the increase in the exchange rate of the TRX cryptocurrency.