Over the past 24 hours, Bitcoin has printed three large red candles. Since May 23, BTC has plunged by around $1,000 — that is down 3.20%.
In the meantime, anonymous wallets have transferred more than a billion USD worth of Bitcoin, according to Whale Alert.
$1.13 billion in Bitcoin shoveled in identical lumps
Whale Alert spotted six massive BTC transfers over the past 24 hours. Five of them carried 5,405 BTC each, but the pages of the details of these transactions show that aside from 5,405 BTC, each of the transfers had an additional one of 1,800 BTC, which made it together 7,206 BTC.
The sixth transfer moved the same amount of Bitcoin. The first five transfers were made between the same two wallets. In total, 43,236 BTC Bitcoins were transferred worth $1,137,910,989.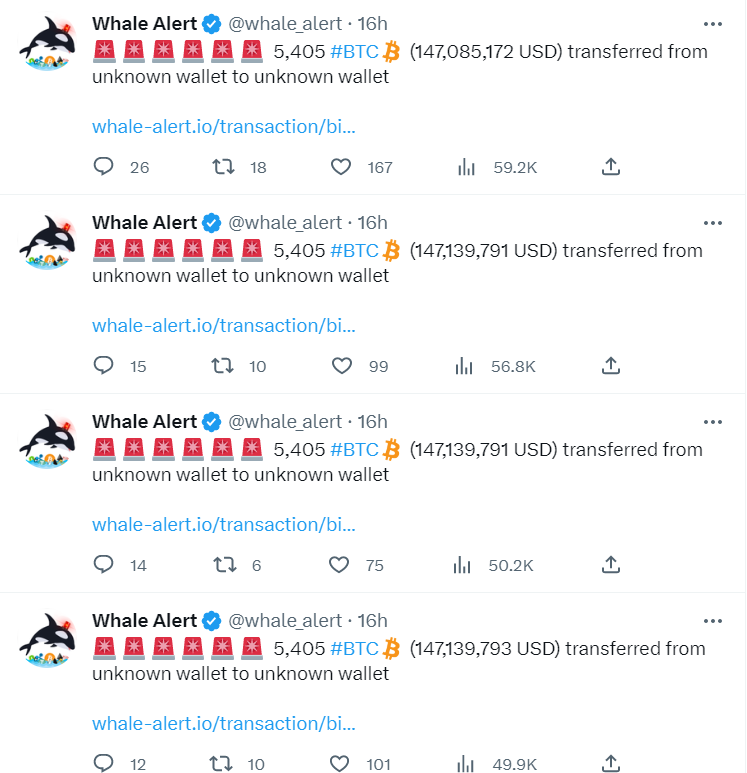 Peter Brandt says key BTC pattern is forming
Earlier today, savvy old-school trader Peter Brandt, who specializes in commodity trading, took to Twitter to share with the community that he had detected an important pattern forming on a Bitcoin chart.
Brandt tweeted about a pattern called a "pennant" or a "flag." He said that it has short-term bearish implications. These patterns are often utilized by traders for predicting future movements of an asset on the market.
In this particular case, according to Brandt, if this pattern plays out, Bitcoin may continue declining.
Small investors keep flowing into Bitcoin
Meanwhile, as Bitcoin is selling with a discount, investors keep flowing into it. According to data shared by Glassnode analytics company, the number of nonzero BTC wallets has hit an all-time high of 47,051,028.
📈 #Bitcoin $BTC Number of Non-Zero Addresses just reached an ATH of 47,051,028

View metric:https://t.co/VtoChZbLsa pic.twitter.com/okomOuc3jP

— glassnode alerts (@glassnodealerts) May 24, 2023
Older investors are not selling their BTC. Another tweet published by Glassnode shows that the amount of HODLed or lost BTC coins has arrived at a five-year peak of 7,723,545.537 BTC.