Shiba Inu (SHIB) has bred a deep loyalty among its community, as new data shows that more people holding the meme coin have held the token for more than a year. According to data from IntoTheBlock (ITB), there are more than 853,000 addresses that are HODLing the meme coin for more than a year now.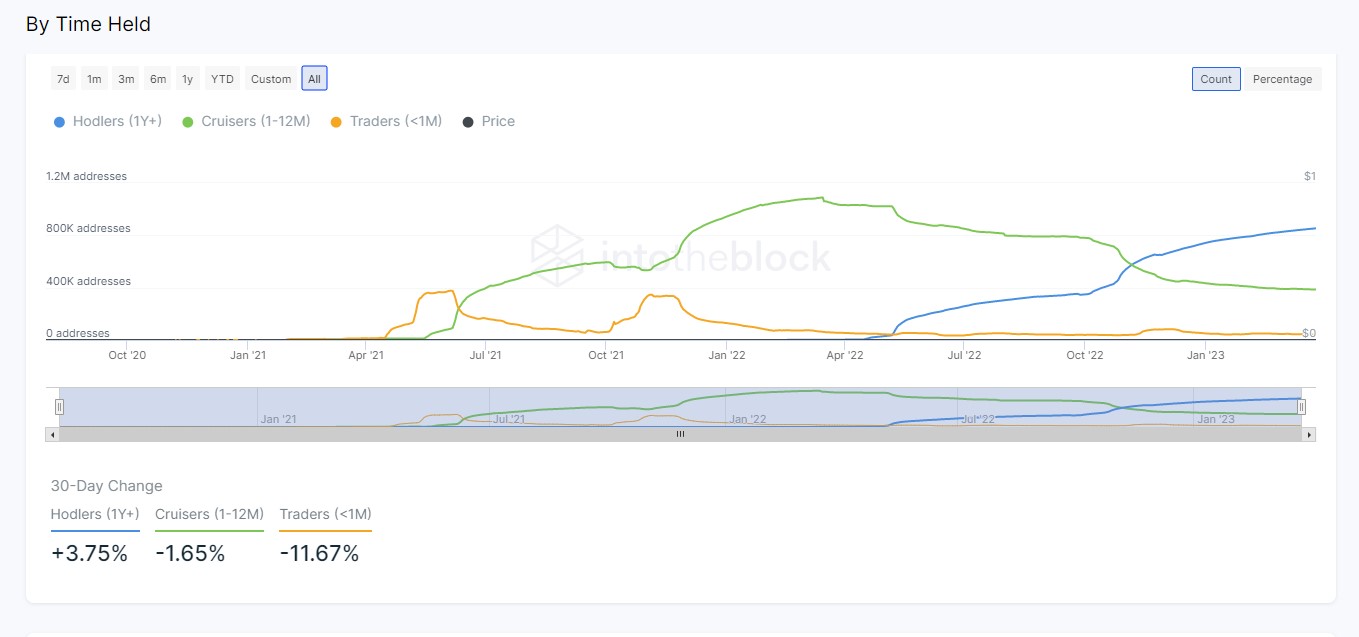 The number of these addresses surged by 3.75% over the past month, reiterating how a very good number of SHIB holders have intensified their buying pressure over the past month. This timeline corresponds with the point in the history of Shiba Inu when Puppynet, the beta version of the Shibarium Layer 2 protocol was unveiled.
That Shiba Inu has one of the most vibrant communities of backers is not an overstatement; the digital currency is well distributed among whales and retail buyers across the board.
According to data from ITB, SHIB holders that have held the coin for more than a month and less than a year saw a small slip of 1.65%, while active traders with no defined timeline of holding the digital currency based on their trading activity recorded a drop of more than 11%.
Betting on long-term growth
Since the inception of Shiba Inu, the members of the highly volatile crypto token have been hanging onto the ideology that its price can touch $1 sooner or later. While this is impractical considering its very large supply, the biggest proponents are optimistic that the price can cancel as many zeros as possible.
The current on-chain data attests to this trend as the longer-term HODLers are apparently more interested in how well the token performs over time than just short-term gain. Whether or not SHIB will hit this price point is unknown, however, the token might see more of an embrace from investors should Shibarium meet the expectations placed on it at this time.