Shibburn wallet tracker has reported that since last morning, better-than-nothing progress in SHIB burns has been achieved as the burn rate of this popular meme coin has gone up by a couple of hundred percent.
In the meantime, SHIB has jumped up on the list of top cryptocurrencies in terms of market cap, and whales have acquired more than a trillion Shiba Inu recently.
SHIB burn rate goes up
According to the aforementioned source tracker, over the span of the past 24 hours, the SHIB burn rate has risen by 240.91% as 95,122,875 Shiba Inu were burned in total thanks to 26 transactions.
The largest amount of SHIB that was moved to a dead-end wallet was 37,691,762 around 10 hours ago.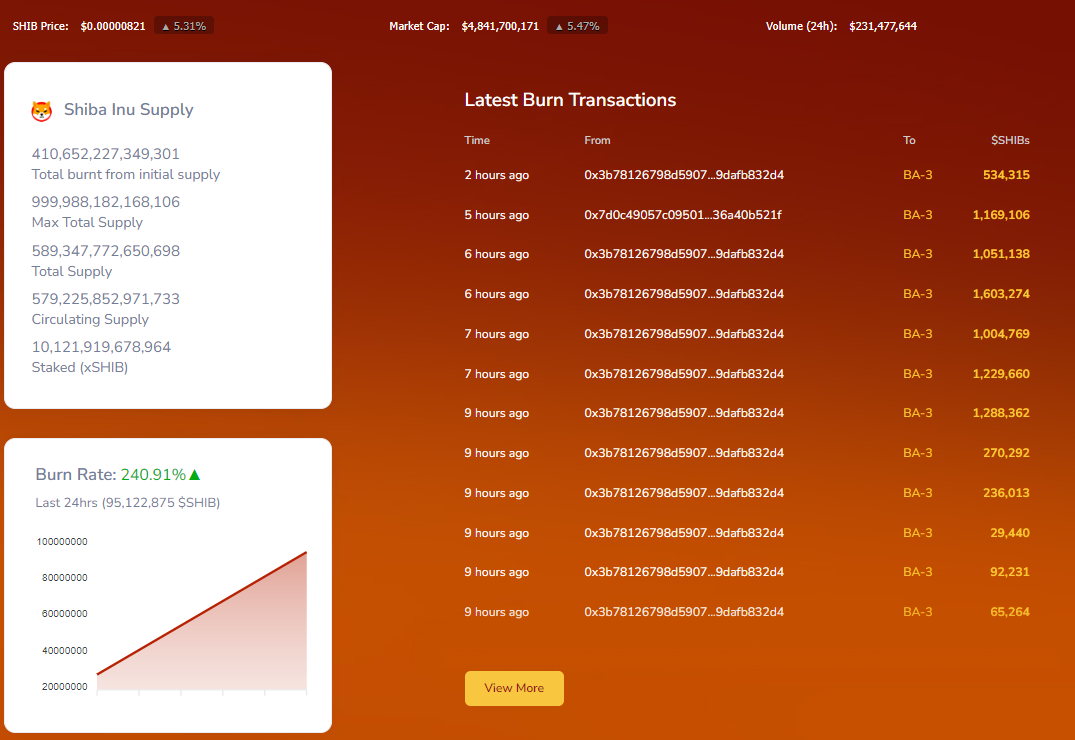 "Burning" coins means that they are transferred to wallets from which nobody can spend them or withdraw in any other way. Thus, the circulating supply gradually shrinks, making the coin more scarce. This, in theory, increases the odds of its price going up.
SHIB leaves XLM, BCH behind, whales grab 1.11 trillion SHIB
Over the past 24 hours, according to CoinMarketCap, the second most popular meme coin SHIB has climbed to the 14th position. It is changing hands at $0.000008192 after 5.44% growth since yesterday.
Now, SHIB has surpassed several major altcoins: Bitcoin Cash (BCH), Stellar (XLM), DAI, Avalanche (AVAX), Toncoin (TON) and several others.
According to a tweet shared by Santiment on-chain data aggregator, shark and dolphin wallets that hold between 10 million and 100 billion Shiba Inu have purchased roughly $9 million worth of SHIB within less than eight weeks. This is equal to 1.11 trillion of these canine coins.
Overall, Santiment commented SHIB has turned into a "surprise winner" during the last hours of a "particularly dull trading week."
😺 #ShibaInu has been a surprise winner during the final hours of a particularly dull trading week. Shark & dolphin wallets holding 10M-100B $SHIB tokens have accumulated ~$9M in just under 8 weeks, a significant amount for the 14th ranked #crypto asset. https://t.co/WwZrvcUN0D pic.twitter.com/98A1darF5A

— Santiment (@santimentfeed) July 28, 2023