The digital currency ecosystem is seeing a very aggressive slump with Bitcoin (BTC) leading the downtrend after printing a more than 2% loss overnight. As the market slump is an encompassing one, only a few altcoins like Rocket Pool (RPL) are in the green today. Per data from CoinMarketCap, Rocket Pool is changing hands at a price of $26.84, up by 3.08% in the past 24 hours.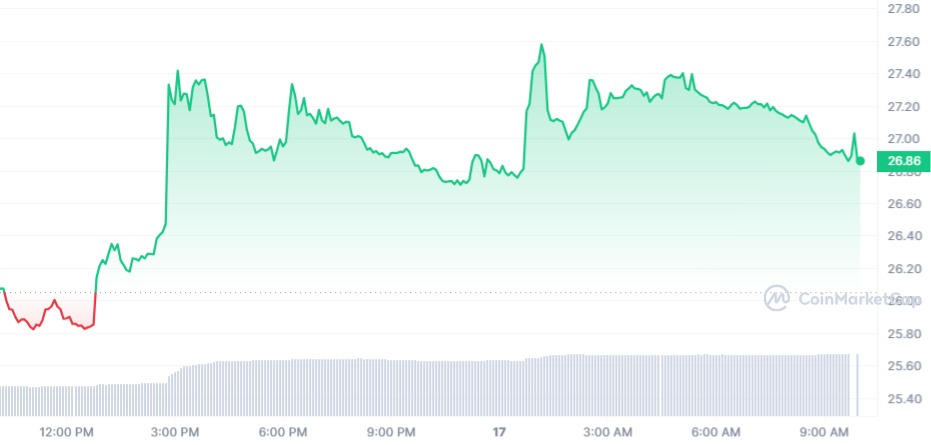 When compared to the very steep losses that most prominent cryptos are experiencing at the moment, the current Rocket Pool performance is highly valued.
Rocket Pool has the right metrics that are indicative of growing accumulation sentiment from its investors. Per data from CoinMarketCap, RPL has recorded a 111% jump in its overnight trading volume, a rate that dwarfs the majority of the top 10 coins by market capitalization.
Rocket Pool has earned its mark as one of the most profound Liquid staking protocols serving users in the broader decentralized finance (DeFi) ecosystem. The outlook of the Rocket Pool protocol is bullish following its listing and backing by mainstream platforms, including Binance. With its growing ecosystem and leaning, the current growth outlook of RPL might just be its starting point.
Luster of liquid staking derivatives platforms
There are a number of ways to interact with and invest in the DeFi world, but Liquid Staking Derivatives (LSD) offers one of the most versatile options accessible to most platforms.
Of the LSD platforms serving users, Lido Finance is in the lead with respect to its Total Value Locked (TVL). With new innovations and inherent protocol boosts, Lido is attracting more users, a sentiment that appears to be rubbing off on Rocket Pool. This niche of DeFi might be new but has major potential for growth, and RPL is capitalizing on this sentiment.