Rocket Pool (RPL), a decentralized Ethereum staking pool, has been making waves lately in both its price growth and its overall protocol embrace by virtue of the offerings it brings to the table. According to data from IntoTheBlock, Rocket Pool has largely returned more profits to its wallet addresses than the majority of digital currencies around today.
The RPL token is currently trading at a price of $45.36, down by 4.47% at the time of writing. Despite this daily loss, Rocket Pool is one of the highest gainers in the year-to-date period. The cryptocurrency has risen by more than 126% over the past three months, keeping the cryptocurrency on a very good level in terms of its return on investment.
Rocket Pool's ITB data shows that about 94% of the addresses holding the cryptocurrency are in profit. These address numbers are slightly above 8,000 at the time of writing.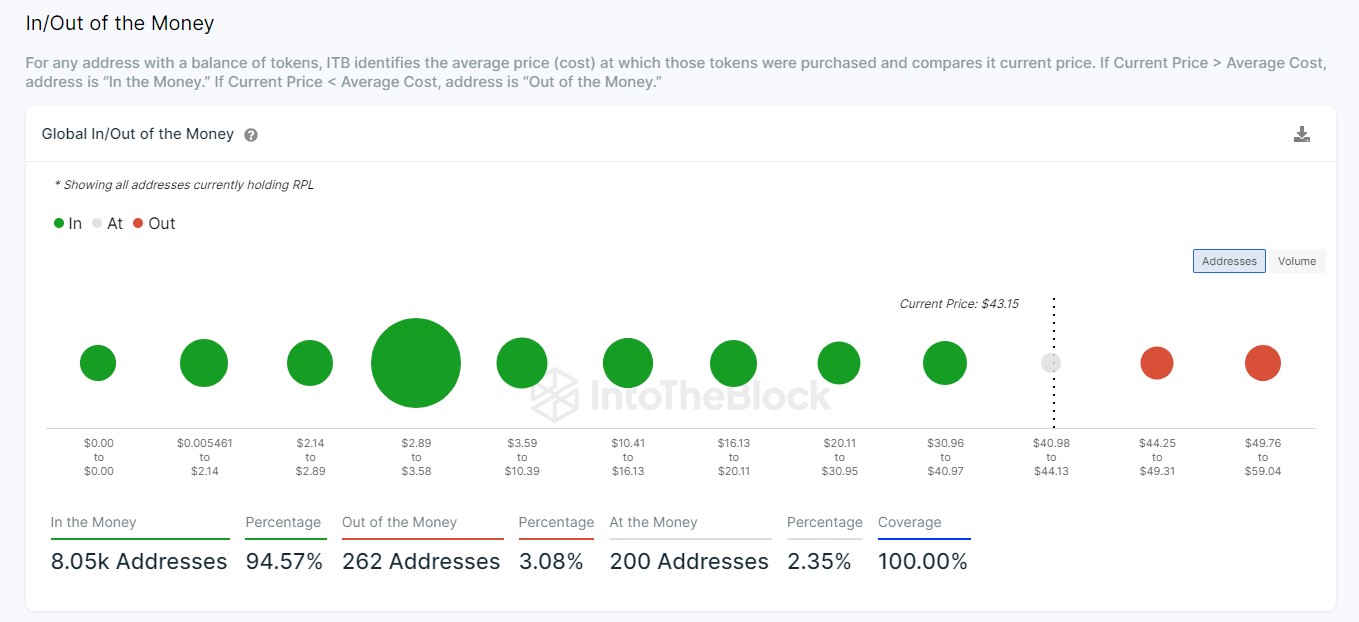 By comparison, just about 262 addresses are in loss at this time, while a total of 200 addresses are at their breakeven point, according to the ITB data.
Benefiting from Ethereum liquid staking
While Lido Finance remains the biggest liquid staking protocol around, Rocket Pool has also tapped the Ethereum advantage as it relates to its staking product, following its transition from proof of work (PoW) to proof of stake (PoS).
Data from DeFiLlama showed that the Total Value Locked (TVL) on Rocket Pool as a liquid staking platform has soared from $564.93 million as of Jan. 1 this year to its all-time high (ATH) of $1.26 billion as of today, aided in part by its high profile exchange listings.
The approximately 100% growth rate is evident in the hype surrounding Rocket Pool as a DeFi platform and RPL token as a digital currency. Based on humble projections, chances are that the protocol will print additional growth even as Ethereum evolves and matures.
As such, RPL bulls must be watchful for innovations, as an easy switch to competition might prove to be strategic depending on how Rocket Pool evolves.