Prominent blockchain tracker company Whale Alert spreads the word about transfers from two unidentified wallets that moved nearly 400 million XRP over the past 19 hours.
A deeper look at the analytics data shows that these two lumps of XRP were moved by blockchain juggernaut Ripple Labs. A much smaller amount, around 113 million XRP, was transferred between wallets associated with top exchanges, including a withdrawal from Binance.
Ripple sends 395 million XRP; where to?
Whale Alert published the details of two transactions, which moved 189,000,000 XRP and 205,500,000 XRP worth $75,552,320 and $81,762,093, respectively.
Bithomp XRP-focused analytics platforms indicated that the wallets tagged by the above-mentioned tracker as "unknown" are linked to Ripple, so both transfers were made by the DLT crypto behemoth that is currently battling the SEC in court.
A total of 189,000,000 XRP was transferred to a Bittrex wallet, which may suggest that Ripple decided to sell this big chunk of XRP coins. The second transaction was made internally, between two wallets linked to Ripple.
This is not the first massive amount of XRP tokens moved by Ripple this month. On Feb. 1, the crypto giant released a whopping billion XRP from escrow in three moves. After that, 700 million tokens were locked again until a later withdrawal. Likewise, 300 million XRP were thrown onto the crypto market.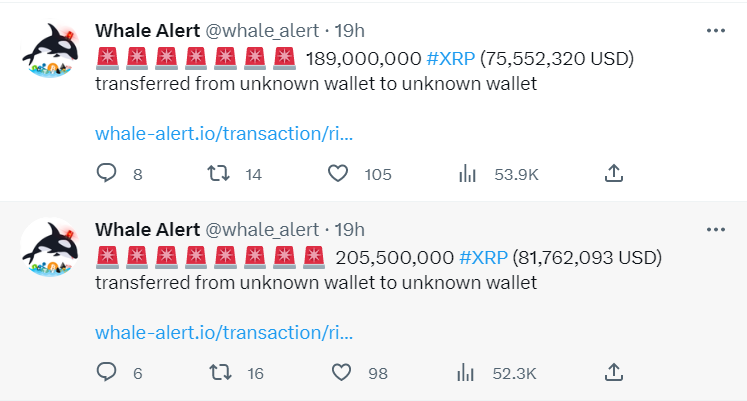 Whales shift 113 million XRP
Three other XRP transactions reported by Whale Alert carried 40,000,000 XRP; 41,000,000 XRP and 32,043,479 XRP. The first two were transferred from an anonymous wallet to Bitstamp and withdrawn from the Bitso exchange — 113 million XRP overall.
Also, an unknown whale withdrew 32,043,479 XRP from the Binance exchange. In total, these three transfers were the equivalent of $45.1 million.