Founder of CryptoLaw US, pro-Ripple lawyer John Deaton, who has been closely following the case of the SEC against Ripple Labs, has taken to Twitter to share that the recently publicized deposition of Dr. Hinman contains two words that have been redacted more than other pieces and removed from the document, basically.
Deaton did not name or confirm what they were, but he shared some of these documents in the public record where one can see the redacted words. He asked the community to take a guess as to what those two words may be.
The commentators seem to share a strong opinion on who was mentioned by Hinman.
I won't say it nor will I confirm anything. But one word is the name of an individual and the other most redacted word is the name of a company.

— John E Deaton (@JohnEDeaton1) June 16, 2023
Here's what community's guesses are — Ethereum
Deaton hinted that the aforementioned two words refer to a person and a company. The reaction of the crypto community in the comments thread was close to unanimous: "Vitalik Buterin" and "Ethereum." Some also named another Ethereum co-founder — Joe Lubin — and his software studio ConsenSys.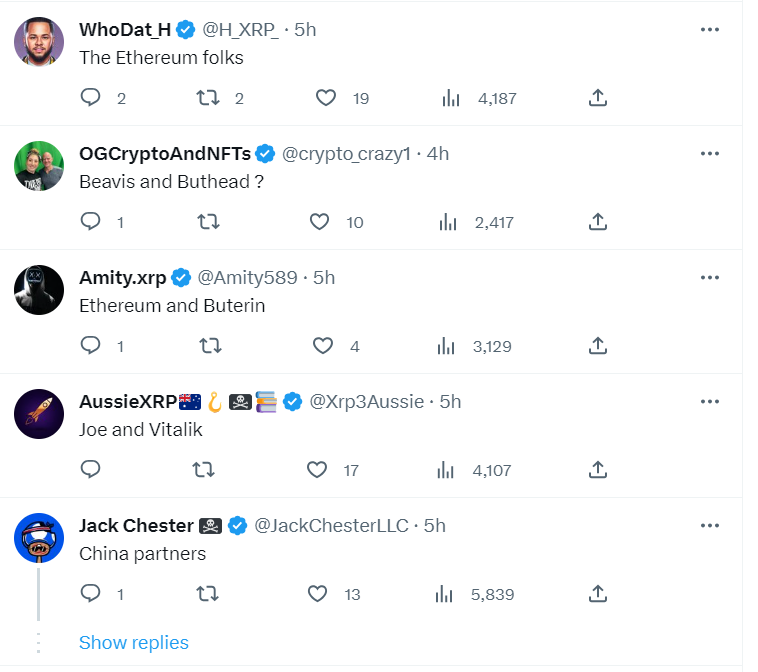 A few people said they think the person in question was Jed McCaleb — the very first Ripple CTO and co-creator of XRP Ledger and Ripple. He was not sued by the SEC, unlike another Ripple co-founder, Chris Larsen.
In another tweet, the founder of CryptoLaw reminded the audience about one of the Hinman emails revealed earlier this week. In this email, Hinman refers to his speech as the "Ether Speech" and tells recipients that "he's meeting with Vitalik Buterin the following week to confirm his understanding of the Ethereum network and The Ethereum Foundation." This may be taken as a hint at the identity of the person and the company in the aforementioned tweet of Deaton.
These guesses are highly predictable as Ethereum, just as Bitcoin, are the only cryptocurrencies classified by the SEC as commodities and not securities.