Despite the recent setbacks to the industry and asset prices, the cryptocurrency market continues to capture the attention of traders around the world. As the industry evolves, platforms like PrimeXBT hope to stay ahead of the adoption curve by unleashing new products. Giving traders renewed confidence that the crypto industry has plenty of growth left ahead, PrimeXBT is gearing up to launch its crypto futures platform.
With advanced features and an added focus on user experience, PrimeXBT aims to provide traders with a versatile trading solution. Ahead of the upcoming launch, let's explore the key features and potential advantages of PrimeXBT's crypto futures, shedding light on what the future of trading at PrimeXBT may hold.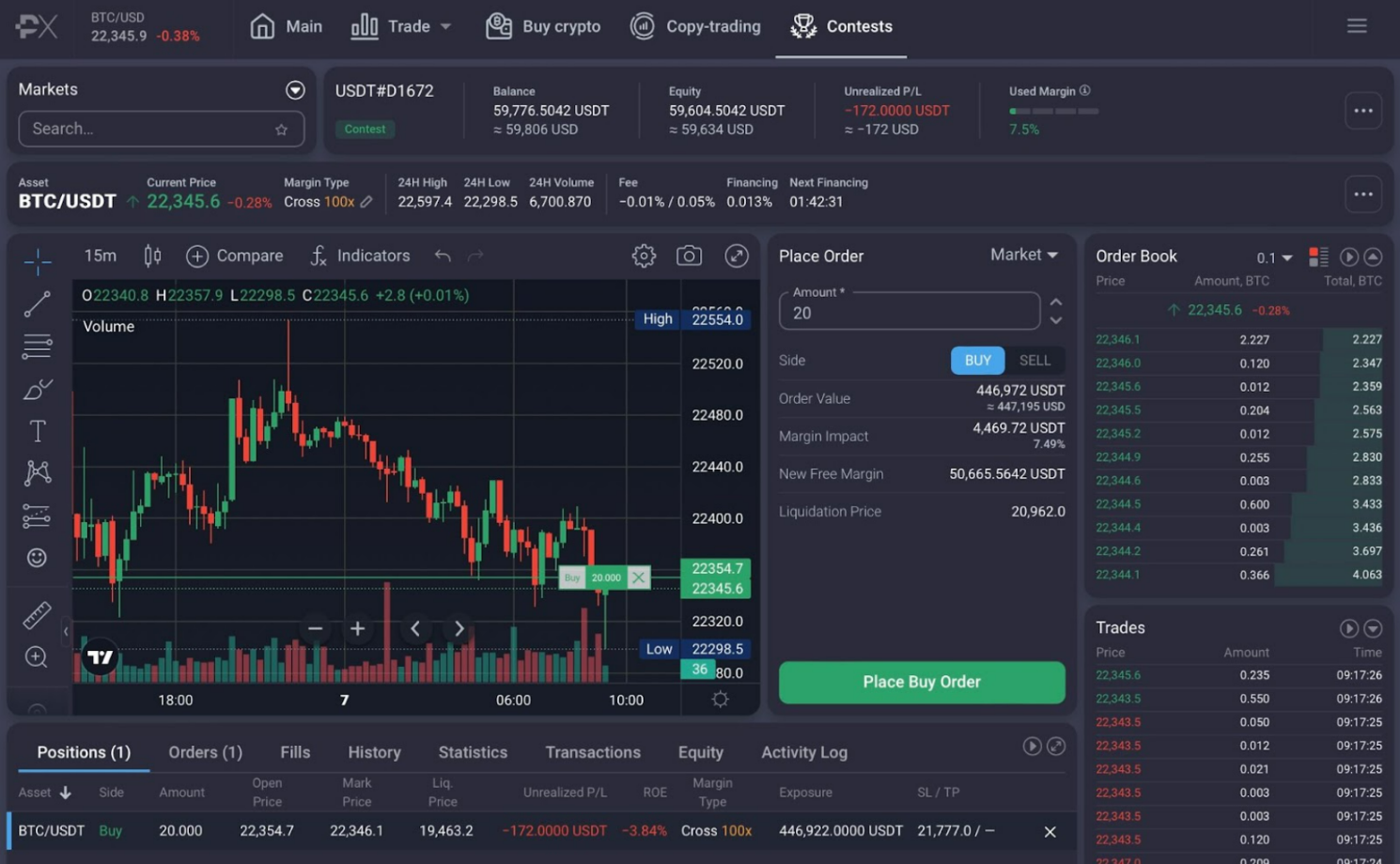 Exploring new opportunities
PrimeXBT's crypto futures platform is designed to meet the diverse needs of traders, whether they are beginners or experienced professionals. Traders can expect an intuitive user interface that simplifies the trading process, coupled with a wide range of advanced tools to analyze the market and make better financial decisions.
With PrimeXBT, users have the ability to customize their trading environment to suit their preferences, including the layout of charts, the placement of panels, and the selection of trading instruments displayed on the main dashboard. One notable feature of the user interface is the inclusion of an order book, which provides traders with real-time data on buy and sell orders for a specific cryptocurrency. This valuable information helps traders make informed decisions by analyzing the market depth and liquidity, enabling them to assess supply and demand dynamics.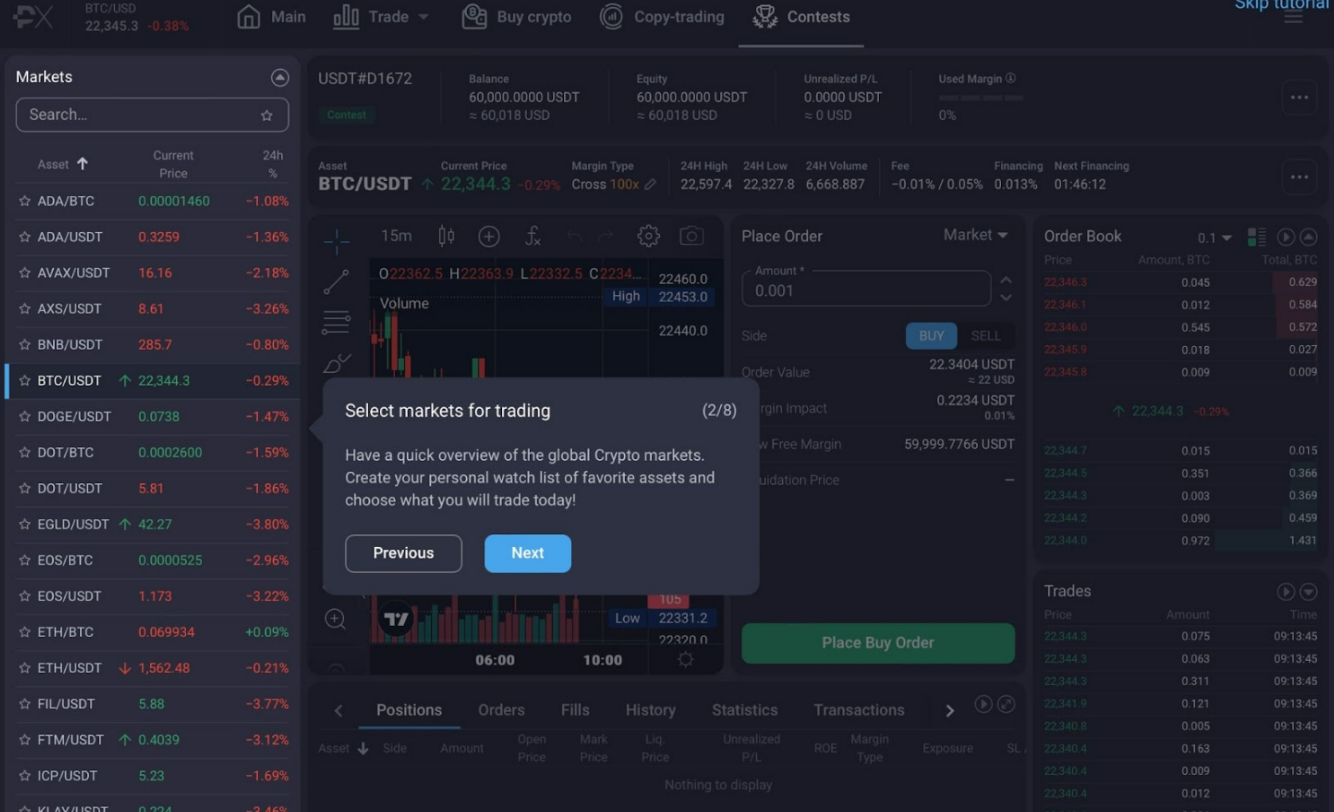 Among the wide range of cryptocurrencies available, traders can find major digital assets like Bitcoin (BTC), Ethereum (ETH), and Litecoin (LTC), which have proven themselves as cornerstones of the crypto market. Additionally, PrimeXBT supports other popular coins such as Cardano (ADA), Chainlink (LINK), Polkadot (DOT), Solana (SOL), VeChain (VET), Ripple (XRP), and Monero (XMR). These coins represent a range of unique crypto categories, from DeFi to privacy coins.
PrimeXBT introduces perpetual contracts for the first time on the platform, a helpful feature that sets it apart from traditional futures contracts. Unlike conventional contracts, perpetual contracts have no expiry date, providing traders greater flexibility. This means traders can hold positions indefinitely without the need to worry about contract expiration or rollover costs. The perpetual contract's pricing mechanism helps keep it closely aligned with the spot price of the underlying asset, reflecting the cryptocurrency's market value more accurately.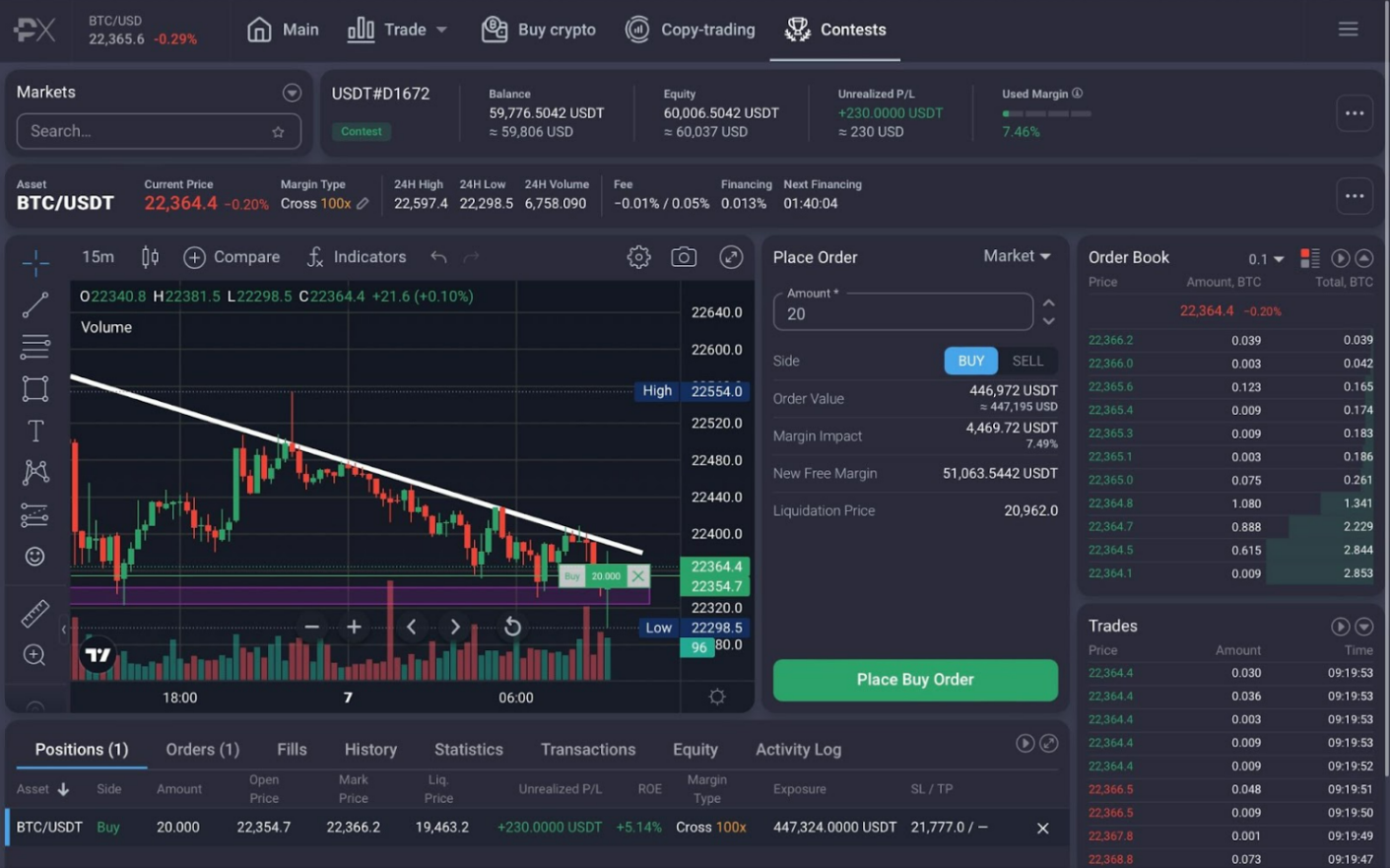 Leverage and risk management
One of the notable features of PrimeXBT's crypto futures is the leverage options it offers. Traders can open larger positions with a smaller amount of capital, amplifying potential returns. PrimeXBT provides flexible cross- and isolated-margin trading, allowing traders to adjust their risk management strategies based on market conditions and their available margin. Leverage ranges from as little as 1x to as much as 200x for cryptocurrencies. However, it's essential to approach leverage cautiously, as it can also magnify losses.
Furthermore, traders can set a stop-loss level, which automatically triggers the closure of a position if the market moves against their desired direction, limiting potential losses. This feature allows traders to define their risk tolerance and protect their investments, even if they cannot actively monitor the market at all times. In addition to stop-loss orders, PrimeXBT also provides other risk management tools, such as take-profit orders, which allow traders to set predefined levels at which their positions will be automatically closed to secure profits.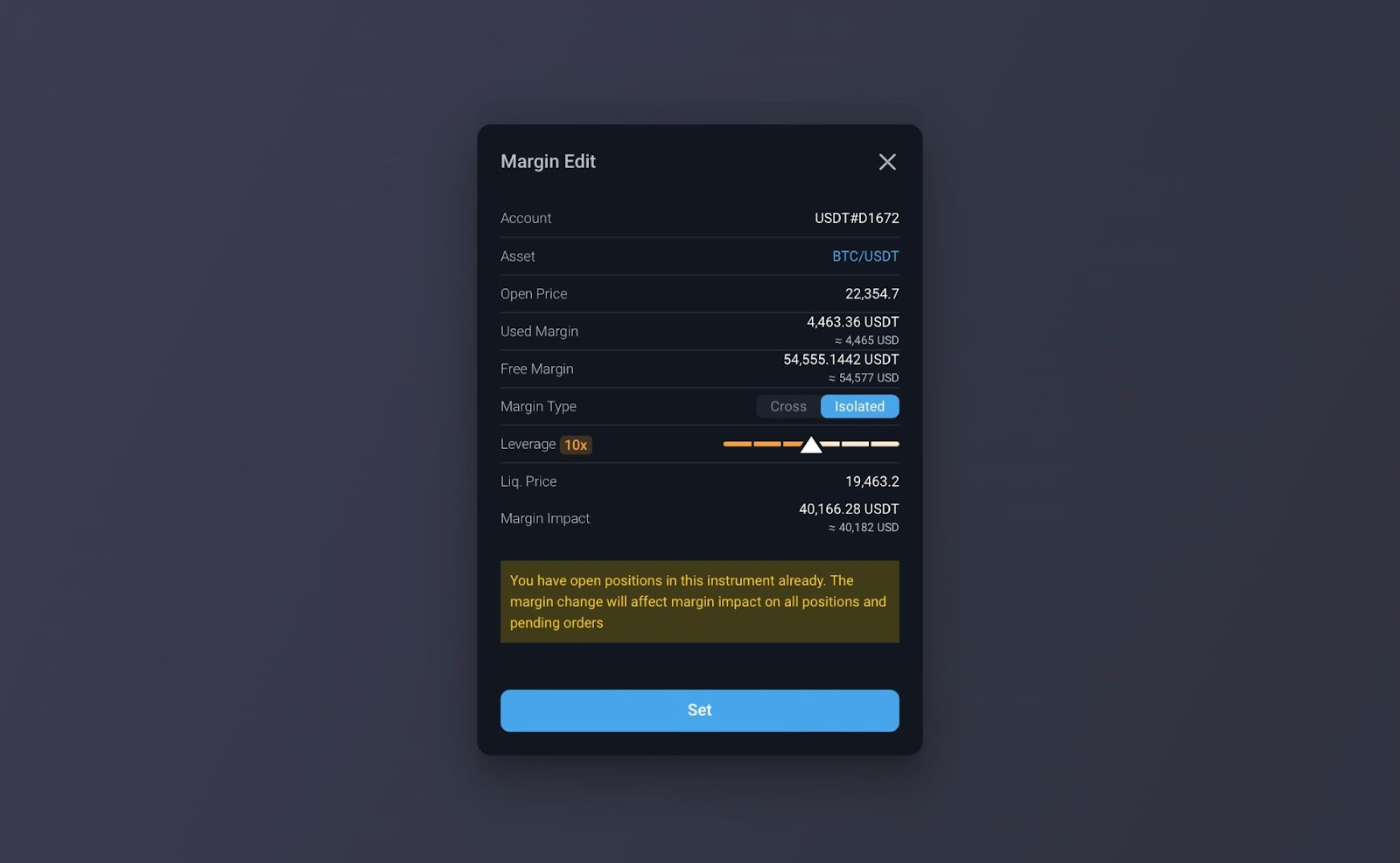 Image by PrimeXBT
PrimeXBT has integrated with TradingView, a leading provider of advanced charting and technical analysis tools, to offer traders a robust suite of built-in technical analysis features. Traders can analyze historical price data, identify patterns and trends, and make informed trading decisions based on their technical analysis. The intuitive interface and extensive capabilities of TradingView make it a valuable tool for traders looking to develop and fine-tune their trading strategies.
Unlike other crypto-focused trading platforms, PrimeXBT provides access to unique diversification opportunities to further reduce risk in a crypto portfolio. The platform offers traditional asset CFDs on stock indices, forex, and commodities. Users can utilize the variety in asset selection to build a diverse portfolio of low or uncorrelated assets to dramatically reduce overall risk while potentially being exposed to new markets and opportunities.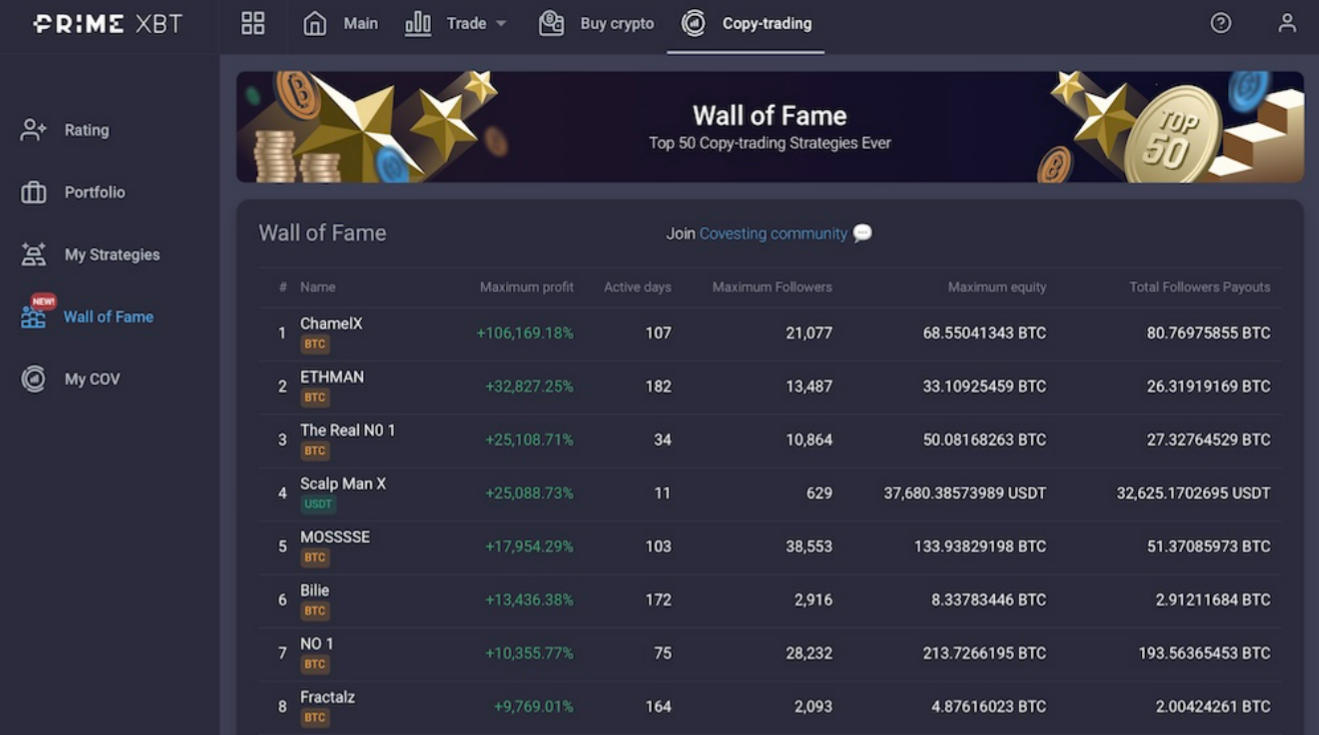 Image by PrimeXBT
Other significant advantages to consider
An innovative copy trading feature is also offered that enables traders to follow and replicate the trades of successful traders on the platform. This tool allows novice traders to learn from experienced professionals and diversify their trading portfolios further. Users can automatically copy their trades with just a few clicks by selecting top-performing traders to follow. This feature is particularly beneficial for those who may lack trading experience or want to supplement their own strategies with insights from proven traders.
The free Trading Academy provides a comprehensive educational platform for traders of all skill levels, serving them a wide range of resources, including articles, tutorials, videos, and webinars. Led by expert trader Dirk Hartig, the Academy offers structured lessons on technical analysis, risk management, trading psychology, and more. PrimeXBT also hosts weekly trading contests that allow traders to showcase their skills and compete for crypto-based prizes. These contests provide an exciting opportunity for traders to test their strategies in a risk-free environment using demo funds.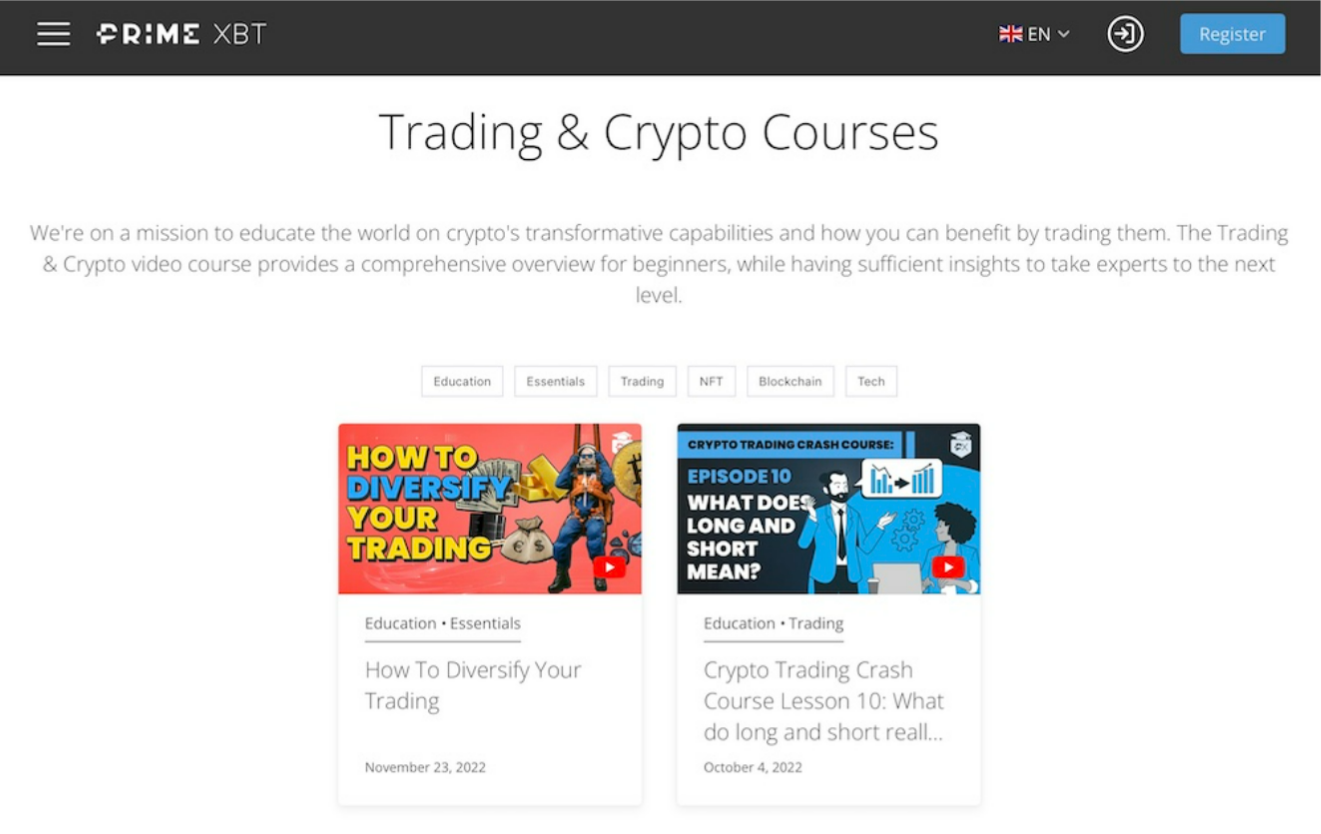 PrimeXBT prioritizes providing exceptional customer service to its users. The platform offers multiple channels for users to seek assistance and resolve any issues they may encounter. The live chat support is available 24/7, ensuring prompt responses to queries and concerns. Additionally, PrimeXBT features a comprehensive help center that includes an extensive library of articles and guides covering various topics related to the platform, trading, and markets. With its commitment to customer satisfaction and reliable support, PrimeXBT ensures that users can trade confidently and have a positive trading experience.
The company strongly emphasizes security and user safety, implementing robust security measures to protect user data and funds. The majority of user funds are stored in cold storage wallets, isolated from potential online threats, and accessible only by authorized personnel. Two-factor authentication (2FA) adds an extra layer of security by requiring users to provide a unique code generated by a separate device when logging in or making withdrawals. PrimeXBT has received numerous awards and accolades within the industry as a trusted entity, solidifying its reputation as a leading trading platform. Some notable awards include recognition as the Most Trusted Crypto Asset Trading Platform and Best Cryptocurrency and Forex Broker.
Conclusion
PrimeXBT's crypto futures platform represents an updated, more flexible take on crypto trading. With its user-friendly interface, an extensive selection of cryptocurrencies, advanced trading tools, and perpetual contracts, PrimeXBT empowers to trade with confidence.
Traders can expect to get their hands on PrimeXBT's new crypto futures experience in the coming days.