Polygon Labs, the development studio behind leading EVM blockchain Polygon (MATIC), expands its range of partnerships by a collaboration with the largest telecom provider in South Korea. SK Telecom adds Polygon (MATIC) support to its NFT marketplace and existing Web3 products.
Polygon Labs scores partnership with Korean communications mogul SK Telecom
Polygon Labs and SK Telecom have entered into a long-term strategic collaboration agreement. Polygon (MATIC) will help SKT in building and promoting its own Web3 ecosystem, the joint statement says. The document was signed by Oh Se-hyun, vice president and head of Web3 of SKT, and Marc Boiron, CEO of Polygon Labs.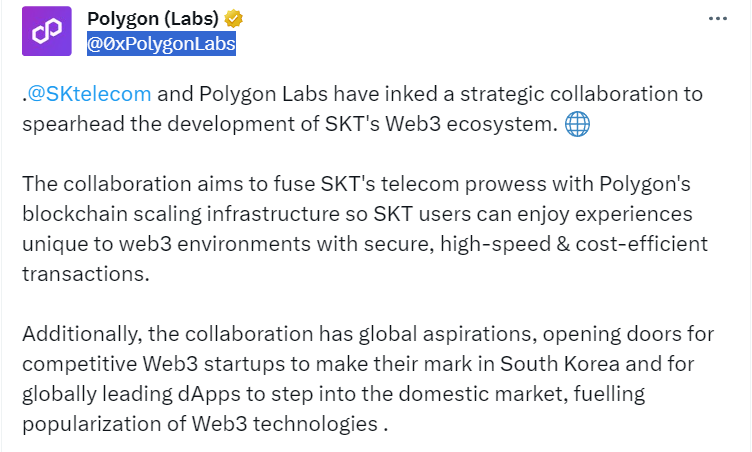 First of all, Polygon (MATIC) support will now be available in TopPort, a non-fungible token marketplace by SK Telecom. Also, Polygon (MATIC) will be supported in SK Telecom's cryptocurrency wallet.
Visitors to the TopPort marketplace will be able to seamlessly mint Polygon-based NFTs and move them to other marketplaces in the Polygon (MATIC) ecosystem.
Polygon Labs CEO Marc Boiron is excited about the role and place of this collaboration in Polygon's (MATIC) progress toward dominance in the Web3 segment:
Polygon Labs has been developing optimal blockchain technology for Web3 popularization, and we see this collaboration with SKT as an important step in providing Web3 experiences to more consumers.
As covered by U.Today previously, for the first time ever, Polygon (MATIC) became the most popular blockchain for NFTs outside Ethereum (ETH).
In July 2023, it managed to eclipse Solana (SOL) network by 30-day NFT trading volume, data analysts say.
Polygon Ventures to invest in start-ups highlighted by new partner
Oh Se-hyun, vice president and head of Web3 CO at SKT is impressed by the opportunities this collaboration unlocks for real-world businesses interested in Web3 adoption:
By combining our experience in blockchain services and Polygon Lab's block chain infrastructure and ecosystem, we will be able create valuable business opportunities and boost the Web3 ecosystem.
Incubation promising early-stage crypto projects will be one more area of collaboration between Polygon Labs and SK Telecom. It was announced that Polygon was going to invest in start-ups recommended by its new Korean partner.
In July 2023, Polygon (MATIC) announced an ambitious rebranding plan. Its core native asset will be replaced by POL token in order to allow staking on various Polygon-based blockchains through a single account.