CoinMarketCap shows that over the past 24 hours, the native meme cryptocurrency of the PawSwap DEX, which is being built at the moment, has surged by over 21%.
Its trading volume increased by 36% too. It just so happens that a major whale has been buying PAW in a series of transactions.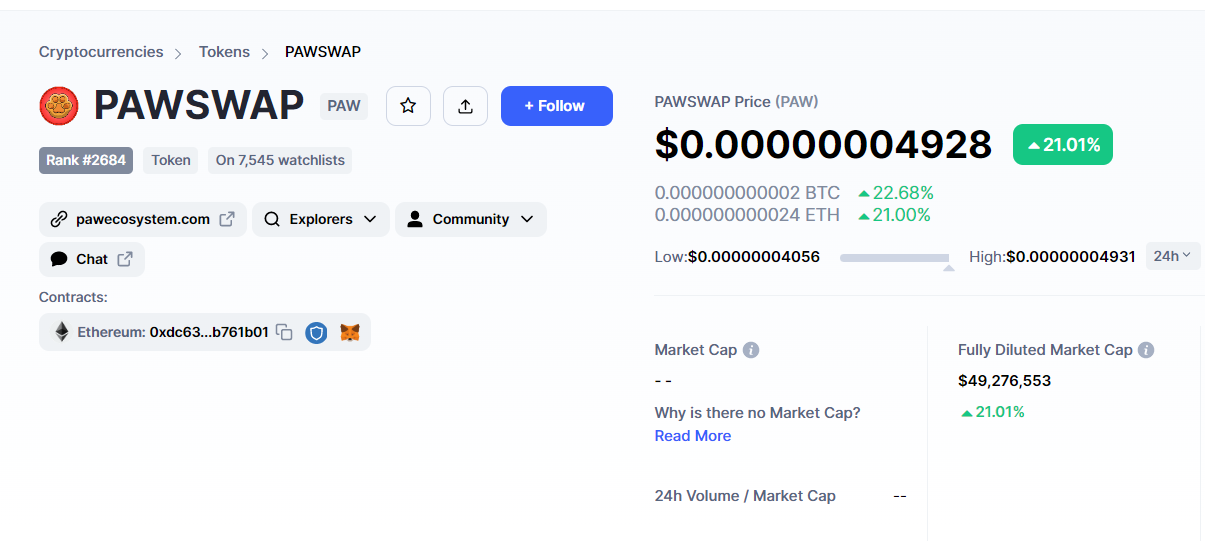 Price jumps as APR PawChain announcement is issued
Twitter user @ShibPaw has shared screenshots of Discord messages issued by PawChain. PawChain and PawSwap are going to be part of the same ecosystem, with PAW being the native token for both of them, also serving as gas on PawChain.
According to the announcement, PawChain is going to roll out an 8% APR (annual percentage rate) on Paw staking on PawChain and keep it for 52 weeks. After the launch of the mainnet, the APR will increase.
PawSwap is going to be a multi-chain DEX. It has already integrated the Ethereum chain, Shibarium, and is working on adding BNB Chain. More blockchains are going to be added in the future.
When #PAWSWAP $PAW @PawChain pic.twitter.com/pFT8TkUfYb

— Pawmaster (@ShibPaw) April 17, 2023
Whale grabs 10 trillion PAW
User @EnriqueSimo28 has tweeted that an unknown whale, according to Etherscan, has been "adding PAW to his wallet all day." He added a curious assumption that "something big is coming."
This whale 🐳 has been adding $PAW #PAWSWAP to his wallet all day, something big is coming 🤔🔥 pic.twitter.com/zZ0Ql97dts

— 🖤.eth (@EnriqueSimo28) April 16, 2023
The wallet now contains more than 10.4 trillion PAW. This token was launched at the start of the year but has managed to land listings on more than 10 major crypto exchanges, including Gate.io, Uniswap and Binance.
As of this writing, PAW is trading at $0.00000005035, according to CoinMarketCap.