OKX (OKB), the digital currency associated with the OKX crypto trading platform, has joined the hoard of altcoins on a rampage today. The token has seen a 10.3% jump in its valuation at the time of writing, pegging its price at $44.84, a price point that is just below the high of $45.2 set for the week.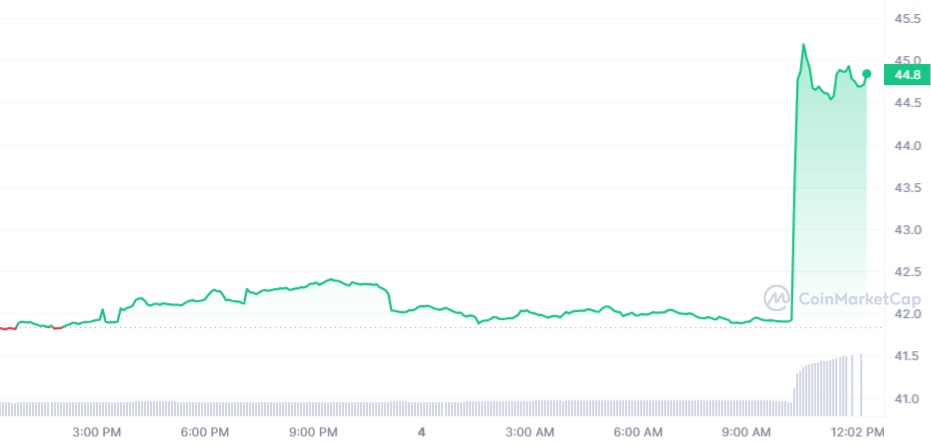 Growth in the price of OKX has always been backed by very solid fundamentals. Unlike some of the tokens making a buzz in the industry today, OKB is one that has a very solid utility, and whatever positivity or growth that is associated with the parent exchange technically has an underlying impact on the price of OKB.
As unveiled by the trading platform earlier today, the community has welcomed a very functional revamping of its Smart Account feature. With the move to outshine major players in the industry, including Binance and KuCoin, OKX launched the smart account that now has improved UX with account abstraction tech plus an added incentive to pay for gas with stablecoins.
The response from the community to this update is one that brings so much optimism and faith that the long-term future of both the exchange and the OKB token is bright with more profitability upside.
How high can price rise?
While there is relative stability on the broader crypto market at this time, the general consensus is that most coins are far away from their all-time high (ATH) peak.
The OKB token attained an ATH of $58.46 about six months ago, coming off as one of the digital currencies with the most bullish growth year-to-date (YTD). Based on the current fundamentals around the exchange ecosystem and the sheer stability around it, we may see the OKB token retest its ATH by the end of the fourth quarter.
In all, OKB has very robust trading activity and the ecosystem fundamentals to bolster its growth across the board.