As reported by the WhaleStats wallet tracker, during the past 24 hours, major whale "BlueWhale0073" on the Ethereum chain made a purchase of almost 100 billion Shiba Inu tokens. This whale is ranked 254th by the aforementioned tracking service, and his portfolio at the moment consists mostly of USDT, USDC and COMP tokens.
Still, he added a massive amount of Shiba Inu to his wallet. In the meantime, the SHIB army continues to burn big chunks of SHIB, pushing the overall burn rate to nearly 1,000% in the past 24 hours.
Whale lays hands on 99.2 billion SHIB
The aforementioned crypto whale acquired a total of 99,297,904,247 Shiba Inu meme coins at the price of $1,058,515 USD.
However, currently, the circular diagram of his portfolio shows that he has sold nearly all the Shiba Inu he acquired earlier. Whales often speculate on even tiny movements of tokens' prices, buying a large amount on the dip and then selling when it goes even just 1 or 2% higher.
🐋 ETH whale "BlueWhale0073" just bought 99,297,904,247 $shib ($1,058,515 USD).

Ranked #254 on WhaleStats: https://t.co/RBupemZyZX

Transaction: https://t.co/m49yDdHu3m#SHIB #ShibArmy

— WhaleStats (tracking crypto whales) (@WhaleStats) March 31, 2023
After a nearly 5% drop on Monday, Shiba Inu went up by 2.28% and is currently changing hands at $0.00001052 on the Binance exchange.
Shib burn rate rises significantly
Shibburn platform, which tracks down hourly burns of Shiba Inu on Etherscan and then accumulates this data on their website, has shared that over the past 24 hours, another large amount of SHIB has been sent to dead-end wallets.
According to the recently shared data, the pace at which these meme tokens have been removed from circulation has spiked by 719%, as 13,198,386 SHIB was locked up in unspendable wallets by the community.
Earlier this week, as U.Today covered, the Shiba Inu army managed to push over 802 million SHIB out of circulation within 24 hours, and 794,858,822 meme tokens from this were burned within a single transfer. This gave the burn rate a more than 2,000% increase.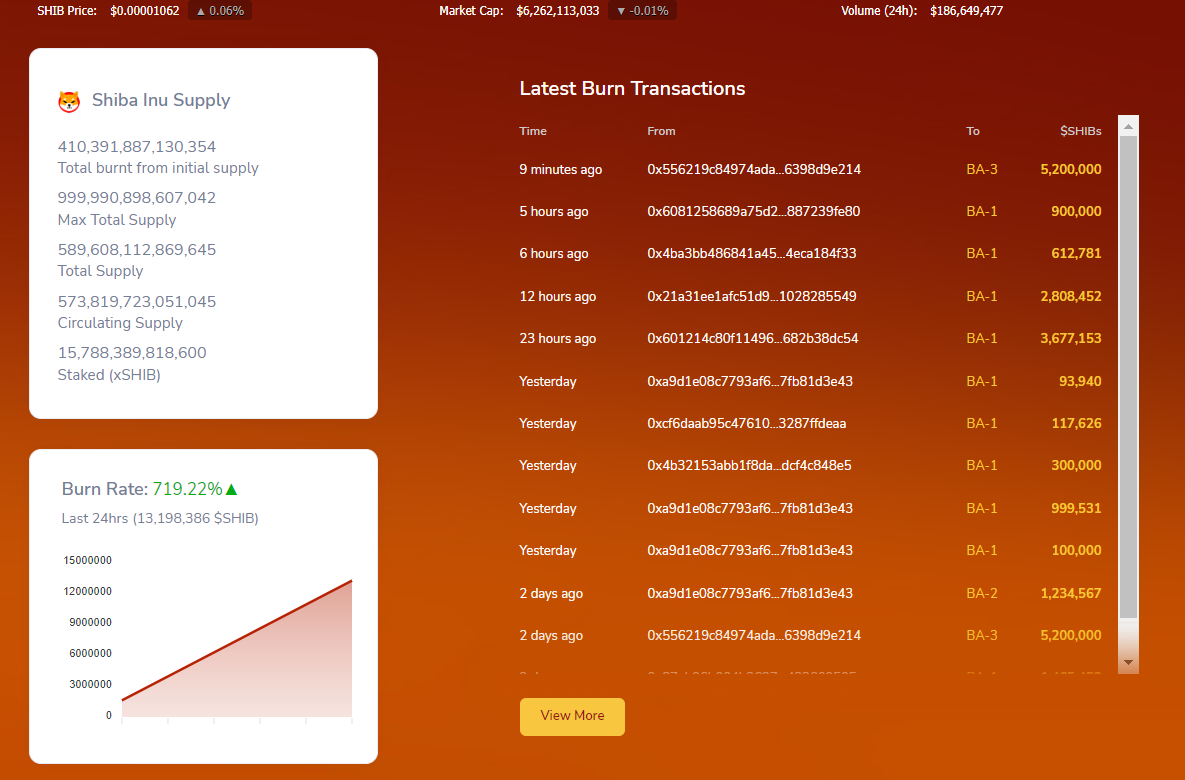 SHIB remains most traded token
WhaleStats data also shows that the second biggest canine crypto, Shiba Inu, still sits in two major positions for Ethereum whales; SHIB remains both the most traded cryptocurrency and the largest asset by USD equivalent for the 100 largest wallet owners on the Ethereum chain.
At press time, these whales are holding over $601 million worth of SHIB in total, which comprises slightly less than 12% of their combined portfolio.