Despite the fact that Ripple blows its competition out of the water and is retaining third place in the top-10 world cryptocurrencies, its price is still far from perfect. So far, it has been keeping in the range of $0.28-$0.35, and its current price is $0.31 (as of 02/18/19).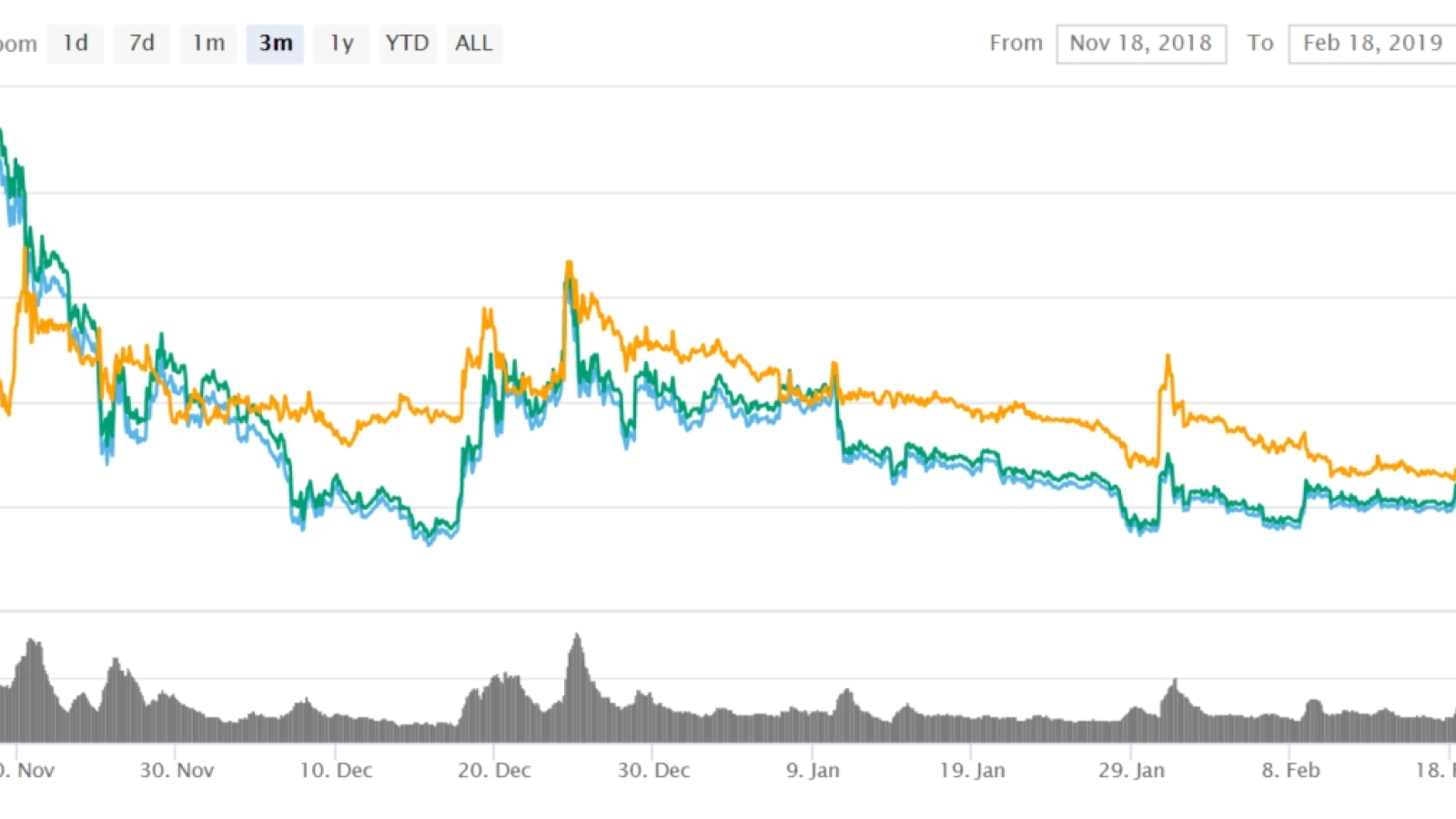 Experts continue making Ripple price predictions and forecasts. Some are realistic, while some sound like science fiction. Let's check out the opinions of authoritative crypto experts and websites, and find out what are the chances their assumptions will materialize.
Major XRP price predictions 2019
Considering Ripple's technological superiority and potential partnerships, many crypto experts believe that it must soon rally from its low. Here's what they state:
Ripple Coin News, one of the largest websites of its kind, predicts that 2019 will be a lucky period for Ripple, and its price can soar to the $8-10 mark. Such growth will be enabled by new technologies and partnerships.

Daily Express, a UK newspaper, states that XRP is to hit the $5.06 mark.

According to theoofy.com, continuous growth and stability of its position can make Ripple reach $1.2 by the end of 2019. That might happen in Q3 or Q4 2019 if things go smoothly. If XRP manages to double its value in the nearest time and enter the market at the rate of $0.78, it may reach $1.10 by the middle of 2019. The listing of Ripple on independent trading platforms and investment projects can accelerate this process.

Investing Haven's Ripple price prediction is $20 in 2019. Such forecast is based on the introduction of xRapid tech, partnerships with financial institutions, as well as XRP technological advantages.
Some other websites, including Xstreet, express.co.uk, and Investing PR state that Ripple's value should reach about $3-5 by the end of this year.
However, some websites are less optimistic about that:
The 30rates website predicts that Ripple will stay somewhere between $0.259-$0.299 in March 2019.

Metro, a major UK newspaper, also predicts a Ripple price of $0.22-0.28. They are sure that Bitcoin will continue its dominance and is expected to reach $20,000 again.

The Economic Forecast Agency expects Ripple to fall further without naming particular numbers.
$10 Ripple price – How real is it?
Okay, we all hope for the best and want Ripple to reach its highest heights this year, but what are the chances of it overcoming a $10 mark?
We have already discussed the possibility of Ripple hitting $100 – it's almost impossible. Let's perform similar calculations:
Ripple's overall supply is 99 991 698 361 XRP.
For 1 XRP to cost $10, Ripple's market cap should be $999,916,983,610!
Think about it. Almost 1 trillion.
At the moment, Ripple's market cap is $12.7 bln (1/83 of the desired goal).
Even Apple's market cap is $800 bln, which proves there's nothing impossible, but there are too many 'What ifs'.
What if Ripple won't stand the competition from Litecoin and Tron?
What if it won't be as massively adopted as Ripple Labs' plan?
What if governmental regulations will hinder Ripple implementation in banks?
For XRP to reach the $10 mark, we should witness a huge adoption rate from the world's banks and financial institutions. Let's be sincere: right now, all we can count on is a $1.20 price by the end of 2019. The current situation in the crypto market makes Ripple a great investment target, so don't lose your chance. Sooner or later it should take off and soar high to the sky.
Update: According to Smartereum's author Andreas Kaplan, with the current projections taken into account, most people in crypto sphere agree that Ripple value can go up to the $200-$300 range in 10 years. Even though this number seems to be even less realistic than the above-mentioned assumptions, there's a grain of truth in what he bases his prediction on.
RippleLabs are working tight-lipped on their project, and keep attracting new and new partners: Accenture, Andreessen Horowitz, CME Ventures, Core Innovation Capital, Google Ventures, Santander Innoventures, SBI Group, Digital Ventures, Seagate, Standard Chartered and many other companies have expressed their willing to work with Ripple.
RippleLabs are on their way to make XRP a key token for both bank transfers and real-time payments:
"Our vision is to become a global real-time payments company… players who are not thinking about this will get left behind. That's why we see Ripple as a strategic partner moving forward." - @TransferGo Head of Operations, @TomasSnitka pic.twitter.com/9BsW8vc3fW

— Ripple (@Ripple) 6 февраля 2019 г.
Definitely, they've taken the right path, so XRP price growth is just a matter of time. While $100 Ripple price prediction still seems to be utopian, $5 is a goal that might be achieved in the nearest years.
Disclaimer: The opinion expressed here is not investment advice – it is provided for informational purposes only. It does not necessarily reflect the opinion of U.Today. Every investment and all trading involves risk, so you should always perform your own research prior to making decisions. We do not recommend investing money you cannot afford to lose.