Litecoin (LTC) entered the month of June with visible and defined growth moves as anticipation of its next halving is just two months away. The digital currency is changing hands at a price of $92.66 after soaring by 3.57% in the past 24 hours amid an erratic market that is marked by unstable volatility.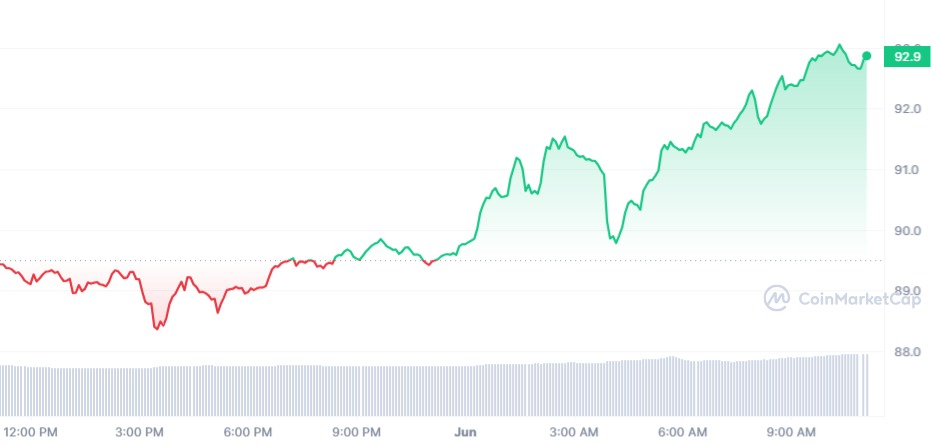 Litecoin also ranks as one of the digital currencies with mega positive growth in the past week relative to its peers such as Bitcoin (BTC) and Ethereum (ETH). Notably, the Layer 1 protocol has soared by 9.60% over the trailing seven-day period, while Bitcoin and Ethereum are up by 2.55% and 4.22% within the same time span.
The growth of Litecoin mimics its positive trend since the start of the year, when the realities of the next halving event crept in.
The Litecoin halving has been noted to be accompanied by periods of massive price growth. Investors are now pricing in this sentiment, a trend that has pushed the cryptocurrency to grow from a low of $76.83 to a high of $94.87 in the past month.
Litecoin outlook for June
With the new month already underway, Litecoin is pushing against the current bearish forces on the market to maintain a consistent path toward breaching new price levels.
By the end of this month, Litecoin will be just about a month away from its much anticipated halving, and we are likely going to experience more capital inflow into the coin as investors will make an attempt to take advantage of the projected price growth.
The Litecoin halving will reduce the rate of supply of new LTC tokens into the industry and, as such, fuel scarcity that is bound to boost the price of the asset in the long term. Should the market truly price in events ahead, we may see the Litecoin price touch $100 by the end of this month.