Over the past three months, ETH, the native cryptocurrency of Ethereum, has experienced a more intense drop in value than other major cryptocurrencies. While analysts have generally attributed the fall to the sell-off of initial coin offerings (ICOs), a new research paper released by Diar shows that major ICOs have not sold most of their holdings in ETH.
As ETH fell below the $200 mark to record its new yearly low, analysts have suggested that the dump of ETH raised in ICOs back in 2017 intensified the correction of the cryptocurrency.
Possible it wasn't ICOs
According to data provided by Diar, a research group that releases an in-depth weekly analysis on the global cryptocurrency market, the majority of major Blockchain projects based on Ethereum are still holding tens of millions of dollars in their Ethereum treasury.
DigixDAO, Golem, Status, Aragon, Filecoin, Tezos, Gnosis, Iconomi, Kyber and Request are all sitting on top of more than $10 mln, with DigixDAO and Golem both holding more than $70 mln.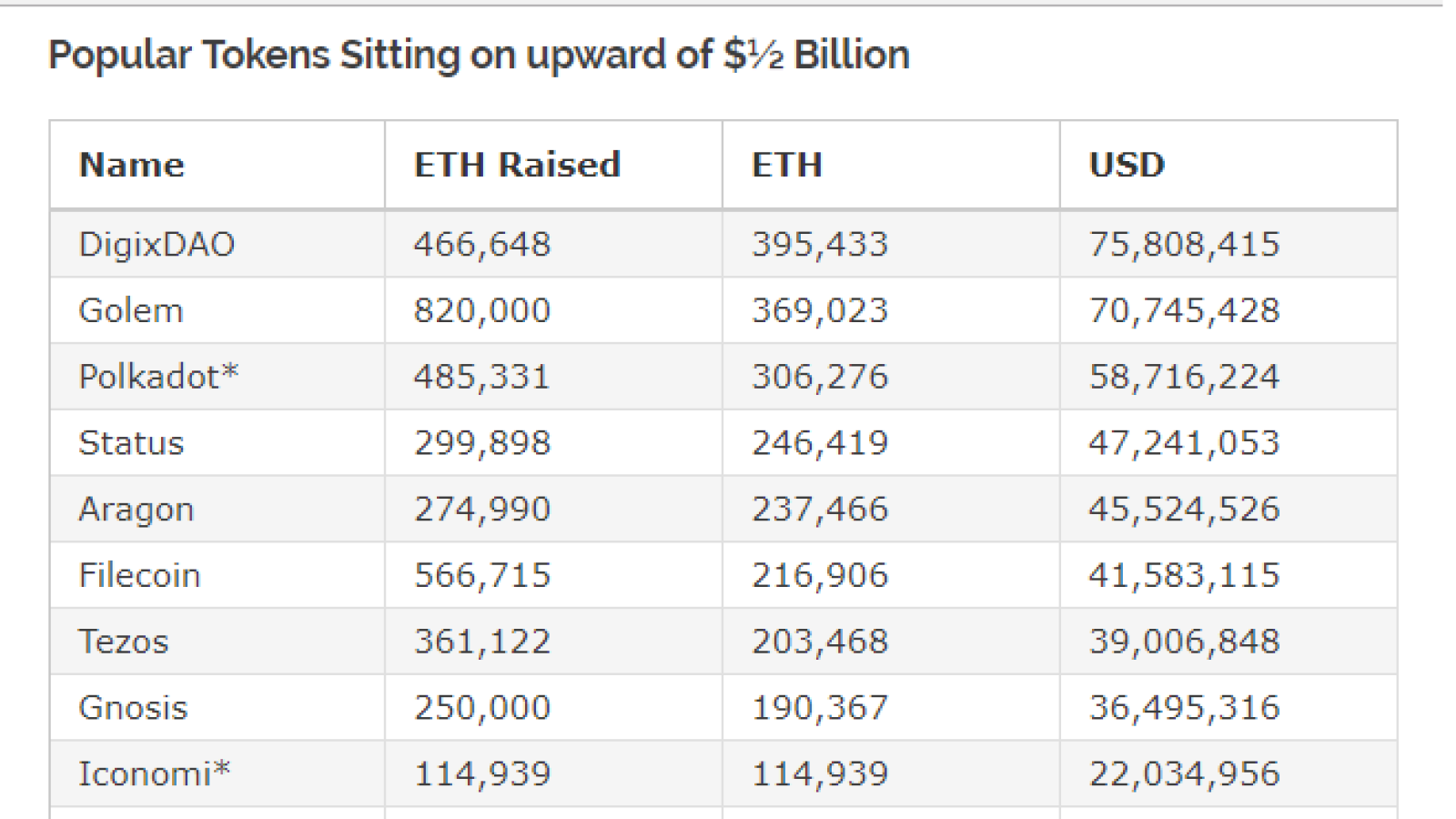 Most Blockchain projects, at least major ICOs, have held all if not most of the ETH raised during their token sales throughout 2018, contrary to reports that have claimed ICOs have sold their ETH after panicking from the 80 percent correction of the cryptocurrency market.
Gnosis, which has the eighth biggest ETH treasury out of all projects, said in an official blog post that its holdings in ETH worth over $36 mln is more than enough to finance the project's operation and development for at least five to seven years.
"We heard Ether price dropped? We don't care too much. Being active in the space since Bitcoin $9 this is nothing new and we prepared for this event. We have a team of over 50 people now working full time on the Gnosis platform and we can continue to finance this for the next five to seven years without the need to sell any of our ~200k ETH in reserve," Martin Koppelman, the founder of Ethereum-based prediction market Gnosis said.
Considering the reliance of Blockchain projects on ETH holdings to fund development and operation throughout the years to come, and the healthy balance sheet of most major ICOs, it is unlikely that the intensified drop in ETH price was fueled by the sell off of ICOs.
Instead, it is possible that the lack of progress made by decentralized applications (dApps) and the stagnation in dApp adoption led investors to lose confidence in ETH as a short-term investment.
Larry Cermak, head analyst at Diar, suggested that sell pressure on ETH will not decrease in the upcoming months, as most ICOs have still not sold the majority of their holdings and could liquidate large portions of it in the near future to fund their operations.
"There is a big misconception that ICO companies have liquidated most of their ETH holdings," Cermak said. "On average, all of these projects have moved or liquidated 62 percent of the amount that they initially raised. In other words, they are still holding 38 percent of the initially raised amounts. This, in turn, creates ETH selling pressures, which are unlikely to go away any time soon. The price is affected not only by the ETH mining issuance but also by ICO companies liquidating to cover their expenses."
Will ETH drop further?
If ICOs begin to actually sell their holdings of Ethereum on the global cryptocurrency exchange market, sell pressure on ETH, which is already high, will increase even further, leading the price of ETH vulnerable to another large drop on the downside.