Popular U.S. music artist, rapper, actor, record producer, songwriter and entrepreneur DeAndre Cortez Way (known by the alias Soulja Boy), who is known to endorse various cryptocurrencies in his tweets, has taken to Twitter to mention the trendy meme coin PEPE.
In 2021, the rapper tweeted that he held XRP, Bitcoin and ADA. He even considered launching his own cryptocurrency, Souljacoin. However, that was likely a joke, as he never mentioned it again.
This time, he mentioned PEPE, saying "I done got rich off PEPE," quoting famous song "I Done Got Rich" by American hip-hop singer YEAT.
I done got rich off #PEPE

— Soulja Boy (Draco) (@souljaboy) May 4, 2023
About PEPE coin
Pepe (PEPE) is a meme coin based on the popular Pepe the Frog internet meme. It was launched in April this year and had a massive promotion campaign on Twitter and other social media platforms.
The founder of this meme crypto, as often happens with cryptocurrencies, remains anonymous. PEPE has become trendy recently, as many have been rushing to buy it and many have already sold their PEPE, locking in healthy profits. Thus, PEPE is outperforming well-established meme cryptocurrencies, such as Dogecoin and Shiba Inu.
Cryptocurrency influencer David Gokhshtein, founder of Gokhsthein Media company, recently tweeted that he noticed a lot of transactions, as people have been selling their SHIB holdings to buy PEPE.
PEPE jumps 51%, whale sells his holdings to get it
"Smart Money" tracker @lookonchain has noticed a whale converting several large chunks of cryptos for PEPE. This wallet changed 20.6 WBTC (worth $590,000), 17 billion CULT (evaluated at $90,000), 44,194 UNI (worth $235,000) and 20 ETH ($37,000) to buy 1.71 trillion PEPE.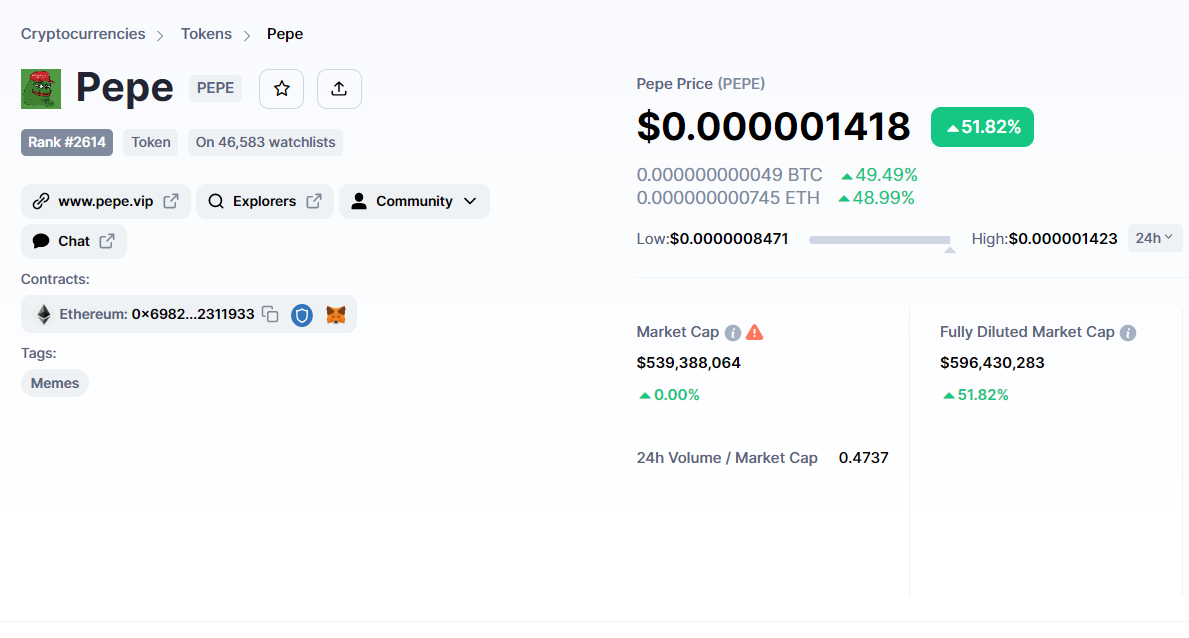 The latter amount is now the equivalent of $2.19 million. Thus, the whale has made a profit of roughly $1.23 million on that deal.
We noticed a whale exchanged almost all assets for $PEPE.

The whale exchanged 20.62 $WBTC($590K), 17B $CULT($90K), 44,194 $UNI($235K) and 19.96 $ETH($37K) for 1.72T $PEPE ($2.19M currently).

The buying price of $PEPE is ~$0.0000005533 and made a profit of ~$1.23M. pic.twitter.com/O6BOQMd1EW

— Lookonchain (@lookonchain) May 4, 2023