HyperChainX (HYPER), a protocol designed to revolutionize the gaming industry with its all-in-one platform specifically designed for gamers, is seeing a massive price jump today. Per data from CoinMarketCap, HYPER is up by 115.52% over the past 24 hours by $0.0003976 to join the list of the top altcoins moving the market today.
The growth in HyperChainX remains unprecedented as, though the project is not new to the space, it has more or less been off the radar for some time. With the current price growth, the token has seen a sharp spike over the trailing seven-day period, where its price has surged by more than 155%.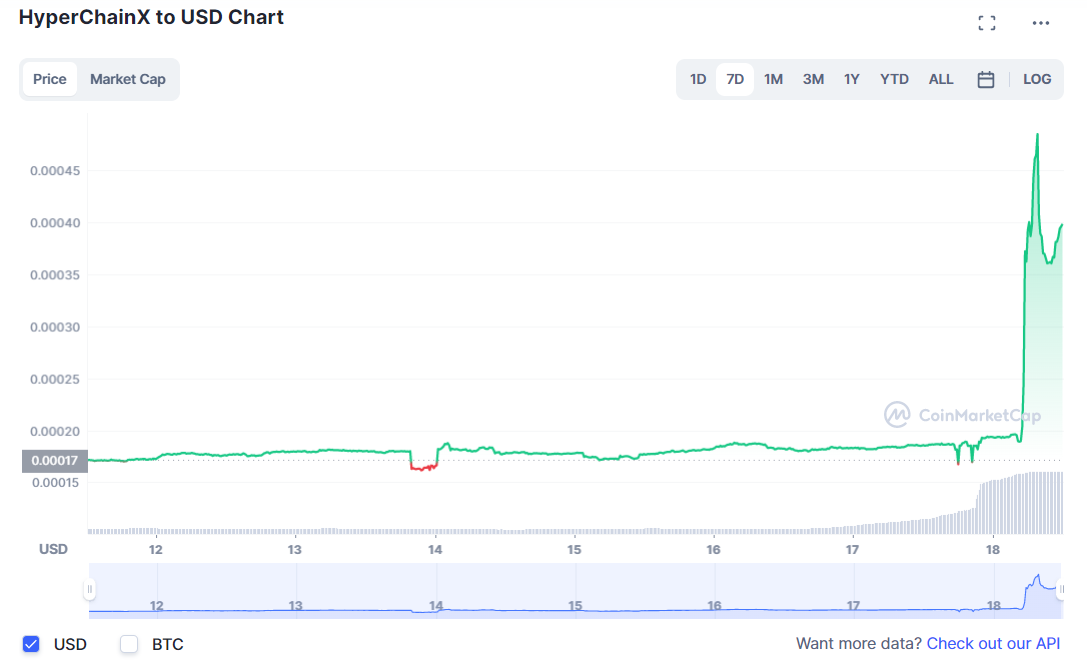 Many in the HyperChainX community are suspicious of the growth of these tokens as there is no major fundamental force that can be tagged as driving the growth of the token. Besides the BitMart listing that was announced back in early November last year, there has been no major activity on the token to date.
Some users in the HYPER community are not as enthusiastic about the coin's future as the current growth jump is unusual in the history of the token.
Is HYPER a pump-and-dump token?
A 115% growth rate in a day is possible in today's crypto world, but it is mostly attributed to either a pump-and-dump scheme or a meme coin like Dogecoin (DOGE), Shiba Inu (SHIB) or Bonk (BONK), to mention a few. In registering its mark in the digital currency ecosystem, BONK recorded growth of 107% earlier this month as it shows such growth momentum is possible.
Should the growth of the HYPER token turn out to be unsustainable, a steady price fall can be expected, mimicking the more than 96% drop in BONK's Polygon copycat, as reported earlier by CoinMarketCap.