Ethereum is the world's second cryptocurrency by the market cap ($12.8 bln). It snaps at Ripple's heels and has enough potential to outperform Bitcoin. It's not surprising that it's one of the most frequently used means of crypto payments (daily trading volume is $2.7 bln in ETH). If you have Ethereum, you should keep your assets safe and sound. Searching for the best Ethereum wallet? These reviews will guide you to find a worthy solution.
How to select the most secure Ethereum wallet?
Hackers never sleep and constantly invent new ways of stealing money: they have a lot of tricks in their pockets to make your digital currency disappear. If you don't want to become their victim, you should find a truly reliable wallet. The main aspects for consideration are:
A private key is a total must. Having a private key you stay assured that no one else can see or spend your funds. Both cyber and hardware wallets provide users with digital keys, but if there's none – don't even dare to trust your money.

The team of developers should be experienced and highly qualified. Since online security is a very complicated, delicate thing, you want it to be handled by the most tech-savvy specialists. Make sure that the ETH wallet is created and maintained by true professionals.

Backup possibility is also crucial. What if you forget where you store the private keys, or the server gets attacked? A good wallet developer takes care of data and makes copies to restore it in case of loss.

Security is the backbone of any digital wallet. How do you know you can trust the provider? It should feature private keys, two-step authentication, and SSL certificate for the official website. Read customer reviews to check out whether user accounts have ever been hacked, or if users' data has ever been compromised.

Compatibility is also important since most of us are likely to use several devices to manage our Ethereum wallets. Ideally, a storage account should be present as both a desktop solution and a mobile app. This way, your digital money always stays at your fingertips.

Simplicity of use is the last but not the least point, especially for beginners. Open the interface, run the program to understand if you'll manage to navigate the tools.
Still, want guidance? Read these detailed reviews: we'll observe the most outstanding solutions available for beginners and crypto experts.
Best Ethereum wallets in 2019
The below-mentioned ETH wallets are highly recommended for crypto holders who want to keep their funds safe and enjoy trouble-free asset management.
1. MyEtherWallet: The best ERC20 wallet of its kind
MyEtherWallet can truly be called one of the leaders: users store their Ether private keys on their PCs and devices instead of servers, which guarantees a higher degree of security than alternative solutions. Besides, this way, you can back up assets as often as needed.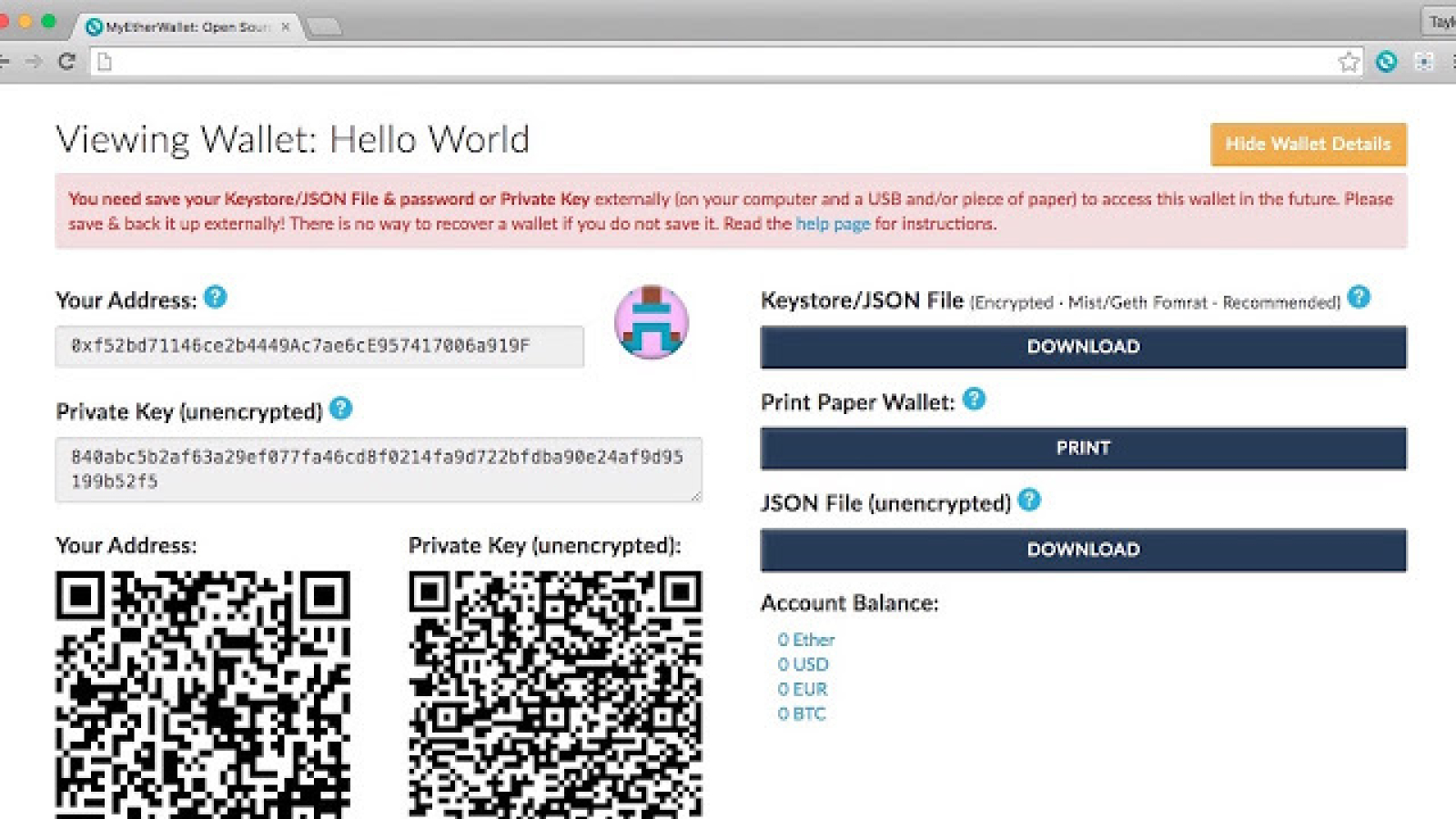 The solution is available in the web version, and as a Chrome extension, so if you're a desktop user, this will be enough. No personal information and no registration is required for creating an account.
MyEtherWallet makes asset management easy as never: you can quickly exchange ERC-20 tokens for BTC without leaving the platform. To top it off, it allows creating and running smart contracts and integrating hardware wallets.
2. Trezor: The best ETH wallet in your pocket
Initially, this hardware depositary was created for storing BTC, but now it also works with ETH and synchronizes data with MyEtherWallet web UI (you can control your Ether savings using the traditional web tools). It can replace all ERC-20 wallets since it can also store ETC, ZEC, LTC, BCH, and some other cryptocurrencies.
Trezor features a reliable electronic chip that starts running only after you log in using your password. The portable gadget looks like a USB device, it's very lightweight and user-friendly for beginners (connected to PC via USB port).
What makes Trezor one of the most secure solutions?
It features advanced cryptography tools.
2-step authentication.
The final screen allows seeing transaction details before you confirm it (reduces the risk of mistakes).
Trezor is available in three colors and costs $100.
3. MetaMask: Access to dApps in a jiffy
MetaMask is another browser extension for Ether users. It gives you access to Ethereum dApps. Users can leave their private keys encrypted in their own system – the data doesn't leak online. Besides, no personal credentials are required for registration.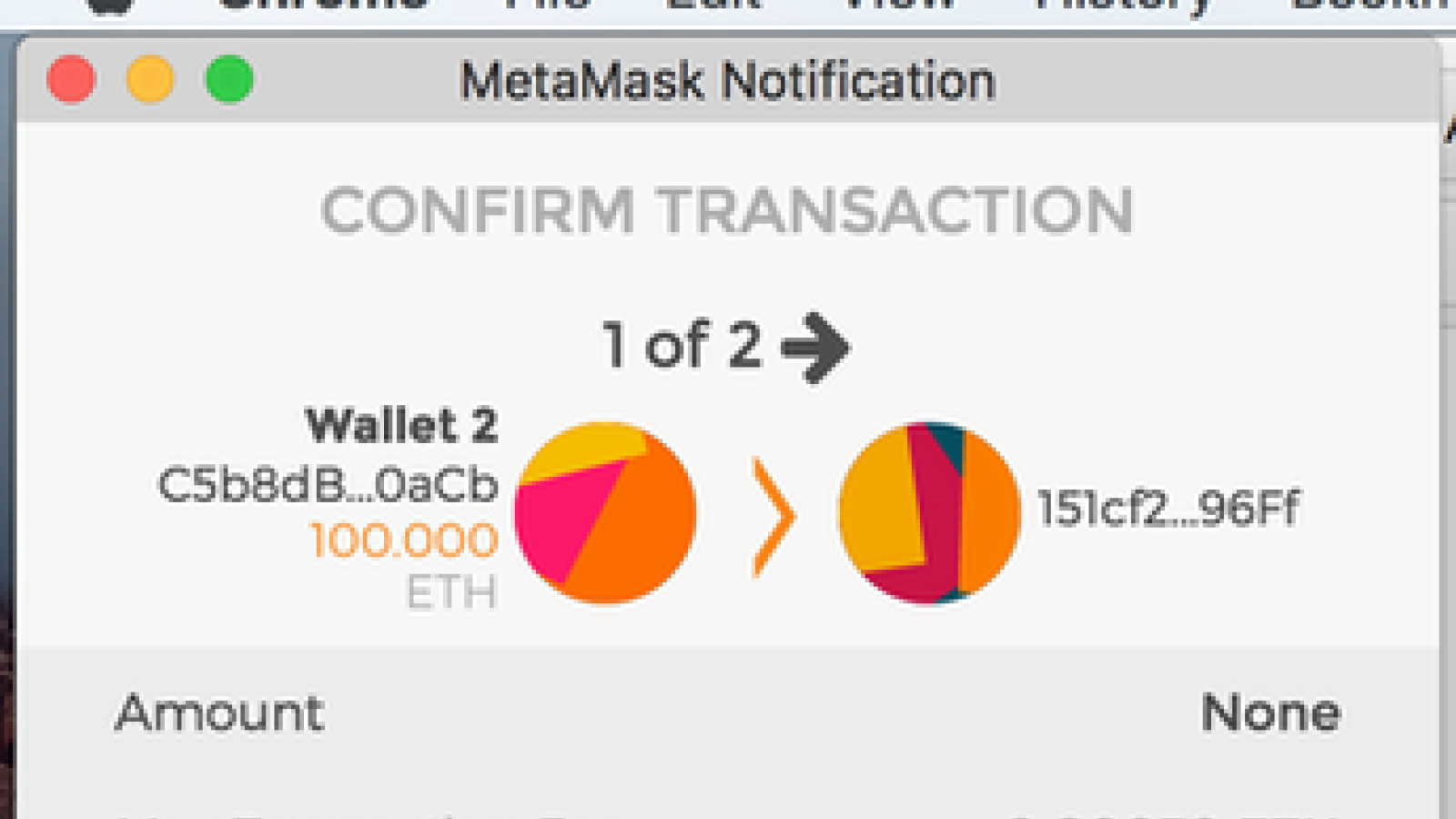 MetaMask makes Ethereum operations available for everyone and is intuitive: the design was made a no-brainer. You can easily operate either in Ether system, or in a test network. The wallet can be installed as an extension in most common browsers. The only drawback is the absence of a smart contract management tool.
4. Jaxx: Ethereum wallet for Android and iOS
Want to manage cyber assets on the go? Try a mobile wallet from Decentral (a dev team from Canada) – they have earned the reputation of a smart and reliable developer. Jaxx stores 13 crypto assets together with Ethereum and has a very sleek, user-friendly design with multiple protection features.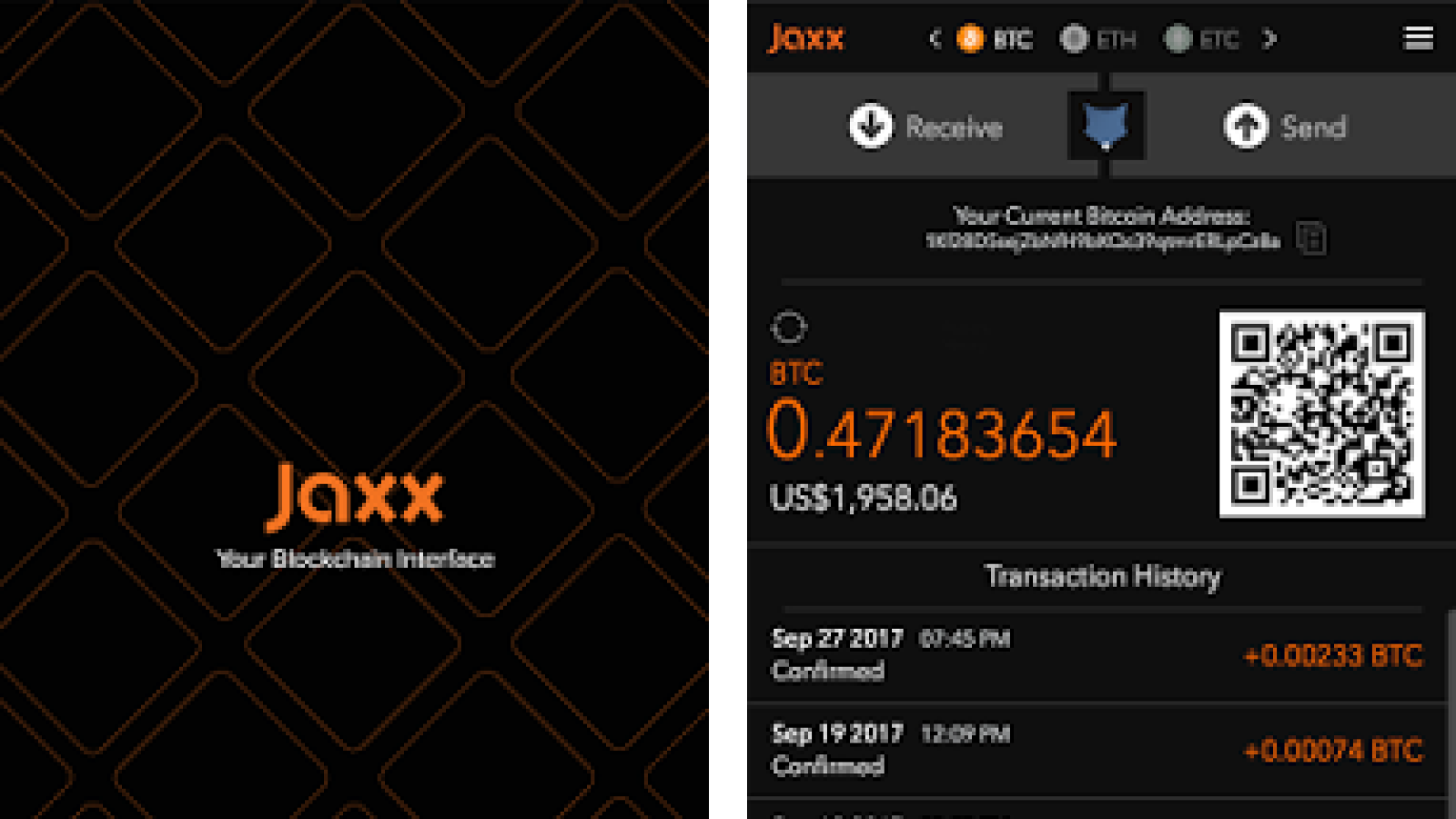 In Jaxx, private keys stay saved on the user's device – the code never goes online. Besides, such a feature as seed keys allows for having your funds backed up whenever you need it. Although it's considered to be the most secure Ether wallet for smartphones, it is also compatible with computers (all OS). The company also plans to produce their hardware Jaxx device.
5. Ledger Nano S: A cheap hardware wallet alternative
Ledger Nano S is a bit less costly than Trezor: it costs $65 and has pretty much the same instruments. The device supports over a thousand of various crypto tokens – it's a record-breaking feature. To facilitate the process of crypto holding and management, it leverages a few additional custom apps.
So, what makes it a top pick for crypto holders? Ledger Nano can boast a myriad of advantages:
2-step authentication;

a secured PIN-code;

recovery seed keys for backup;

private keys are kept offline.
The security is so thought-through that you can't even connect the gadget to a hacked PC.
The gimmick is perfect from a usability standpoint. It's exploited like a usual USB – you connect it to your PC, enter the PIN and manage the assets. There's an OLED screen that displays transaction info with a double-tap button.
You can buy a safe Ledger wallet by using this referral link.
6. Atomic: Best Ethereum wallet for mining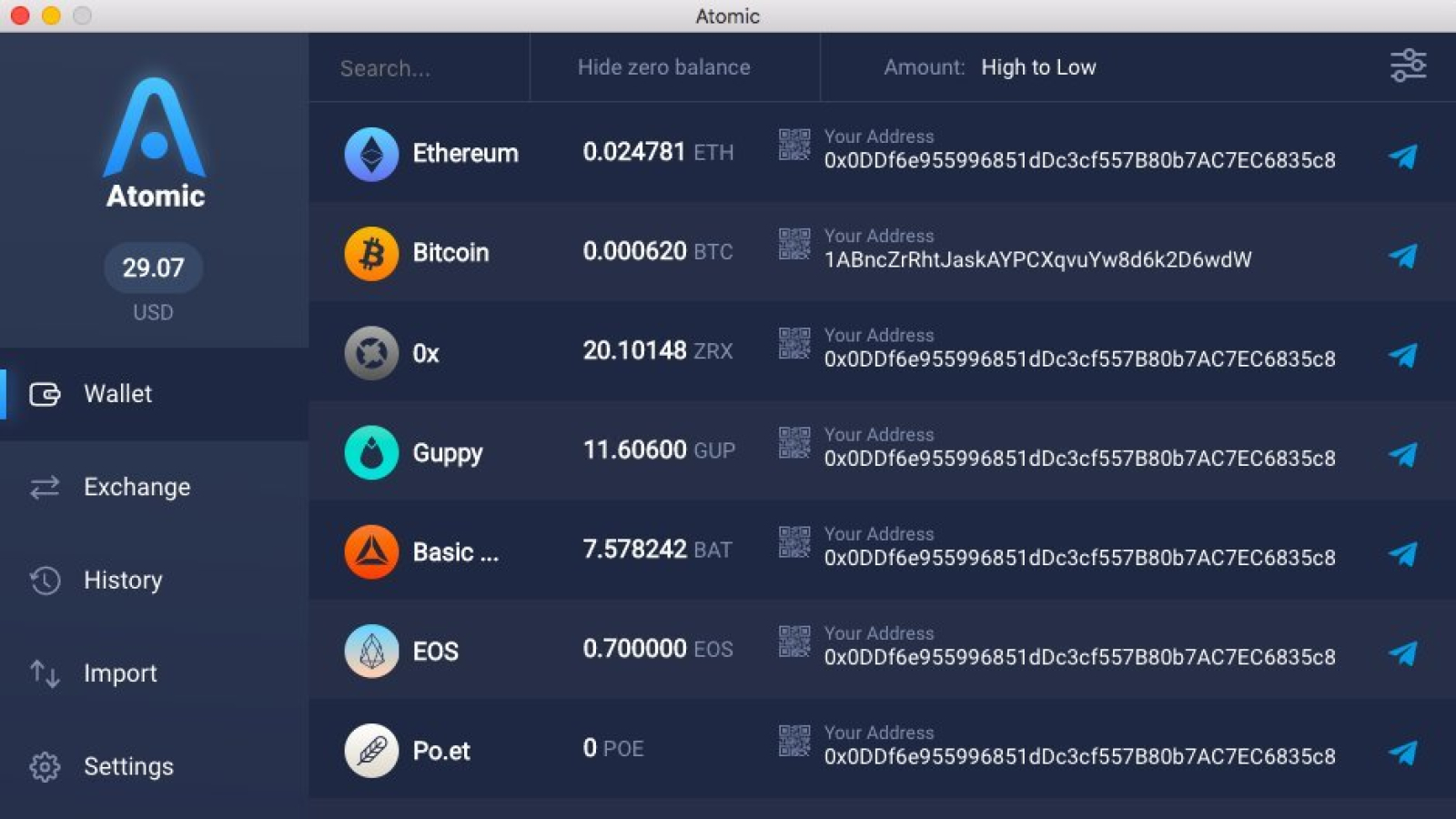 If you are still involved in ETH mining, you need a convenient solution. Atomic Wallet serves to store, buy, and exchange ERC-20 tokens with a plastic card (hundreds of cryptocurrencies are supported). Thus, you can easily sell or swap your freshly-mined Ether – it will go directly to the wallet.
The program has a comprehensive interface: you can enter the address and even get your custom token. Private codes are left encrypted on the computer, which means only you have access to your funds. The solution works with the vast majority of operating computer systems, as well as mobile devices. In the nearest future, the Atomic team wants to make ETH available for exchange in its proprietary decentralized system for crypto exchange without middlemen (Atomic Swaps).
7. Exodus: A versatile solution
Did you know that Exodus is the pioneer of multi-cryptocurrency storage sphere? It charges no fees and has a very simple, intuitive interface: when you get to the desktop version, you will see the chart of your coin portfolio. Exodus supports over 100 tokens and is the 1st desktop solution to integrate ShapeShift for quick crypto operations. Today, the number of exchange partners is enormous, which makes for high liquidity and faster transactions. Besides, users can receive and send crypto from smart contracts.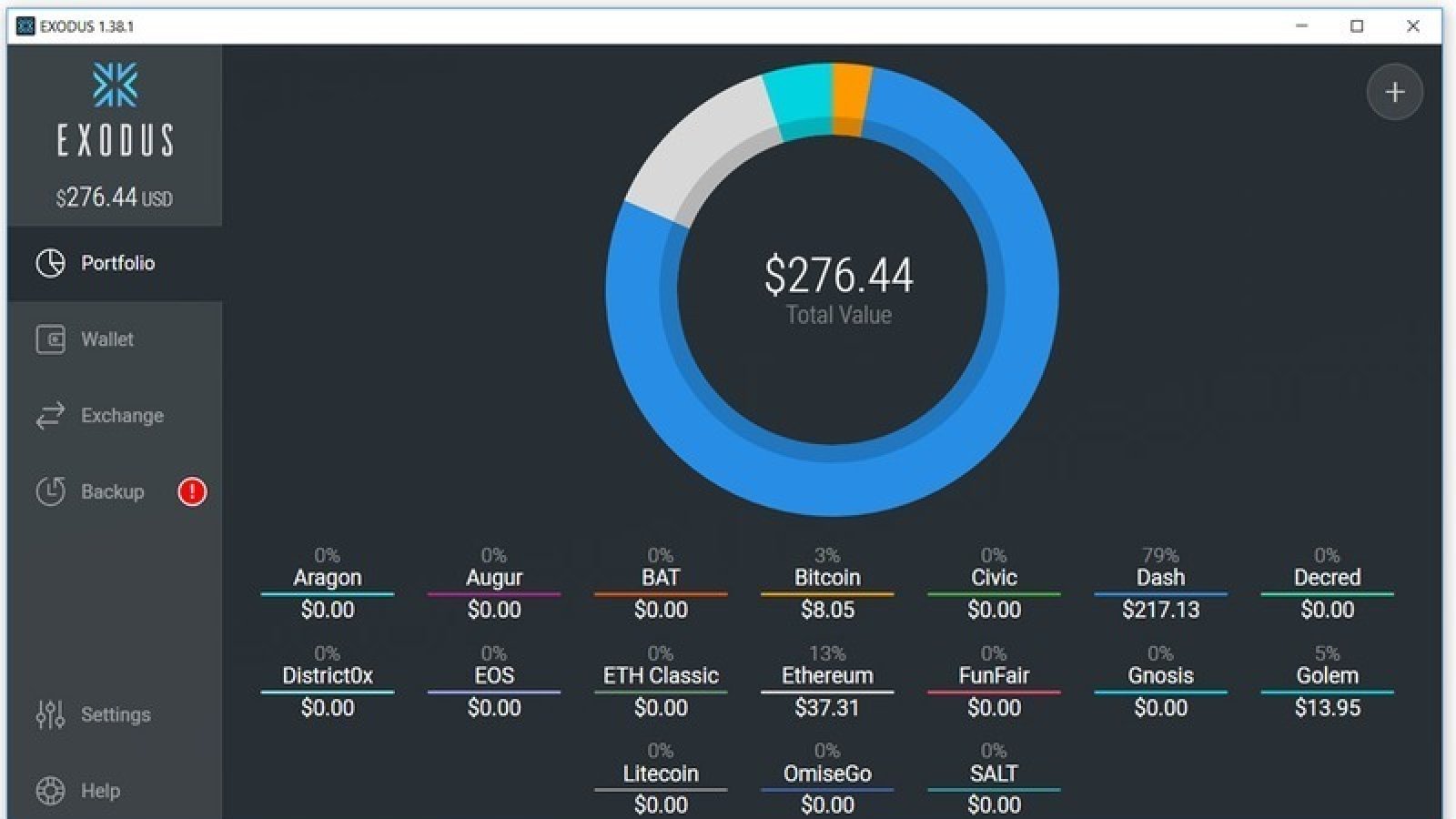 Internet connection is needed for connecting to Exodus, but have no doubt: your private keys will stay only on your device. Besides, data security is ensured thanks to email recovery and seed keys for backup. No personal data is required, and sharing your email is a necessity only if you want to receive a backup link. It's simply one of the best ERC-20 wallet solutions from the point of privacy.
8. Mist: Official choice of ETH keepers
This is a versatile option for all ERC-20 tokens. Once you install this wallet, it will synchronize with the Ethereum network and allow you to set a PIN. Do not forget to store the password where you can remember – you won't have any chance to recover it.
When this security step is done, Mist functions as any other Ethereum wallet. Assets are managed with the help of private and public codes (the private key is stored on the computer only). ShapeShift exchange is present to buy and sell ETH for other cryptocurrencies.
Compare the best Ether wallet solutions
Still don't know which option to select? If you perform Ether transactions on a regular basis and need maximum flexibility and versatility, select desktop wallets with mobile versions. If you aren't involved in trading and prefer holding crypto in large quantities, an Ethereum USB wallet would be a better choice. Here's the breakdown of popular ETH wallet variants:
Wallet
Type

Is personal info required?

Are smart contracts supported?

Ledger Nano S

Hardware

No

No

Trezor

Hardware

No

No

Atomic Wallet

Desktop

No

No

Exodus

Desktop

No, but email is provided for backup (optional)

Yes

Jaxx

Mobile + desktop

No

Yes

Mist

Desktop

No

Yes

MetaMask

Desktop

No

No

MyEtherWallet

Web

No

Yes
Bottom Line
So, what is the best Ethereum wallet? There's no absolute answer – everything depends on your needs and requirements. But no matter which type you prefer – a digital or hardware one – you should always take care of security.