Popular meme coin Floki Inu (FLOKI) has soared in price after it was listed by major crypto exchange Kucoin. However, it seems that another factor has had a bigger impact on this price surge, and it involves Tesla chief and "meme lord" Elon Musk.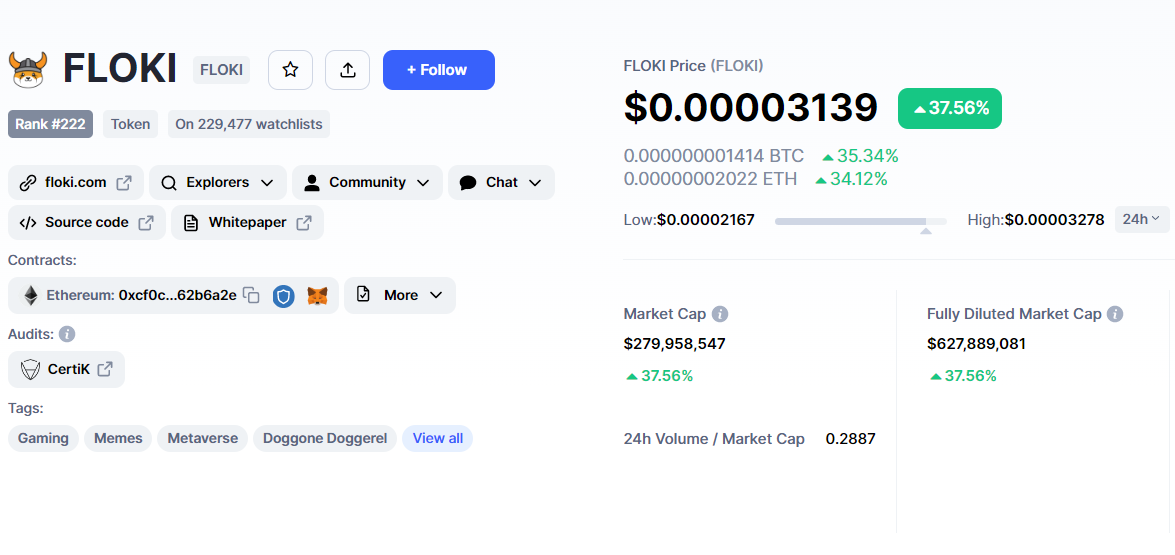 Floki account thanks Musk for "the opportunity"
In a recent tweet, Elon Musk posted a picture of the "new Twitter CEO," featuring a Shiba Inu dog sitting at a desk wearing a black T-shirt with the inscription "CEO." This tweet pushed the price of Musk's favorite meme coin DOGE way up.
However, it seems, the tweet has propelled FLOKI to rise by roughly 38% as the official Floki Inu account responded to Musk, thanking him "for this opportunity."
Thank you for this opportunity, #Dogefather!

I went from puppy to adult dog and am ready for this new adventure! @elonmusk

— FLOKI (@RealFlokiInu) February 15, 2023
As a reminder, the meme token Floki Inu was created after Musk posted a tweet in June 2021, in which he shared a photo of his Shiba Inu puppy named, Floki after a character from the popular TV series "Vikings."
The tweet of Floki says, "Went from puppy to adult dog and am ready for this new adventure!" The Floki Inu handle hinted that Musk tweeted a photo of his puppy, so the Floki account took it as a favorable sign.
Floki Inu listed on Kucoin
The Floki Twitter handle has announced a listing of the token by leading exchange Kucoin, calling it "massive and one of biggest Floki exchange listing" so far.
FLOKI will be paired with USDT and USDC stablecoins, exposed now to 27 million of the platform's customers in over 207 countries, according to the tweet.
FINALLY!

The people's exchange has listed the people's #cryptocurrency!$FLOKI is now live on the #Kucoin exchange.

This is MASSIVE and one of #FLOKI's biggest exchange listings, introducing Floki and our utility to 27 million users in 207 countries and regions. https://t.co/TxY3mRbudy

— FLOKI (@RealFlokiInu) February 15, 2023
Slightly earlier, Floki Inu made an announcement that FLOKI has also been added by the LunarCrush platform, along with SHIB, BNB and Dogecoin, and is now available for trading among the first assets on it.