Despite being acerbic Twitter speakers, the heads of teams behind the crypto behemoths rarely criticize one another or give advice to colleagues. The reaction by Vitalik Buterin (Ethereum's network creator) to Daniel Larimer (EOS.IO's CTO) and his plans for solving the CPU challenges have excited both communities.
One Shard, One Block Producer
The consensus design by Vitalik Buterin to EOS seems to be quite simple. Two steps have been proposed:
EOS Network should implement sharding. This means that the whole blockchain should be divided into shards, or multiple interconnected parts. These shards will interact in a different manner.
Each block producer on the network should be assigned to a random shard. Thus, the computational capacity of each block producer will be utilized effectively and only responsible for maintaining the shard.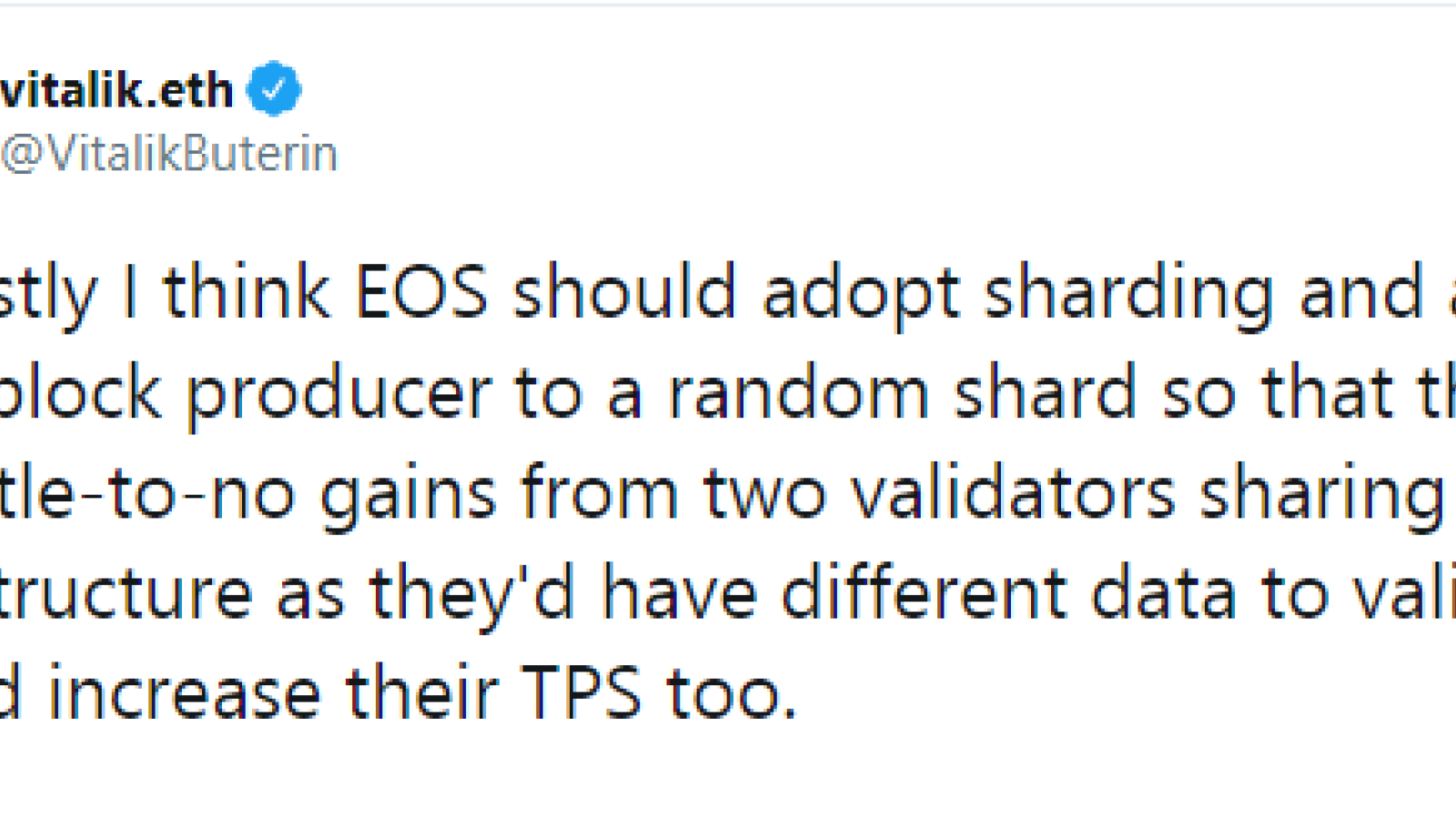 As a result, the implementation of sharding will improve the EOS network bandwidth. It will be available due to the reduced amount of data every block producer has to validate.
Debates Growing
This idea Mr. Buterin was expressed after Mr. Larimer of EOS.IO proposed his plans of tackling the problems of that resulted in the EOS CPU collapse. Mr. Larimer said that it would be productive to make EOS participants lease a CPU from a central point instead of the REX market. In this case, exponential growth from CPU time price will prevent network abuse.
As with regards to Mr. Buterin proposal, different views have been expressed on Twitter. Some speakers say it would be useful for EOS to consider the creator's opinion, while others are calling Mr. Larimer to have a personal discussion with Mr. Buterin. There are also those advising Mr. Buterin to take care of the sharding "on his own" network.
Ethereum 2.0, the sharding & PoS-based version of Ethereum, will most likely be implemented in 2020. Terms of an EOS system upgrade has not been disclosed yet.
Whose side are you on? Will EOS implement sharding? Start the discussion on our Twitter!