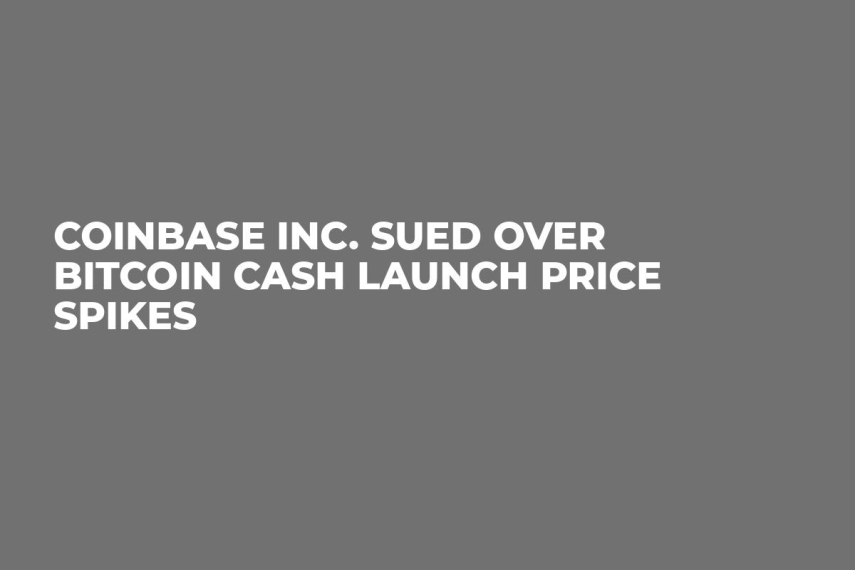 Cover image via U.Today
Coinbase Inc. is being sued in the US in a class action suit for tipping off its employees ahead of Bitcoin Cash's launch on the platform and manipulating the market shortly after the launch.
The complaint, filed March 1 to US District Court for Northern California, alleged that Coinbase told its employees one month before Bitcoin Cash's launch of the plan, allowing them to set up strategies and drive up the price shortly after the launch, causing ordinary buyers to buy at a price well beyond market value.
The plaintiff, Jeffrey Berk, tried to buy Bitcoin Cash within five minutes after Coinbase announced it was going to support the currency and ended up paying double of what he ordered, the complaint wrote.
Rumors on insider-trading-like practices (the term "insider trading" was meant for securities, Bitcoin Cash is not considered a security) has been abound since Coinbase's bumpy launch of Bitcoin Cash late December last year. The company announced an investigation of such practices after Bitcoin Cash was launched.
Coinbase has not released any updates on the matter since then. Coinbase press person called CryptoComes and said they decline comment at this time.
Berk is represented by long-time class action lawyers Robert S. Green, James Noblin in San Francisco and Lynda Grant in New York.
The filing of the case was first noticed by The Recorder.