Cardano (ADA) recently experienced a bounce from the local support level that was highlighted in previous articles. This bounce has set the stage for a potential reversal toward a new local high. However, it is important to note that ADA's price has dipped below the local trendline, which may raise concerns among investors who rely on technical analysis.
The cryptocurrency market is known for its volatility, and Cardano is no exception. Despite the positive bounce off of the support level, the drop below the local trendline may signal that ADA is not out of the woods just yet. As with any investment, it is crucial for investors to remain cautious and closely monitor the market's movements and the asset's technical indicators.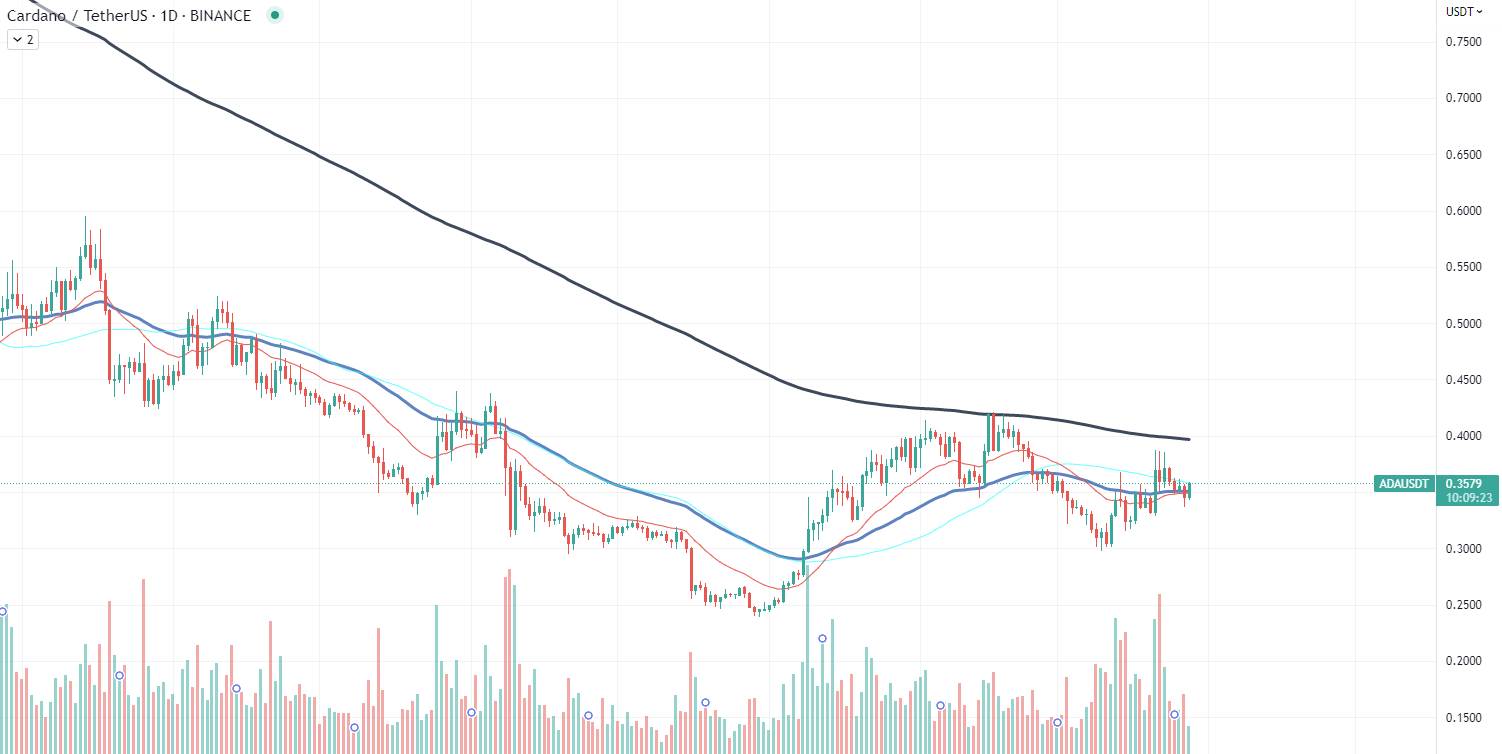 One possible explanation for the drop below the trendline could be fluctuating sentiment in the broader cryptocurrency market. External factors such as regulatory developments, macroeconomic events and shifts in investor sentiment can all have a significant impact on the price of cryptocurrencies, including Cardano.
In light of these market uncertainties, it is essential for investors to keep an eye on both the fundamentals and the technical indicators of Cardano. Understanding the project's long-term potential, as well as its short-term price movements, can provide valuable insights for those looking to make informed decisions about their investments.
$36 billion setback
The cryptocurrency market experienced a significant setback as $36 billion in market capitalization vanished following the Commodity Futures Trading Commission's (CFTC) case against Binance. The largest cryptocurrency exchange in the world has come under scrutiny due to serious allegations, leading to heightened risk perception among investors and prompting a massive outflow of funds from centralized trading platforms.
The CFTC's case against Binance has raised concerns about the regulatory environment for cryptocurrency exchanges and the potential impact on the broader market. Investors are becoming increasingly cautious about the risks associated with trading on centralized platforms, which may face stricter regulatory oversight and potential penalties in the future.
As a result, the market has seen a notable shift in investor sentiment, with many opting to move their assets to decentralized exchanges (DEXs) and other alternative trading platforms. This shift is reflective of a growing trend toward decentralized finance (DeFi) and the increasing popularity of DEXes, which offer users greater control over their funds and a more transparent trading environment.
Ethereum's activity plummets
The Ethereum network has recently experienced a significant decline in activity, as indicated by the reduced number of large transactions taking place on the platform. This downward trend in network activity has raised concerns among investors and market participants, as it may have potential implications for the future price performance of the cryptocurrency.
A decrease in network activity on a blockchain can be seen as a reflection of waning interest in and usage of the platform. In the case of Ethereum, this may suggest that users are moving toward alternative solutions, such as Layer 2 scaling platforms or other competing blockchains. This shift in user preference could lead to a decrease in demand for Ethereum's native cryptocurrency, Ether (ETH), which might negatively impact its market value.
At the time of writing, Ether is trading at $1,728, representing a 6% loss from its recent local high. This price drop could be partially attributed to the decline in network activity, as investors may be losing confidence in the market following the short-term bull run caused by the most recent bankrun.