BONK token has recently spiked by almost 70% in value before dramatically retracing. This unexpected surge has led many to speculate that large holders, often referred to as "whales," could be driving these price dynamics.
BONK, which has remained relatively low-profile for much of its existence, saw a significant increase in trading volume and value recently. The token witnessed a stunning 68% price spike, which attracted a wave of retail investors. However, almost as quickly as the price rose, it underwent a significant retrace, leaving many to question the cause of this extreme volatility.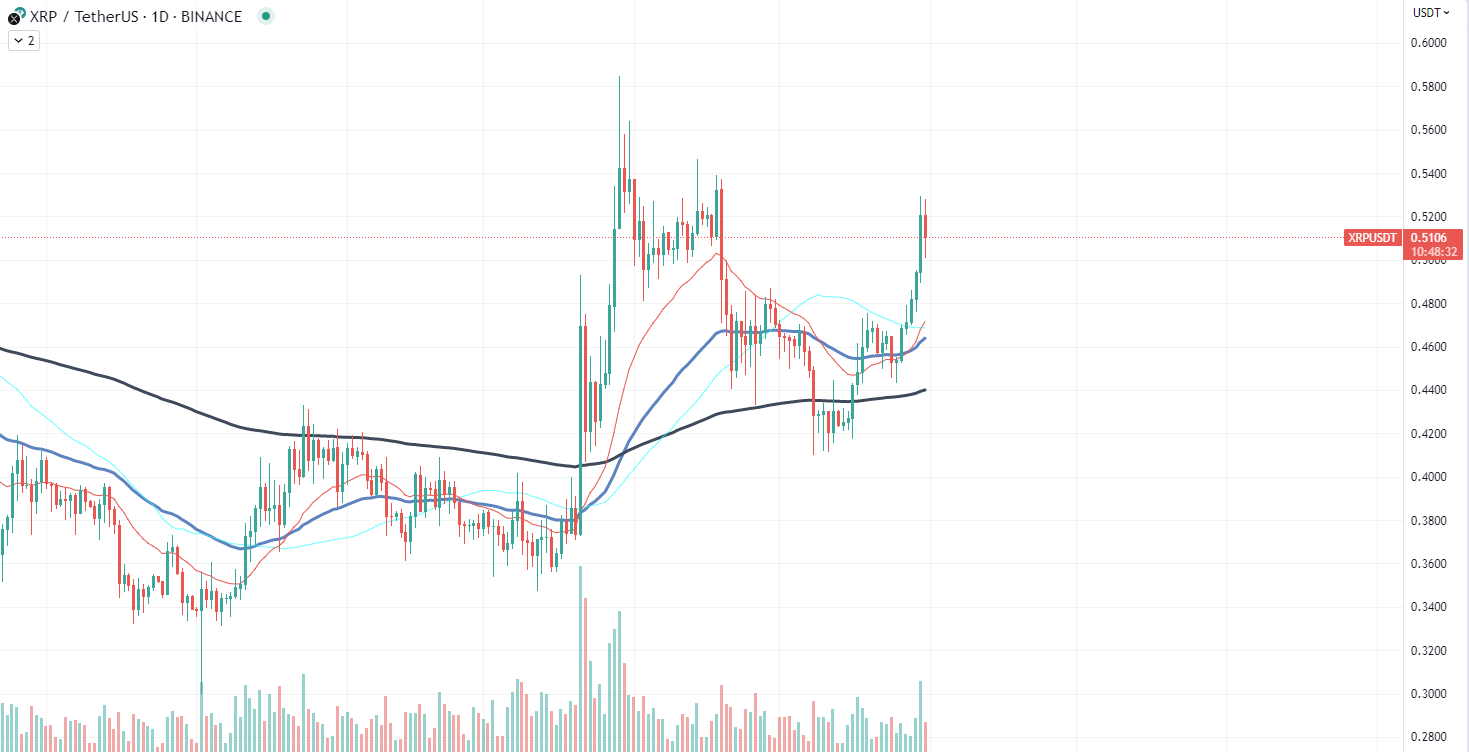 Interestingly, a closer look at BONK's network shows a number of large hodlers controlling a considerable chunk of the token's supply. These "whales," due to their substantial holdings, have the ability to significantly influence the price of the token. It is therefore plausible to suggest that these large holders could have artificially inflated the price of BONK, attracting retail investors to buy in, only to subsequently sell off their holdings for profit.
It is important to note that this event comes months after BONK lost over 90% of its value, which further raises questions about the recent price action.
XRP forms important pattern
In the fascinating world of crypto trading, price patterns often provide key insights into potential future movements. Most recently, XRP, Ripple's native cryptocurrency, has formed what is known as a "spinning top" pattern on the charts, stirring interest and curiosity among investors.
A spinning top is a type of candlestick pattern, often seen as an indication of indecision on the market. It is characterized by a small body between two long shadows, giving it a look akin to a spinning top toy. When this pattern appears, it suggests that neither buyers nor sellers could gain control during the trading period, leading to equilibrium of sorts.
Recently, XRP has been riding an upward wave, even reaching the $0.52 price level, breaking an important psychological threshold of $0.5. This move represented a significant achievement for the coin, and the formation of the spinning top pattern at this juncture adds another layer of intrigue.
In terms of what the spinning top might mean for XRP, it is essential to view it within the broader context of the market. Generally, a spinning top can suggest a potential trend reversal or a momentary pause in the prevailing trend.
However, it is crucial to note that while the spinning top represents indecision, it does not predict the direction of the subsequent move. The market's reaction following the formation of this pattern will provide more insights. Traders often wait for a confirmation candle following the spinning top to indicate the market's next direction.
While the spinning top formation suggests a possible pause in the uptrend, it is the subsequent price action that will truly reveal where XRP is headed next.
Wave of liquidations hits market
The cryptocurrency market has been thrown into chaos as a massive wave of longs liquidations, amounting to almost $100 million, has instigated a rapid downward turn across the board. The majority of digital assets have experienced a sharp decline, with losses peaking at 5%.
Long liquidation occurs when leveraged trades, betting on a price increase, are forcibly closed due to a sudden drop in prices, exacerbating the market's fall. This can create a domino effect, causing additional liquidations and leading to severe market downturns. The sheer scale of the recent liquidation suggests a level of investor sentiment shift that warrants concern.
One theory linking to this dramatic market movement is the recent behavior of large whales, the dominant players on the cryptocurrency market, who hold large quantities of digital assets. These influential entities have reportedly been actively withdrawing their funds from the market, an action that has coincided with a surge in the popularity of meme tokens.
The meme token craze, characterized by the meteoric rise of tokens such as Dogecoin and Shiba Inu, has been attracting substantial attention in recent times. While these tokens have been performing impressively, the focus on these more speculative assets has led to uncertainty in the more established digital assets market.