We're all eyes on Bitcoin price fluctuations. The cryptocurrency has made an overwhelming spike and gained around $1,100 in value in some three days. Now it has stopped moving, and we're holding our breath to see what's going to happen later. How will Bitcoin act in April and May? Read Bitcoin price predictions from TradingView users: they have curious opinions concerning Bitcoin's future.
Spring is the transition to the new bull market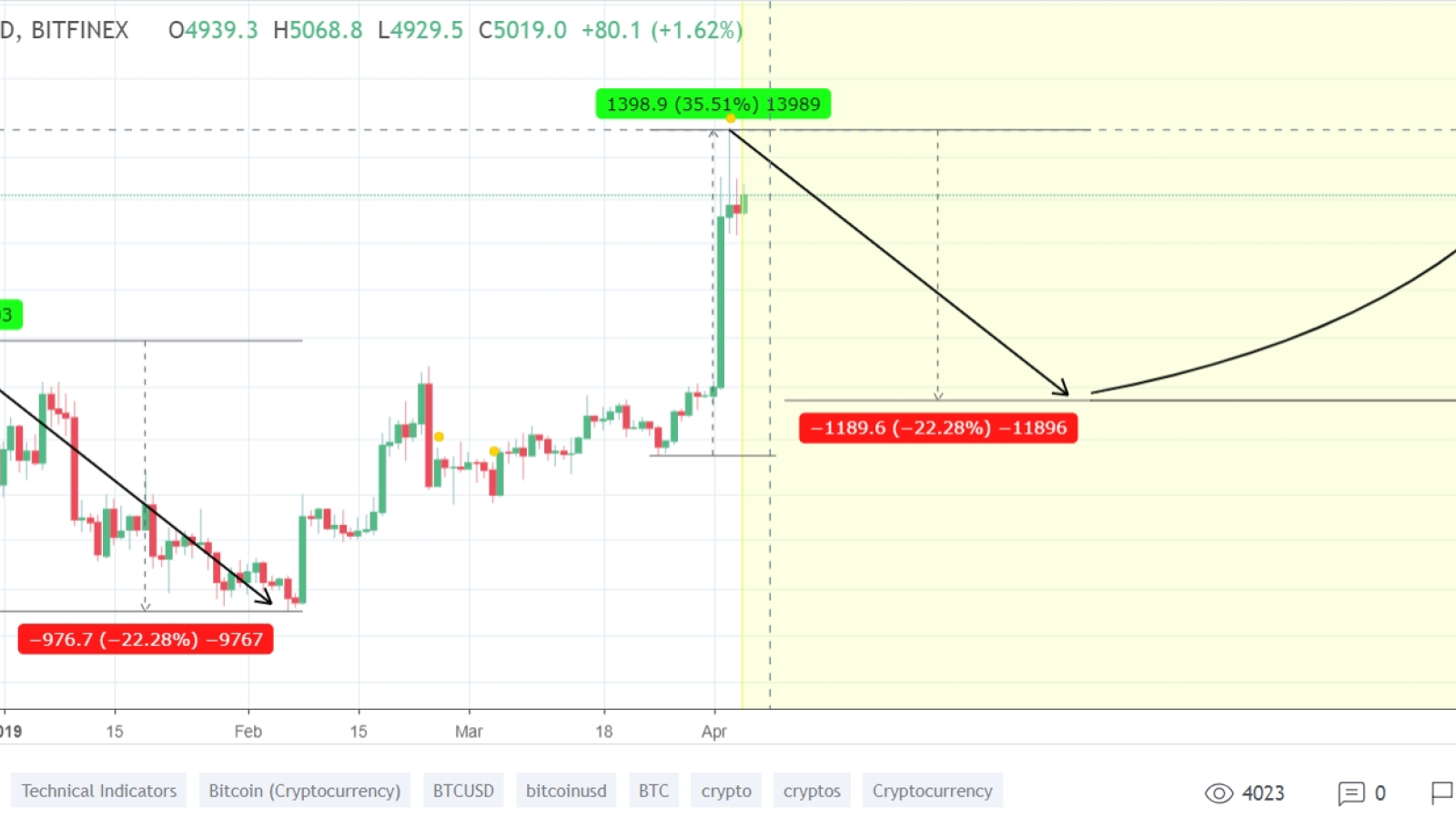 Bitcoin price chart from InvestingScope
Think that $4,900 is the highest high for this spring? Bitcoin has only started crawling to the pedestal. According to InvestingScope, this period is only a transition to the new bull market.
They have been bullish on Bitcoin since it made its low in December when the 2018 bear cycle started. After analyzing Bitcoin price patterns, the InvestingScope team has realized that all of the suggested models follow the parabolic curve, which they named "Store of Value Curve", and with the help of the halvings, tried to determine the intermediate phases that will lead to the new bull cycle.
Following Tuesday's aggressive rise, a new pattern was formed: it will keep Bitcoin bullish but on a steady pace. As seen on the 1D chart, the recent price spike is identical (so far) in growth % with the spike that took the price from the 3,200 December low (and market bottom) to the 4,380 Resistance, which kept Bitcoin contained within an Ascending Triangle for 3 months. The rejection on the 4,380 Resistance was followed by a -22% pullback that made the first Higher Low of the Ascending Triangle.
We expect that a potential rejection from the current high will result in a similar pull back and quite possibly a new Triangle. The estimated support should be around $4,150
But don't rush to consider short-term shorting now that the uptrend is on its early stages. This is merely intended to provide new buy entry points for long-term investors who wish to accumulate Bitcoin during the accumulation/distribution phase we're in with a long-term mindset of selling on peaks as the new bull market unfolds.
BTC in ABC correction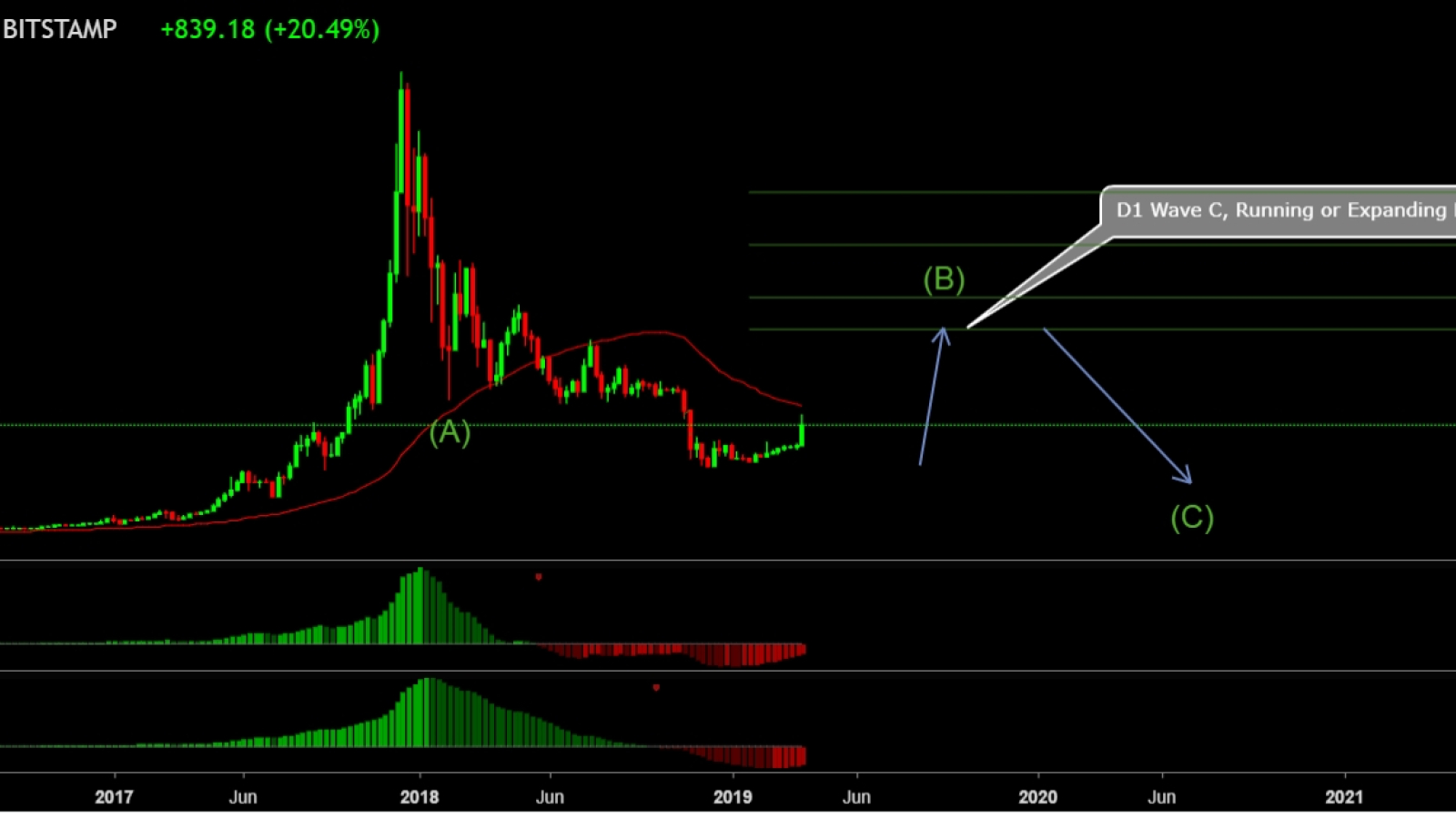 Bitcoin price chart from Boon2
Which trading strategy should be taken by long-term traders? Boon2 shares an interesting opinion.
In W1 chart, we have no trend with one up and one down, we're consolidating within the last impulse up so a EW corrective structure is possible. Is the corrective structure over? Not likely: the price action simply doesn't fit with a ABC down, so let's wait for the next possible EW corrective structure which is the running flat to complete the W1 B wave.
What if the correction down is over and we're going up to break the top, there is a slight chance with the W1 bull hidden divergence being confirmed on the D1? Look for buy's where D1 wave C ends. Price action will tell you where the D1 C up could be coming to an end!
What if the price turns down from here and we get a lower low on D1? Then look for buys on the lower time frames. Even if the D1 low gets broken the W1 structure does not change, we will still get at least the D1 C wave up – it's a plausible scenario.
According to Boon2's W1 chart, we have all the hallmarks of a possible ABC correction with a running flat in B. Could the structure change into an expanding flat in wave B? Absolutely, no one knows where D1 wave C will end and we don't have to know if we don't trade on W1 and D1 charts.
Is a price correction inevitable?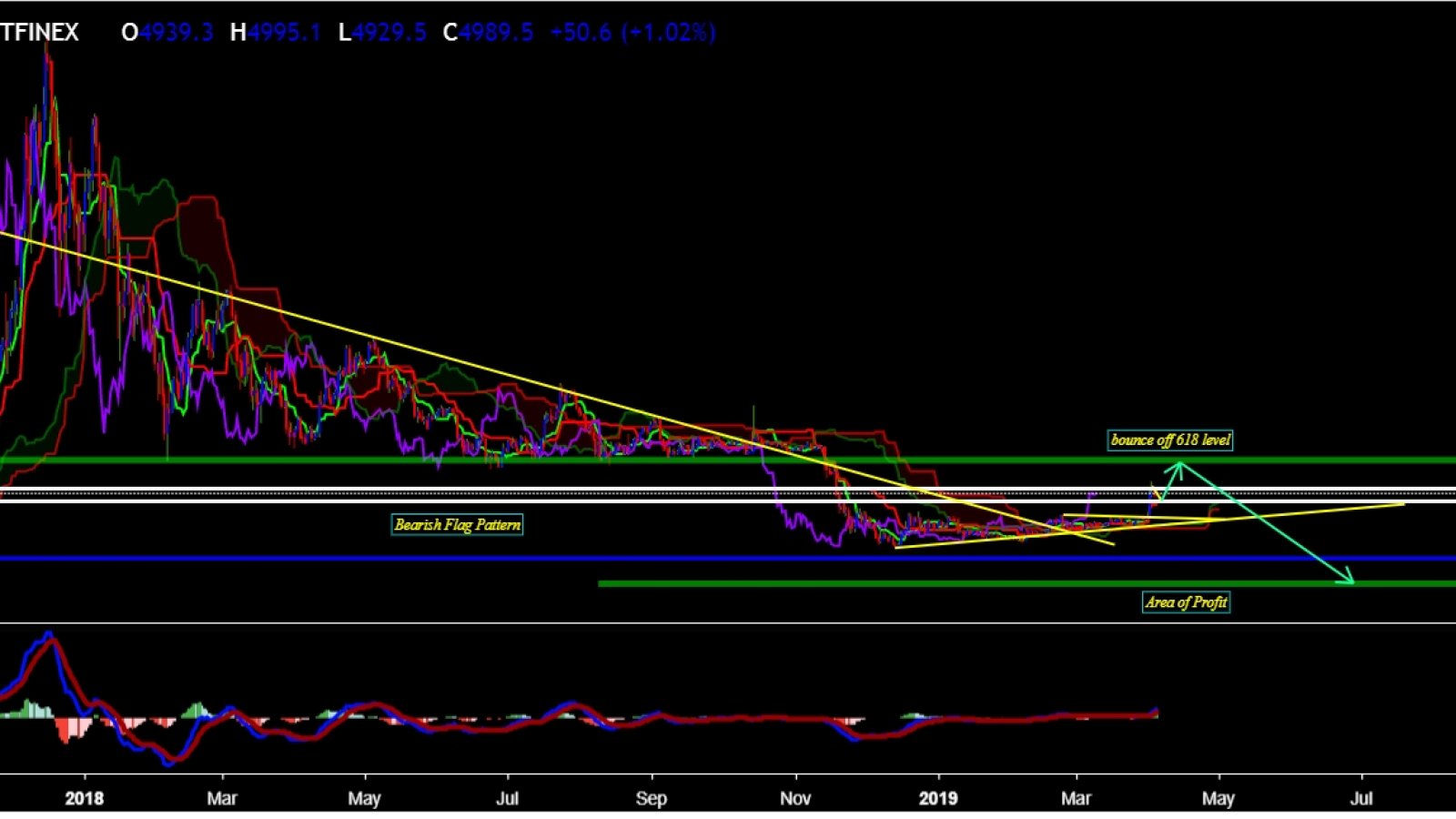 Bitcoin price chart from markusturner
One more idea proving that BTC is to fall after rising was promoted by markusturner. Look at his chart: according to it, BTC will bounce at 618 level. It's expected to reach some $6,000 in spring and then go to the bottom. All of the other cryptocurrency pairs do similar movements.
It's very likely for Bitcoin to make a few more moves upwards and then fall to its $4,000 support zone. At the moment, we still have a chance to make investments and gain profits – BTC's value has all chances to gain a few more hundreds of bucks.