Bitcoin had a very volatile trading year in 2018. In this article, we will conduct an analysis regarding Bitcoin's price prediction. We will look at what are the key drivers for Bitcoin's price as the year wraps up, and we will make a price prediction for the month of December 2018 based on technical analysis and the main news that moved the coin during the past month.
Bitcoin price prediction December
In November 2018, Bitcoin fell 37 percent, wiping $70 billion off of the cryptocurrencies' market value. It was a very intense selloff as the world's largest cryptocurrency struggled to break above $4,000 on the last day of November, having started the month well above $6,000.
In general, it was a very negative month as the market capitalization of all major cryptocurrencies took $70 billion hit, according to CoinMarketCap. During the month of November 2018, Bitcoin had a high price at $6615, a low price at $3657, an open price at $6368, and finally a close price at $4039.50. The big red candlestick shown in Bitcoin's monthly chart shows the strong selling pressure during the whole month.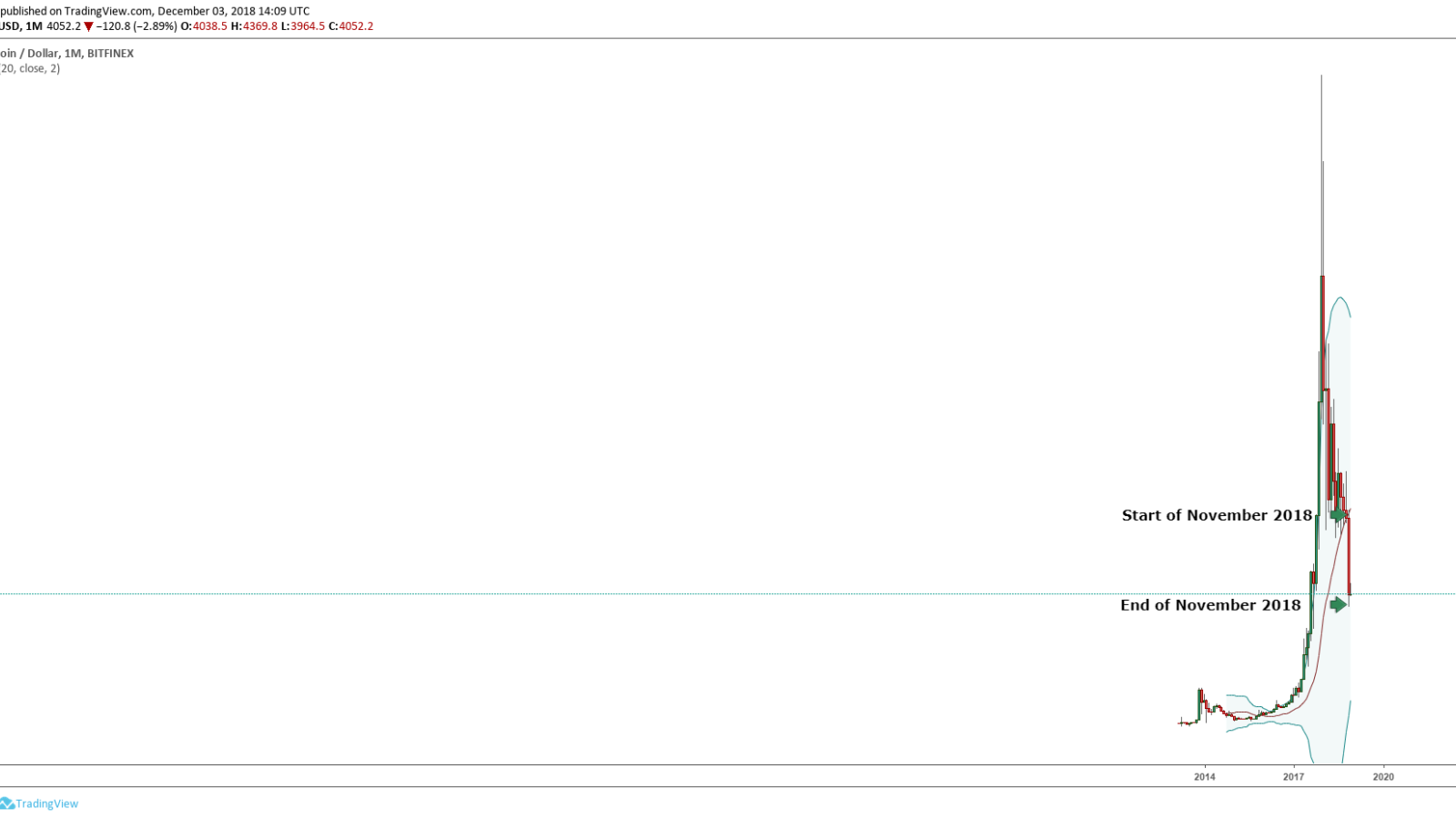 While it is too hard to make general Bitcoin predictions, our technical analysis section at the end of this article will attempt to provide a Bitcoin price prediction for today. Throughout the past month, the main news that drove the price of Bitcoin down was a rather "messy" fork on the Bitcoin Cash network.
That digital currency split into two versions: "Bitcoin ABC" and "Bitcoin SV". While the split occurred on a different blockchain, there were still spill-over effects onto other cryptos, including Bitcoin. But is this a real bottom for Bitcoin in December 2018? What are some realistic Bitcoin projections for 2019?
"It's unclear if this is a 'bottom' or a brief period of consolidation before next move down, but buyers are still maintaining some cash on the sidelines in case it does go lower," said Michael Moro said, CEO of Genesis Global Trading.
Bitcoin price prediction end year
The following list of Bitcoin companies, wallet providers, Bitcoin exchanges, payment service providers and various services — such as mining pools and cloud mining — shows that Bitcoin has large business potential, yet regulation issues and valuation worries make it a very volatile financial asset.
Binance, Bitcoin exchange
Bitfinex, Bitcoin exchange
Kraken, Bitcoin exchange
Tidbit, mining
Coindesk, news
Circle, wallet provider
SearchTrade, search engine
One of the most important factors regarding Bitcoin's price prediction for 2018 will be business prospects. Not all things are negative, though, so a bounce from the recent level of about $4170 is possible, targeting the levels of $4700 and $5000 by the end of this month.
Let's not forget that Bitcoin projections for 2018 by experts range widely, from $25,000 by Tom Lee, to lower prices than $7,000 if the support levels of $7350-$7,000 do not hold by Robert Sluymer, both from the same market analysis firm, Fundstrat. One of the most important business and fundamental factors to consider when trying to make a Bitcoin prediction for 2019 is the cost of mining. A BTC price prediction based on mining costs is the following, according to Tom Lee:
"The fully loaded cost of (to mine) Bitcoin next year, is going to be like $14,000, reflecting the difficulty".
He has continually noted that Bitcoin has held at the cost to mine, which means that the crypto will rise to meet the cost of mining when necessary.
Bitcoin price prediction 2019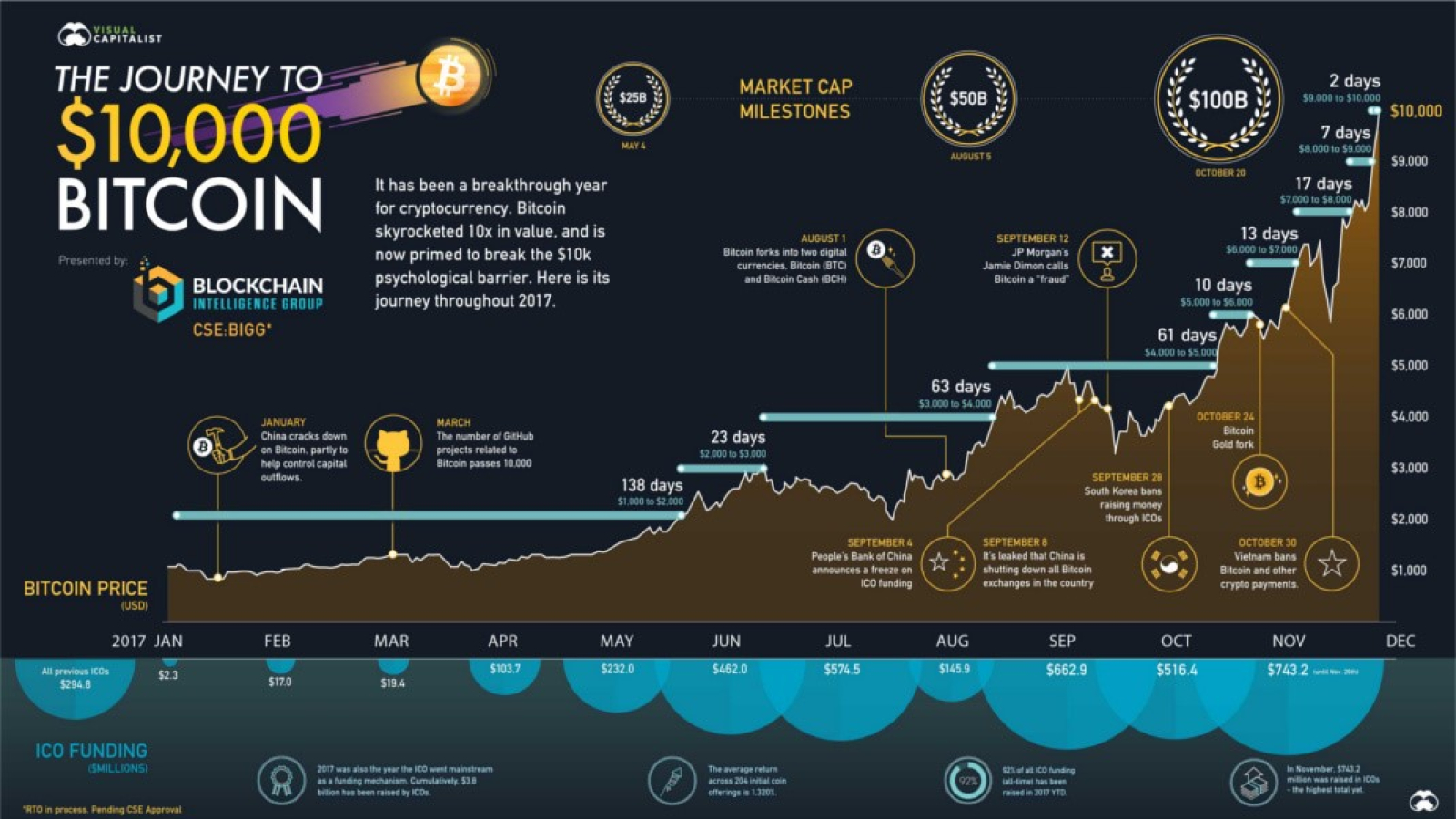 Although there are many statistical tools for a Bitcoin price forecast, all of them have a large degree of uncertainty. The infographic above shows the journey over time to a $10,000 Bitcoin price, which happened throughout 2018.
Can it happen again in 2019? Some of the detailed trend components of price predictions are about determining a trend line using a series of statistical data. As there is only one left month for trading in 2018, a Bitcoin forecast today is much more difficult than in early 2018, when someone could have arguments and form an opinion about Bitcoin's outlook, either a bullish or a bearish one. Time limits are now very narrow and a catalyst for Bitcoin price predictions will be the unknown factors of regulation. Tougher regulatory rules will most probably have a negative effect on the value of Bitcoin.
Bitcoin price forecast
Famous venture capitalist Tim Draper, who predicted in 2014 that Bitcoin would hit $10,000 in three years, believes that Bitcoin predictions can justify a price of over $100,000. In our technical analysis section that follows, we will make a forecast for the end of December 2018. It is based on the current trend and its strength.
By no means it is an investment recommendation, as a Bitcoin projection is a very uncertain financial analysis, based on news, reports, the supply and demand of the cryptocurrency, and the perception of traders and investors about its business prospects. Llew Claasen, who is the executive director of Bitcoin Foundation, recently stated that he expects Bitcoin to hit $40,000 by the end of this very year. He further added that 90% of the cryptocurrencies will actually fall. This is a very optimistic BTC forecast.
Bitcoin price prediction chart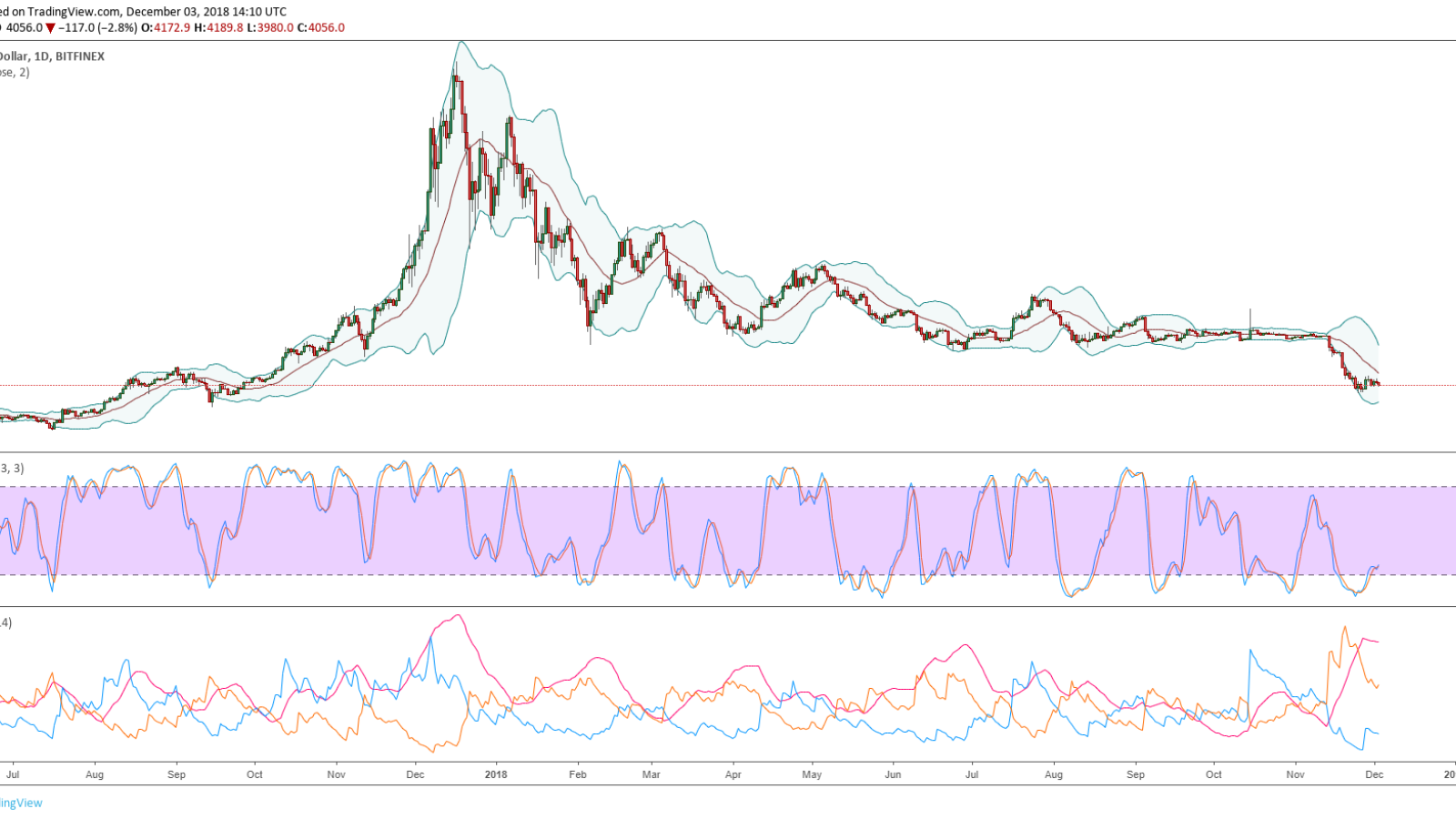 In this daily chart, we will analyze our Bitcoin trend prediction for December 2018. Technical analysis is used as means to predict what price action will happen in the future, considering what happened in the past. Based on our technical analysis, there are chances for a bounce, but we do not believe that there will be a significant trend change, as the recent trend is a downtrend.
We estimate a Bitcoin forecast for the rest of the year to be as follows:
Price should be between $3184 and $6302, as these are the lower and upper daily Bollinger bands which contain about 95% of the price range based on the statistical feature of two standard deviations related to a moving average set at 20 periods. These Bollinger bands on the daily chart widened a lot during mid-November 2018 up to now, reflecting increased volatility and price action. A selloff followed, making BTC predictions for 30 days a very tough task.
If there is bounce and a retracement from the current level of about $4170, a conservative target would be around $4750, which coincides with the 20-period exponential moving average.
The current trend is a downtrend, as it was for the whole year of 2018. One of the key concepts in technical analysis is that a trend remains intact waiting for key drivers to change it. The key support levels of $6200, $6000, and $5800 were broken and now for as resistance levels.
The key level of $3740 should hold as a temporary bottom. It is the level that traders will focus on to move the price lower, making a new low price for 2018 in the event the downtrend resumes.
Now the price at $4170 is in a consolidation phase. This phase may last until the end of 2018, and the scenario of a tight range between $3740 and $4500 is highly likely.
The price is now trading below its 20-period and 50-period exponential moving averages at $4694 and $5459 respectively. Both moving averages are pointing down reflecting a strong downtrend.
MACD indicator with values (12,26,9) is negative but is very close at making a bullish cross and its histogram is diminishing, which may be an early sign that the downtrend will at least pause.
The ADX/DMI indicator, which measures the strength of the trend, shows a very strong trend, a dominant downtrend with values for the ADX, +DI and -DI as 49.96, 11.17 and 30.12 respectively.
If the support level of $3720 does not hold, then the price can move to significant lower levels.
Using Fibonacci retracements and taking a high price $6500 and low price $3690, the 0.236, 0.382, 0.50 and 0.618 retracement levels are $4355, $4766, $5098 and $5903 respectively. The 0.382 retracement level from the low price at $3690 is almost our predicted price bounce at $4750.
Bitcoin prediction conclusions
2018 has been a very volatile and negative year for Bitcoin so far. There are many arguments in favor of the cryptocurrency, its business prospects, and potential uses in the financial world, but there are also many arguments in favor of what really drove down its price to collapse from the high price of $17252 in January 2018 to the recent low price of $3657 in November 2018, a decline of about 78.80%.
As mentioned, predicting Bitcoin price movements for the rest of the year is very difficult and has a large degree of uncertainty. It is most wise and prudent to trade with the trend, which is a downtrend. However, a retracement to higher levels is a probable scenario. In this scenario, we do not think that the retracement will be one of a large degree.
The cryptocurrency needs catalysts to move further and form a bottom at these levels. If the support above $4,000 will hold for several days, our basic scenario is for a Bitcoin price of about $4700 for the remaining days of December 2018. This is based on the trading concept of reversion to the mean, as volatility has expanded significantly as of mid-November 2018. If high volatility is to be followed by low volatility, then a price correction to higher levels has enough probability to occur.