Avalanche (AVAX) trading volume skyrocketed over 400% as traders jumped into the recent volatility to capture profits.
Following news of Avalanche's partnership with Amazon Web Services, a division of Amazon that offers on-demand cloud computing platforms and APIs to people, businesses and governments on a metered, pay-as-you-go basis, the price of Avalanche's native token, AVAX, unexpectedly increased by almost 25%.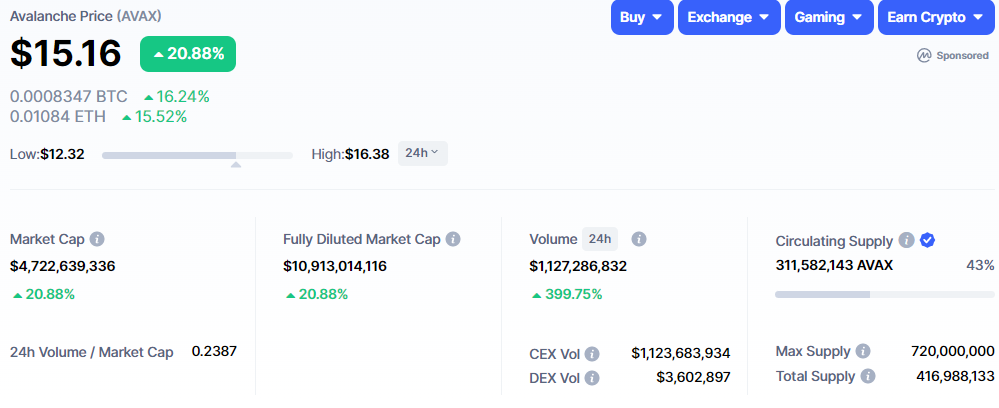 At the time of writing, Avalanche (AVAX) was up 21% at $15.16. A spike in trading activity and subsequently traded volumes may signal investors' sudden commitment to a particular project as a result of their increased interest in it. However, some observers claim that the total number of units transferred between buyers and sellers, or trading volume, is an unreliable indicator of investor positioning.
Often, increased volatility leads to a big spike in trading volumes in any market as traders buy and sell large quantities to make gains. Avalanche remains a top gainer among major cryptocurrencies at the time of writing.
Amazon's partnership deal
The official Avalanche Twitter account celebrated its partnership with Amazon. "It's official. Amazon chose Avalanche to bring scalable blockchain solutions to enterprises and governments. AWS fully supports Avalanche's infrastructure and dApp ecosystem, including one-click node deployment, offering the best tooling for these high-compliance use cases," it tweeted.
Developers can now use #AWS to deploy scalable, fault-tolerant, and compliant offerings, all while reducing costly compliance expenses & time. https://t.co/yoXpc6Jgcu

— Avalanche 🔺 (@avalancheavax) January 11, 2023
Thanks to its membership in the AWS Partner Network (APN), Ava Labs can now help clients implement custom offerings on AWS that are interconnected with more than 100,000 partners in more than 150 countries. To many in the crypto space, this represents big adoption news.