As part of Polygon's plan, 1.4 billion MATIC tokens were unlocked from the vesting contract this morning. This volume is equivalent to 14% of the total token supply, or 10 billion MATIC. Meanwhile, if CoinMarketCap data is to be believed, the total circulating supply of the token equals 8.035 billion MATIC.
As Polygon co-founder Sandeep Nailwal explains, the unlocking was planned and affected MATIC tokens that were blocked a year ago. Interestingly, despite the end of the vesting period in April of this year, the tokens have only been claimed now.
This was a planned movement from the tokens which as per vesting have been unlocked 1 year back. These are staking, foundation treasury etc.

If any doubts, Read more on the announcement.👇👇

One big announcement tomorrow regarding the same🎉✌️ https://t.co/szSaa0P76G https://t.co/yNt5lxkEaa

— Sandeep | Polygon 💜🔝3️⃣ (@sandeepnailwal) August 1, 2022
The 1.4 billion unlocked MATICs are divided into three groups, of which:
640 million MATICs belong to the project team
546.6 million MATICs go to the project team
200 million MATIC are distributed as a reward for staking
Nailwal also said to expect a big announcement from the Polygon team about MATIC vesting in the following days.
MATIC price review
The crypto market certainly reacted to such a large-scale emergence of new MATIC tokens from the vesting. The token momentarily fell by 6% but managed to recover its quotes in a couple of hours and win back half of the fall.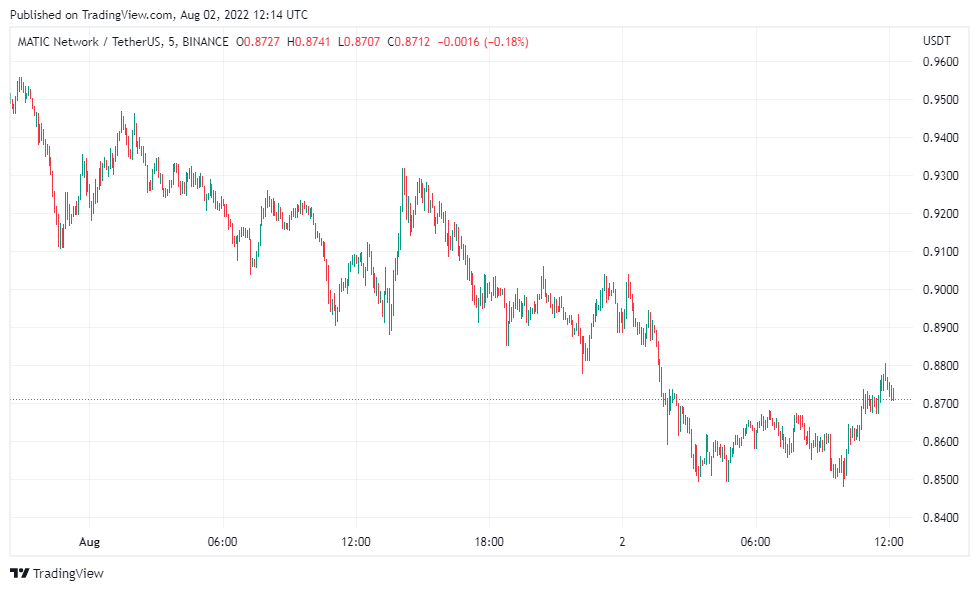 At the moment, MATIC's price is hovering around the mark of $0.9 per token. After MATIC plummeted from its all-time high of $2.92 by over 90% to the $0.3 level, it began to rise steadily, fueled by good news. As a result, since mid-May, the token has shown an increase of more than 190%.
MATIC is now approaching the important $1 dollar resistance level, but it is worth waiting for further clarification from Polygon regarding unlocking tokens before gaining MATIC positions.