After a period of decline that saw XRP lose much of its gains following a favorable court ruling against the U.S. Securities and Exchange Commission (SEC), there are signs that the cryptocurrency may be eyeing a rebound.
XRP, currently the fifth-largest cryptocurrency by market capitalization, experienced an RSI Bullish Divergence on its hourly chart, according to a crypto alert by 100eyes Crypto Scanner.
According to the latest CoinGecko, XRP traded at approximately $0.496, up 0.7% with a market cap of over $26 billion.
Bullish and bearish divergences
A Relative Strength Index (RSI) bullish divergence occurs when the price of an asset decreases while the RSI increases, often indicating potential for an upward price movement.
This divergence comes as a glimmer of hope for XRP investors who have witnessed the token shed value amid a generally bearish market sentiment.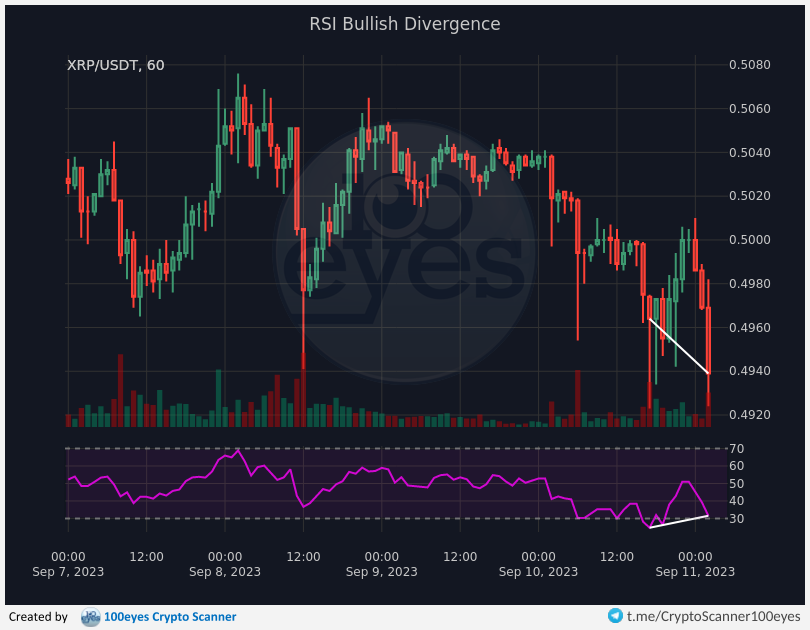 Some traders might view this as a strong buy signal, but skeptics might say that divergences can be misleading, and caution is warranted. Additionally, the overall market conditions, as well as upcoming legal and regulatory developments, could still impact XRP's trajectory.
Erasing gains after a favorable court decision
Although Ripple emerged victorious in its July court battle with the SEC, the market hasn't maintained the initial enthusiasm. XRP's price rose to a yearly high of 83 cents on July 20, boosted by the landmark ruling.
However, according to the latest data, the token has lost nearly all of its post-victory gains, trading below the 50-cent mark. This downturn comes despite other favorable legal developments in the crypto sector, including Grayscale's significant win against the SEC. Bearish sentiment appears to be affecting assets that were otherwise propelled by strong fundamentals.
As reported by U.Today, Google searches for XRP also recently experienced a drastic drop, meaning that there is very little interest in the cryptocurrency.