The Twitter account of History Latinoamérica (@HistoryLA), part of the popular History Channel network, has fallen victim to hackers promoting an XRP scam involving Ripple CEO Brad Garlinghouse.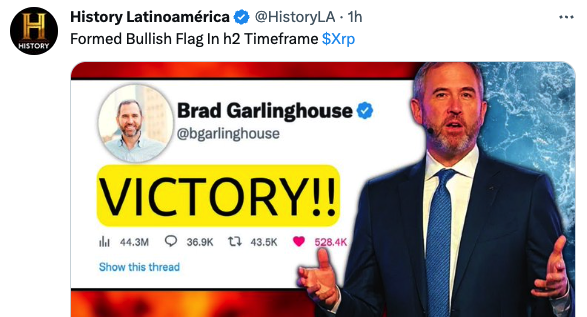 The compromised account shared a fraudulent link accompanied by an image of Garlinghouse and a tweet exclaiming "VICTORY!!" as part of the scam.
The proliferation of crypto scams on social media platforms has become a growing concern for both users and authorities. Scammers often impersonate high-profile individuals or companies to lend credibility to their fraudulent schemes, luring unsuspecting victims into participating in fake giveaways or investments. In this case, the hackers used the image and name of Garlinghouse to exploit the trust of the History Channel's audience, potentially causing significant financial losses for those who fall for the scam.
History Channel, a pillar of documentary series and historical programming, draws a significant following, making its social media presence an enticing target for cybercriminals.
Rooted in A+E Networks, the History Channel is a widely recognized media brand, showcasing an array of programs that delve into historical events, biographies, and documentaries. History Latinoamérica, the Spanish-language counterpart of the channel, caters to audiences in Latin America
The hacking of the @HistoryLA Twitter account demonstrates the vulnerability of even well-established media brands to cyber attacks.