The XRP price is seeing what can be considered an unexpected bullish reversal as the broader digital currency ecosystem regains its growth momentum. While the combined crypto market capitalization has hit daily growth of 1.39% to $1.19 trillion, data from CoinMarketCap shows XRP is up by 2.2% at the time of writing to $0.4586.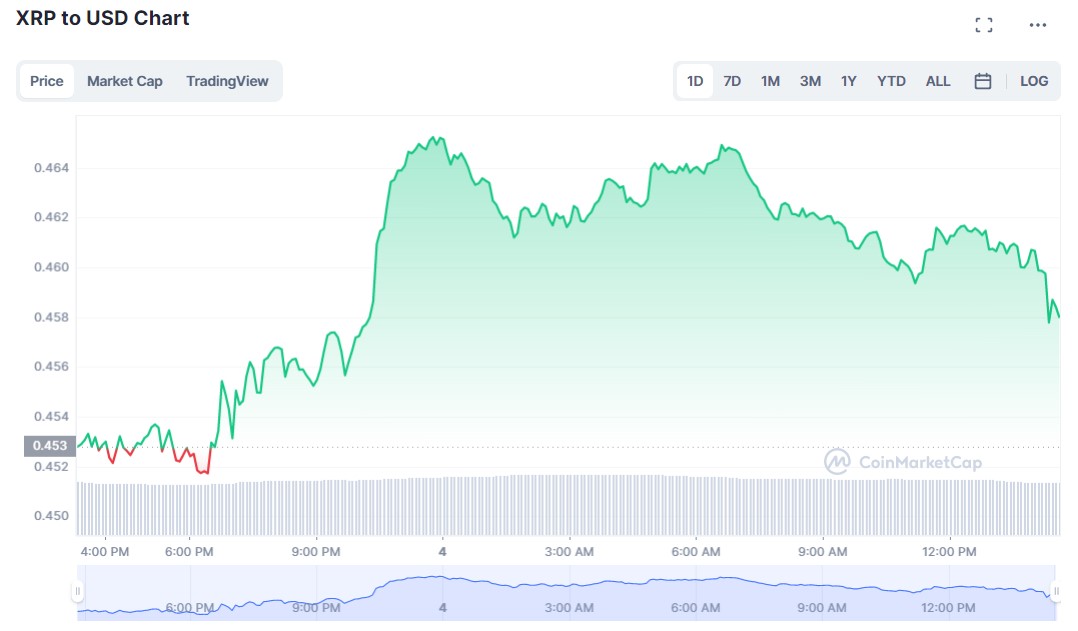 Encompassing bullish twist
Notably, XRP is not the only cryptocurrency that recorded an upward tick at this time. Bitcoin (BTC) can be credited with leading the revival in the market as its price has inked 1.72% to $29,007, while Ethereum (ETH) is changing hands at $1,887.29 atop a 1.54% daily gain.
With a focus on XRP, the price recovery is considered a significant one that can help refocus the community on the goal to breach the psychologically important level at $0.50. Whether or not XRP has the technical backing to print this short term price run is not the point; the point is whether the market recovery will be sustainable enough to permit growth.
As reported earlier by U.Today, the underlying price movement is in contrast to the forecast from renowned crypto analytics platform Glassnode. The Glassnode report projected that the market would experience a short term pull back, a forecast which, if it comes to pass, can derail the growth of most digital currencies, including XRPs.
XRP and numerous encumbrances
It is worth watching how XRP's price will react moving forward despite the many encumbrances present in its ecosystem.
Despite the uptick in price, the cryptocurrency has a rather low trading volume, which is still down by more than 2.4% at the time of writing. If there is no significant growth in trading volume, it indicates that the buying momentum is not necessarily commensurate with the price growth and, as such, it may not keep the price up for long.
Crucial updates like the one from Ledger that will allow increased embrace of XRP on its hardware wallet by Android users is also essential to drive increased adoption and price growth and should be watched out for.