Popular cryptocurrency tracking platform Whale Alert, which follows large crypto transactions, has shared that within the last 24 hours, anonymous wallets have transferred astounding amounts of the original meme coin, DOGE.
The transferred amount comes close to nine billion DOGE. Here's how the coin's price reacted to that.
Whales move almost nine billion DOGE
The stunning 8,779,999,992 Dogecoins were transferred in 10 massive transactions, according to the aforementioned tracker. Six of them carried a similar amount of 680,000,000 DOGE each, worth around $48,603,265.
Those were preceded by one transfer of 449,999,986 DOGE (the equivalent of $32,363,161), two transactions of 1,224,999,998 DOGE and one carrying 1,749,999,996 DOGE. This was almost nine billion Dogecoin in total, evaluated at $632,937,556, in accordance with the current exchange rate.
The size of these transactions and the fact that many of them moved identical sums of crypto may hint that those lumps might have been transferred by crypto exchanges internally.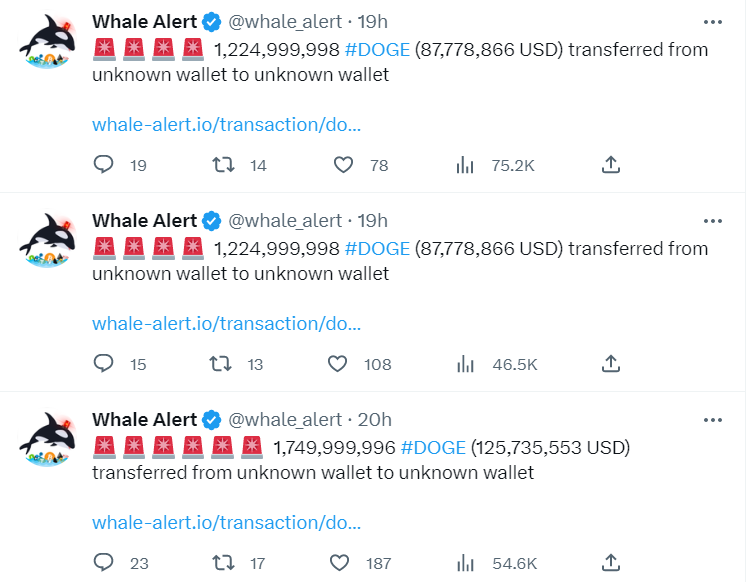 DOGE price performance
Earlier today, just as the above-mentioned transactions were taking place, the popular meme coin DOGE — also favored by Elon Musk — demonstrated a rise of 1.38% over the past 24 hours.
This rise happened after the asset lost 3% since Tuesday, May 30. However, by now, the price has dropped a little and the meme coin is changing hands at $0.0719, losing 0.49% after the rise earlier today.
Dogecoin massive activity surge
According to data shared by IntoTheBlock on-chain analytics company, Dogecoin has seen a staggering 8,220% increase in transaction activity. Daily DOGE transfers went ballistic from 25,000 to over two million last Saturday, the company's report says.
This sudden rise in transactions demonstrates a stunning contrast to the coin's recent poor price performance.