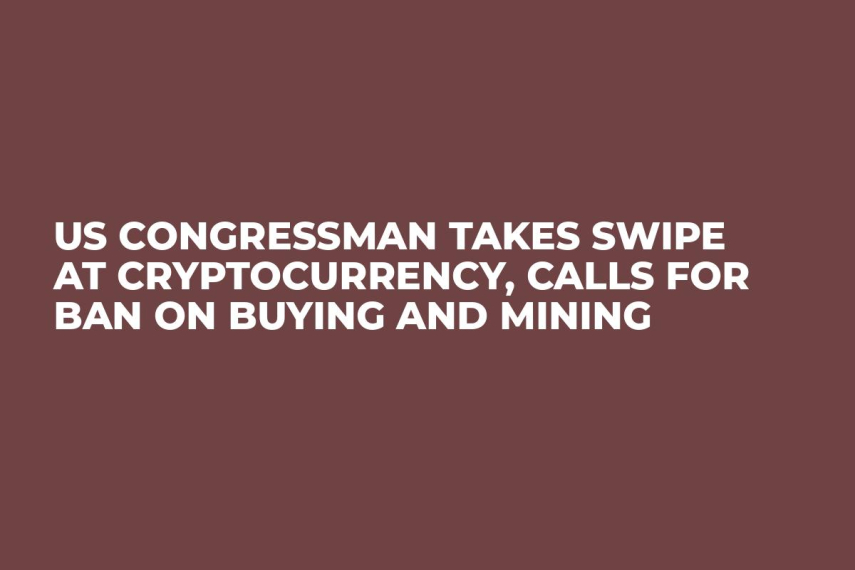 Cover image via U.Today
In the US, another prominent figure, this time a lawmaker in the form of a congressman, has had a go at cryptocurrencies calling for a blanket ban on the purchasing and mining of these digital currencies.
Brad Sherman, during a hearing of a subcommittee for the House of Representatives Financial Services Committee, made some damaging and sweeping remarks about digital currencies and concluded by stating that the US should not be part of the market at all.
Ticking all the wrong boxes
Sherman went after a number of facets of digital currencies, including their use as a currency, the mining and electricity consumption, the potential for them being a medium of exchange and their role as an investable asset.
Sherman is a clear supporter of the US Dollar and the power it provides the country, explaining how it helped table a deal with Iran.
"There is nothing that can be done with cryptocurrency that cannot be done with a sovereign currency that is meritorious and helpful to society," Sherman told Congress.
He went on to suggest the blanket ban for the US by also losing explaining the problem with mining.
"We should prohibit US Persons from buying or mining cryptocurrency. Mining alone uses electricity which takes away from other needs and adds to the carbon footprint," he added.
Drugs and terrorism
Sherman went on to delve into a topic that is never far from those who are against Bitcoin and the likes- its use as a medium to buy drugs and fund terrorism. It is an interesting point that Sherman raises, especially considering he is a supporter of the US Dollar which can also be used for illicit activities.
"As a medium of exchange, cryptocurrency accomplishes nothing, except facilitating narcotics trafficking, terrorism and tax evasion. Some of its supporters delight in that," the congressman said.
Finally, it was Sherman's belief that if people are to invest in risky assets, such as cryptocurrencies, they would be better served going the traditional route with stocks to help grow businesses in the US.
"Its role as an investment is just as bad. We have certain animal spirits in our culture, a willingness to take risks, to place a bet, this is harnesses by gambling casinos, which at least pay high taxes and created the city of Las Vegas."
"We can better use those animal spirits to get people to rather invest in risky stocks, start-up enterprises, and provide the technologies as jobs of the future. Or we can see those animal spirits spent creating a market for tax evaders, narco traders and others who find the US Dollar is not to their liking. "